The E-commerce industry has made it big, and it offers many options for doing business. You can register as a seller and make a good amount of money on Amazon. Alternatively, you can bank on Amazon to start a business as well. The second method is to get an Amazon franchise. The brand offers a franchise for its delivery business with minimal investment. The option is highly lucrative, and if you are looking for a business plan, opening an Amazon franchise is an excellent idea.
Amazon is already very popular in India, offering some of the best prices to customers. It is a market leader in the e-commerce industry, so you can succeed when you get into a delivery business with Amazon. Moreover, anyone can get into the Amazon franchise business, and you don't need prior logistics experience. Amazon takes care of training and everything else.
So, if you are interested in Amazon Delivery Business, you are on the right page. We have compiled all the possible information about the Amazon franchise and shared it with you.
Requirement for Amazon Franchise in India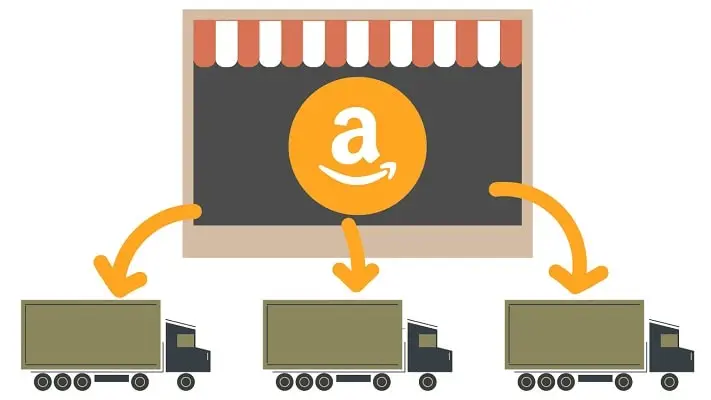 There are no such hard requirements for the Amazon franchise, but we took the feedback from the people who got into this model and understood from them what it took to set up a successful Amazon Delivery Business. The first and most important thing here is the storage space and the delivery vehicle. You will need to make provision for the same, and Amazon will offer you training around the safety programs. The minimum area is 150 sq ft to 250 sq ft in a commercial hub. The property should be able to hold the delivery truck, delivery vans and bikes for logistics.
You must also have the vehicles and the delivery partners covered under the insurance plans. You would also need to procure the POS machines so that the customers can make payments digitally when the orders are delivered. It is also recommended to have a team of at least eight people to deliver the parcels to the customers. It will be mandatory for them to attend the training programs from Amazon.
Cost of Amazon Franchise in India
Talking about the cost of an Amazon franchise, you can start your business with as little as Rs 1.5 lakh. On average, people spend around Rs 5 Lakhs on setting up the business. In addition, you would need between Rs 6 Lakh to Rs 8 Lakh of liquid assets and working capital. Please note that there is no security deposit in this case, and the franchise cost doesn't include electricity bill, employee salary, office rent or vehicle expense.
Another critical point is the revenue or profits you will make. On average, you get about 10% of the product price on the delivery. This will be your revenue. With a fleet of about ten vans and 20 bikes, you can make an annual profit of Rs 10 Lakh to Rs 20 Lakh.
How to Apply for Amazon Franchise?
From making the preparations to starting a business, you may need anywhere between three to six months. This involves applying, training, setup and starting everything. Below are the steps you would need to follow to apply for an Amazon franchise.
The process to apply for an Amazon franchise is completely digitalized. You need to visit logistics.amazon.in and create an account. You must complete your profile to move further.
Now, you must apply for the Amazon franchise by completing the formal application. Amazon will review your application, and you will be called for an interview.
If you are short-listed for the Amazon franchise business, you must attend a two-week training. This will tell you about the various aspect of business and delivery systems.
In the last step, you will have to build a team and train them to start the deliveries. Once all of this is done, you can begin delivering for Amazon.
In the whole process, Amazon is responsible for helping you start. They offer you insurance, training and setup. You get field training to understand things better. In addition, Amazon also provides a comprehensive toolkit which will help you run the business successfully. It all doesn't end here, as you also get on-demand support and guidance from Amazon.
Final Take
Amazon offers high growth opportunities to you, and in such a case, starting an Amazon franchise can be an excellent option. You can provide employment to dozens of people around you, and as your experience grows, you can expand your business significantly. We hope this information helped you understand about Amazon franchise.
Note: The cost is mentioned here might be vary due to some changes in policies or recent business updates. So, please confirm from the official website before applying.