BOB stands for Bank of Baroda, a public sector bank in India. Bank of Baroda has over 132 million active customers across the country. Bank of Baroda was founded in 1908, and the bank's headquarters is in Vadodara. With time, the Bank of Baroda has spent significant money to update the infrastructure and stay relevant. It offers a host of digital services to customers along with UPI, and Bank of Baroda UPI works 24×7 with no point of failure.
Bank of Baroda UPI Not Working
Issues are rare but do you know what to do when you have issues with Bank of Baroda UPI? On this page, we have listed all the possible problems and their fix.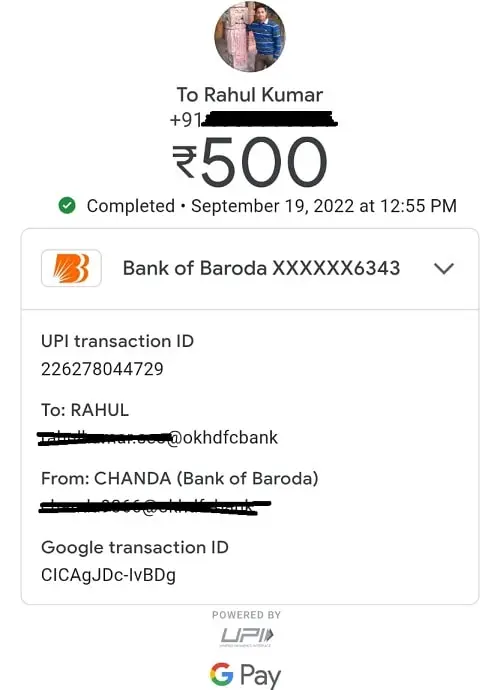 1. Limit Issues or Funding Issues
If you have just enabled UPI on your Bank of Baroda UPI, then the bank will place a sub-limit for 24 to 48 hours to protect you from cyber fraud. You can transact a limited amount during this duration, so you can try with a lower limit. Sometimes, your Bank of Baroda account may also have a sub-limit for the UPI. You need to talk to customer service to resolve that particular issue. Before trying again, you must also check if you have sufficient funds in your Bank of Baroda account.
2. Using Saving Account For Business Transactions
Some people tend to use their savings accounts for business transactions. If you are also doing something similar, the Bank of Baroda may temporarily freeze your account. The problem is that you will have too many transactions on your account, which can also be flagged for an investigation into money laundering. The bank will notify you of such a freeze via email. If you suspect your Bank of Baroda account has been blocked, you would need to visit the branch and talk to the branch manager with suitable justifications.
3. Incorrect Bank Details of Receiver
We have also noticed Bank of Baroda UPI transactions failing when you don't have the correct bank account details of the receiver. This is not only problematic, but it is also very dangerous. You may end up transferring money to someone else's account, and recovering funds will become a pain. You must always verify the account details multiple times and when you are entering details, ensure that you are focused. You must check with the receiver if you are still getting an error message with incorrect account details. Sometimes, they don't have a bank account linked to UPI App, which causes this issue.
4. Network Issues
Are you facing a transaction failure with the error as network unavailable or issues with the bank network? In such a case, there is a very limited scope of steps that you can do to resolve the issue. You can try putting your mobile on aeroplane mode once and then turning on the network again. If this doesn't resolve the issue, then there are chances that the bank's server is unavailable. You will have to wait if the bank's server is unavailable. You can try transacting again after a couple of hours, and the issue should be resolved automatically by that time.
5. Reaching Out to BOB
If the issue is still not resolved or you suspect that you have lost money, you must contact the Bank of Baroda to seek help. The contact number for the Bank of Baroda is 1800 258 4455 or 1800 102 4455. These numbers are reachable 24×7. If you think someone is trying to hack into your Bank of Baroda UPI, you must call these helplines immediately and block your account. For any query, customer service is the best point of contact. Also, ensure that you never share your OTP or any confidential information with anyone to avoid losing money to fraud.
Conclusion
We have shared the steps to troubleshoot the UPI-related issue with the Bank of Baroda. These steps have been listed, assuming you have entered the correct UPI PIN. If you are unsure about the UPI PIN or if the transactions are failing because of the incorrect UPI PIN, please reset the PIN. Lastly, if the money has been deducted from your BOB account and the transaction failed, the money will be refunded in three to five business days. You can also create a support ticket with the bank and the UPI for them to investigate the failure.