You would already know about the fixed deposit, wherein you invest your money and get a fixed return at the end of the tenure. A fixed deposit is for investing a lump sum amount, but what if you don't have that kind of money? What is the alternative to investing a small amount every month? Well, you can start an RD or a Recurring Deposit. A recurring deposit can help you save a small monthly amount for a particular tenure. The advantage here is that this money earns you interest, and you get the whole amount back along with interest at the end of the tenure. The minimum amount that most bank lets you start an RD with is Rs 500, and the minimum term is six months. You can learn more about the recurring deposit on this page. So, move on to the next section and check out the details now.
🤔 What is a Recurring Deposit?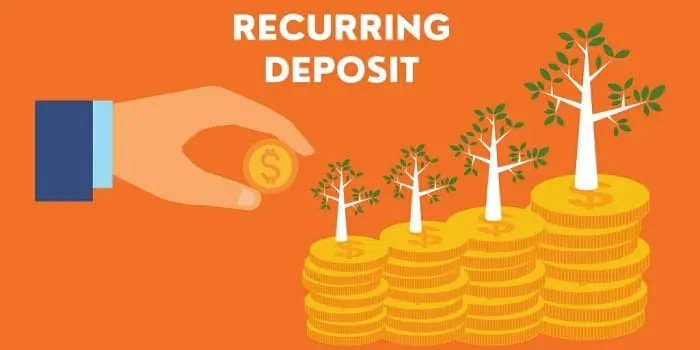 A recurring deposit is often called a good EMI. In the EMI, you make the purchase, and you have a debt, whereas, in the recurring deposit, your monthly deductions go towards a saving plan. The advantage of the recurring deposit is that you can save big amounts by making a small monthly deduction. The interest rates are mostly the same as the fixed deposit. Moreover, recurring deposit shows you the power of compounding. Every month, the interest is earned on the new increased amount. So, you can save a substantial amount at the end of the tenure.
👍 Advantages of Recurring Deposit
There are many advantages of a recurring deposit. Today, we will talk about all of those in the section below.
Flexible Tenures – Recurring deposit comes with flexible tenures. You can choose anything over six months. Some banks even offer you a three-month recurring deposit. So, here, you choose your investment horizon and the date when the money should be deducted from your bank account. This certainly helps you with the investment mindset.
Good EMI – Recurring deposit is often referred to as a good EMI. The money that is deducted every month is going towards an investment. The advantage of the recurring deposit EMI is that you will build a corpus at the end of the investment horizon. So, EMIs can also be good ones.
Online Facility Available – If you have net baking or mobile banking, you can also open a recurring deposit using these facilities. There is no need to visit the bank to open a recurring deposit, making it even easier. The closures are automatic, and the funds are auto-credited to your account.
Good for Short-Term Goals – If you have short-term goals, you can use the recurring deposit to your advantage. For example, if you want to buy a phone next year which costs Rs 60000, you can save Rs 5000 every month, and you will end up with Rs 61,811 at prevalent interest rates. So, the extra amount can fund your accessories, or it can be your additional saving.
Ease of Investment – With the recurring deposit, it is effortless to save money. You would not have to worry about calculations or anything else. The money is debited from your account automatically, and the whole process doesn't need any intervention.
Premature Withdrawal – Only some banks offer premature closure of the recurring deposit, and you can check out if your bank already has this option or not. Premature withdrawal can help you meet the expense in an emergency. There is only an option of full closure in case of recurring deposits.
Secure Option – As mentioned earlier, the recurring deposit is like a fixed deposit. Here, the money is safe with the bank, so you don't have any risk. There is no way that you will lose your capital. So, if you are looking for a safe asset for regular investment, then your recurring deposit is for you.
👎 Disadvantages of Recurring Deposit
Here are some of the disadvantages associated with the recurring deposit.
Lack of Liquidity– With the recurring deposit, there is a lack of liquidity. You can't get a loan on a recurring deposit, and it is often challenging to pre-closure the recurring deposit. So, if you usually have a liquidity crunch, then a recurring deposit is not something where you should invest.
Low-Interest Rate– The fixed and recurring deposits have a similar problem. Both of them offer a low-interest rate. They don't have the kind of returns you can get with mutual funds. Here, you are earning just a little over the repo rates so consider the opportunity cost and the returns when investing in a recurring deposit.
No Option to Skip Installment– When you invest in a mutual fund using the SIP, you can skip the installment or change the installment amount for a month. However, in a recurring deposit, all of this is not possible. You would have to adhere to the initial plan.
Conclusion
Recurring deposit offers a lot of advantages, and it helps you build wealth over time. We highly recommend initiating the recurring deposit if you have a fixed source of income. However, if you don't have a fixed source of income, then we would suggest avoiding it. The deductions under the recurring deposit are not at all flexible. So missing a deduction could mean a penalty or pre-closure of the recurring deposit. Ensure you check all your options before getting into a recurring deposit plan.
Recurring Deposit Frequently Asked Questions
Q1. Should I Invest in Recurring Deposit?
Ans: You should invest in a recurring deposit. We are sure you can make small deductions from your salary every month. Even if it is Rs 500, you should start a recurring deposit. To experiment, you can start a six-month recurring deposit, which will help you save Rs 3000 plus the interest you will earn. It will get you in the habit of saving, and you can later use this money for whatever you like. A recurring deposit is often considered the first step towards a disciplined investing approach. You can start a recurring deposit even through the mobile application of your banking partner. Isn't that awesome?
Q1. Which One Is Better, Recurring Deposit Or A Fixed Deposit?
Ans: Well, if you have a regular income and want to save a fixed amount each month, an RD can be a good option. On the other hand, if you have a lump sum of money that you don't need to use for a fixed period of time, an FD can be a better option. FDs usually offer a higher interest rate than RDs, but you need to have a lump sum available to invest upfront.
Q2. How Often Is The Interest Compounded On A Recurring Deposit?
Ans: The interest on your Recurring Deposit is usually compounded every three months, but it really depends on your bank. Some banks may compound the interest monthly or annually, so it's best to check with your bank to find out their policy.
Q3. Is There Any Tax Deducted On The Interest Earned From A Recurring Deposit?
Ans: Yes, the interest earned on a Recurring Deposit is taxable under the Income Tax Act. If the interest earned exceeds Rs. 40,000 in a financial year, the bank will deduct TDS (tax deducted at source) from your interest earnings.
Q4. Can I Take A Loan Against My Recurring Deposit?
Ans: Yes, many banks offer the option of taking a loan against your Recurring Deposit. The loan amount is usually a percentage (up to 90%) of the amount saved in the RD, and the interest rate on the loan is typically lower than that of a personal loan because the RD is used as collateral.
Q5. Can I Close My Recurring Deposit Account Before Maturity And Get My Money Back?
Ans: Yes, you can close your Recurring Deposit account before the maturity date and get your money back, but there may be a penalty for early withdrawal. The penalty amount varies from bank to bank, and it's usually a percentage of the interest earned on the RD or a fixed fee.