Everyone saves money for a rainy day, and in such cases, many people invest in safe assets for emergencies. A fixed deposit is one of the safest options available to the investor. The fixed deposit offers risk-free returns and is a preferred option. You can open a fixed deposit in the comfort of your home or request your preferred banking partner to open a fixed deposit for you. The interest payment term can be selected as per your preference. You might already know that a fixed deposit is the most popular investment method. If you want to know more about the fixed deposit, you are on the right page. On this page, you will learn about the basics of fixed deposits and their pros and cons.
🤔 What is a Fixed Deposit?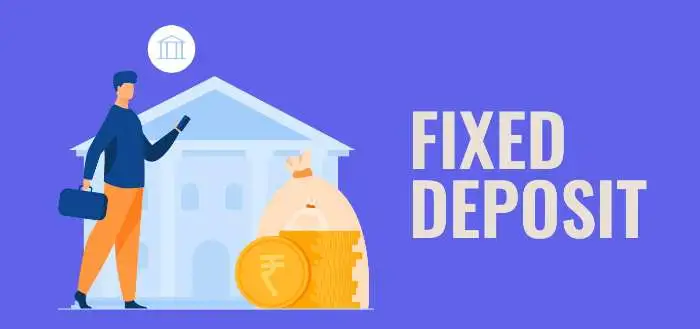 When you open a fixed deposit, you are lending your money to the bank, and the bank guarantees to pay back the money. Since you are lending your money to the bank for a fixed period, you earn a higher interest when compared with the regular saving bank interest. You can choose to get the interest payments monthly, quarterly or annually. Apart from this, the bank offers a lot of facilities on fixed deposit for you. The government also offers insurance on the fixed deposit wherein your money up to a certain limit is safe even if the bank defaults.
👍 Advantages of Fixed Deposit
We have given you a brief idea about the fixed deposit. You can check out more about the same in the section below.
Risk-Free Investment – The first advantage of the fixed deposit is that it is a risk-free investment. The chances of losing your money in a fixed deposit are 0. It is insured, and it offers you risk-free returns. This is one such thing that helps you with greater peace of mind.
Fixed Tenure – The tenure of the fixed deposit is fixed. You would not have to time the market to withdraw the funds. Your funds are automatically credited to your account on the maturity date. There is a higher degree of automation in the fixed deposit systems that banks are using today.
Overdraft Against Fixed Deposit – If you have a fixed deposit and, at the same time, if you need funds, then you can take an overdraft or a loan against the fixed deposit. This loan is available at 2% over and above the fixed deposit rates, so it is generally considered a cheap form of funds. For example, if you are getting a personal loan at 12% but at the same time, you have an FD giving you 8% interest, then you can get a loan against FD at 10%.
Flexible Payout – You can choose to get the interest monthly, quarterly or annually. If opening FD with an idea to meet your expense, you can choose the monthly interest payout. However, if you invest in a fixed deposit to save money, you can select an annual payout.
Interest Income – You get interest when investing in a fixed deposit. This is one of the best parts. This interest income can help you meet some of the basic expenses in daily life. The interest income is not taxable up to Rs 10,000 per year, so you may not even have to pay income tax on the returns you earn from the fixed deposit.
Partial Withdrawal – Many banks offer partial withdrawal facilities for fixed deposits. For example, if you have a fixed deposit of Rs 10 Lakh but need Rs 2 Lakhs funds, then instead of pre-closing the whole fixed deposit, you can withdraw Rs 2 Lakh from the amount. This helps you with the required liquidity.
Automatic Renewal – You may often forget to reinvest your money after maturity. To deal with this problem, you can avail auto-renewal facility wherein your FD is automatically renewed on maturity. This will ensure you are not losing on the opportunity cost because of a miss. So, if you think you can lose track of the maturity date, you can create an auto-renewal FD.
👎 Disadvantages of Fixed Deposit
There are some disadvantages associated with the fixed deposit, and we have listed them below.
Comparatively Low Interest – The returns of fixed deposits are relatively lower than those of mutual funds. Their returns are also dependent on the repo rate. So, they keep changing from time to time but be assured that the interest rates would remain the same during the lock-in period.
Penalty Charges – if you have to close the fixed deposit before the given time, the bank charges you a penalty. This can be a problem, and you may lose some portion of interest or capital. You must always check penalty charges before opening a fixed deposit.
No Tax Benefit – You don't get any tax benefit if you open a normal fixed deposit. You need to open a 5-year tax-saving fixed deposit if you want a tax saving. This fixed deposit comes with a lock-in period, and you can't withdraw funds out of it even in case of an emergency.
Fixed Deposit Frequently Asked Questions
Q1. Is There A Minimum Amount Required To Open A Fixed Deposit?
Ans: To start a fixed deposit, you'll need a little bit of money. Don't worry, the minimum amount required can vary, so you can find one that works for you. Usually, many banks allow you to make a fixed deposit of as low as 1000 rupees. However, there are some other options like Paytm Payments bank, where you can literally make a fixed deposit of 100 rupees.
Q2. What Is The Lowest Interest I Can Get From Fixed Deposits?
Ans: The interest rate you'll earn on a fixed deposit can vary, but usually, it's somewhere around 3-6% per annum. This may not seem like a lot, but it's a guaranteed return and won't go up and down like the stock market.
Q3. What Happens If I Prematurely Withdraw My Fixed Deposit?
Ans: If you need to withdraw your fixed deposit early, there might be some fees involved. But don't worry, you'll still receive the interest earned up until that point. Just keep in mind, the interest rate you receive might be lower than what was originally agreed upon.
Q4. Which One Is Better, A Fixed Deposit Or A Savings Account?
Ans: Deciding between a fixed deposit and a savings account is a personal choice. Fixed deposits offer a higher interest rate and a sense of security, but have stricter rules for early withdrawal. Savings accounts are more flexible, but with lower interest rates. It all comes down to what works best for you and your financial goals.
Q5. Will I Have to Pay Tax on Fixed Deposit Interest?
Ans: The answer to this question depends on your interest income in a year. If your interest income in a year is less than Rs 10,000, you would not have to pay any tax on the interest income. However, if your interest income is more than Rs 10,000, you will have to pay the taxes per the tax slab. Please note that the interest credited to the savings account is also considered under this Rs 10,000 limit. Sometimes, if the interest payout exceeds Rs 10,000, the bank will deduct the tax at the source. This is referred to as TDS. You can submit a declaration at the bank if you have paid advance tax; this way, the bank will exempt you from the TDS.
Final Verdict
This was all the information about the fixed deposit. A fixed deposit is the best asset to suit your interest if you are looking for fixed-income security. You get a lot of benefits with the fixed deposit. You can choose between the tenure and the interest payout period. This allows you to have a certain level of flexibility, which helps you plan your retirement or other monthly expenses. Ensure that you check the interest rate chart before you open a fixed deposit.