We all need to save money for a rainy day, and we are sure you would also not be interested in spending all your earnings every month. The best way to save money is through a saving account. Because of financial inclusion, most adults in India have a savings bank account. This is usually the first step in saving money. In addition, you can park your cash, earn interest and avail of different services from the bank.
It is even possible to have a saving account for minors as this promotes a saving habit, or you can deposit money in their account regularly, which can be used during education or any significant milestone of their lives. On this page, you will learn more about saving accounts. Go ahead and check out the details below.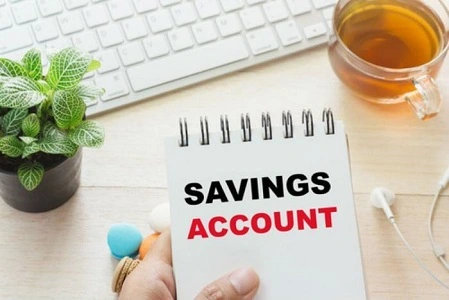 🤔 What is a Savings Account?
A saving account can be opened with a government or a private bank. When you open a saving account, you get a unique number. The number, along with some other information, can be used for receiving funds from anyone. You can accumulate a balance in your saving account and use it for spending. Your saving account is more like a digital wallet from which you can withdraw hard cash when you need it. The saving account offers access to services like online money transfers, bill payments, investment in mutual funds, fixed deposits, recurring deposits, debit cards, online transactions, credit cards, insurance and many more services.
👍 Advantages of Savings Account
Technically it is not possible to move ahead without a saving account. In this section, we have shared the clear advantages of having a saving account.
Interest Income – When you have money in a saving account, you earn an interest income. The interest rate on the saving account is dynamic, but you are not losing on the opportunity cost. The interest is credited to the account quarterly, which is an additional income for you.
Manage Investments – Most banks allow you to invest in PPF and mutual funds when you have a savings account with them. So, by opening a saving account, you can manage your investments & savings in one place.
Safety of Money – Keeping cash at home is never a good idea. With a saving account, you can safely keep cash in your account without risk. You will even earn income from the cash in your account. Moreover, you can request a safety lock from the bank where you can keep your precious belongings.
High Liquidity – The liquidity associated with the saving account is very high. You can withdraw or transact whenever you need to. There is no wait time as to when you will get the cashback. You can even use ATM cards and get the money instantly.
Debit Card & Other Banking Services – Bank offers you a debit card with a savings account. You can use the debit card to withdraw cash on the go or use the debit card to pay the merchant directly. You can even pay using UPI if you have a saving account. This gives you flexibility without having to carry cash.
Online Application – Today, many banks support an online applications for saving accounts. You can submit an application through their apps or website and instantly get an account number. So, there is no need to visit the bank to open a bank account.
Bill Payment – Gone are the days when you had to stand in a queue to pay the bills. You can pay the bills directly from your savings account with the cash in your account. It is quick, and it is instant. With such a facility, we are sure you would never wish to set foot in the electricity or water supply office to pay the bill.
Read This Also: Post Office Savings Accounts Advantages and Disadvantages
👎 Disadvantages of Savings Account
There are also some disadvantages to having a saving account. Below are the details.
Low-Interest Rates – The interest rates associated with the saving account is very low. The rates are much lower than the fixed deposit, so many people keep limited cash in their account and instead initiate a fixed deposit with the excess money.
Minimum Balance – Some banks require you to maintain a minimum balance. Now, this can be as high as Rs 12,000 per month. You are charged a hefty service fee if you are unable to maintain this minimum balance. To avoid this problem, you must always check the minimum balance you need to maintain in your account.
Transaction Limit – Saving accounts come with a certain number of free transaction limits. After that, you are charged a fee for the transaction. This is applicable to cash deposits and cash withdrawals. Many people don't find it to be a favourable option.
Promotes Spending Behaviour – Since you have high liquidity and you have access to cash, you tend to spend more than required. Instead of needs, you spend money on things you might not even need. So, for some people, saving accounts do promote spending behaviour.
Read This Also
Conclusion
This was all the basic information about the saving account. If you want to open a saving account, you can look for options. There are many options available in India. Apart from this, you can even open an account online if your mobile number is registered with your Aadhaar card. Before we conclude this space, we would like to mention that you can have more than one saving account without any issues.
Saving Account Frequently Asked Questions
Q1. With Which Bank Should I Open Saving Account?
Ans: This is very subjective. You need to understand what your priorities are. If you are looking for a low average monthly balance or a 0 balance account, you might opt for a public sector bank. If you want a clean user interface with many more services, you can opt for a private bank. You can compare the features and the benefits that all these banks offer to you. Read the fine lines and check what added features with each bank are. Some banks also offer a higher interest rate when compared with their peers. All these details can also be found online. Apart from this, many banks enable you to open a bank account online, which is the best part of a saving account.
Q2. Is A Savings Account Considered A High-Risk Bank Account?
Ans: No, a savings account is actually a pretty safe place to keep your money. It's a special type of bank account that helps you save and earn interest on your balance. Because savings accounts are usually insured by the government, your money is protected up to a certain amount.
Q3. Are There Any Fees That A User Must Pay Monthly Or Annually For A Savings Account?
Ans: It depends on the bank you choose, but there may be some fees associated with a savings account. Some banks charge a monthly maintenance fee if your account balance falls below a certain amount, or if you exceed a certain number of transactions each month. However, many banks offer savings accounts with no monthly fees or minimum balance requirements.
Q4. How Often Should I Deposit Money Into My Savings Account?
Ans: Well, it's really up to you and your personal financial situation. Some people choose to deposit a portion of their paycheck into their savings account each month, while others might make a lump-sum deposit every once in a while.
Q5. Can I Withdraw Money From My Savings Account At Any Time?
Ans: Yes, you can withdraw money from your savings account whenever you need it. Savings accounts are designed to be easy to access, and you can usually make withdrawals in person at a bank branch, through an ATM, or online.
Q6. Is There A Limit On The Number Of Withdrawals I Can Make From My Savings Account?
Ans: Yes, usually there is a limit on the number of withdrawals you can make from your savings account each month. It's important to understand your bank's policies regarding withdrawals and to plan your savings accordingly.