If you work in a private or a government job, you will most likely have a salary account. There is no such difference between the salary account and the saving account except that the salary account offers many features to the users. When you opened your first account, it was most likely a savings or joint account with your guardians. However, when you start working in a job, the organization opens a salary account for you. In some ways, this salary account is different yet very similar to the saving account. Go ahead and check out more information in the section below.
What is the Purpose of a Salary Account?
Employers use the salary account to pay the salary to the employee. The employers have tie-up with some banks and only offer a salary in the account where they have a tie-up. Employers mostly open a salary account for you when you join the organization. You can also give your existing account to the employer, and if they have a tie-up, they will be able to use that as a salary account.
Benefits of Salary Account
The best benefit offered by the salary account is that it doesn't have a minimum balance requirement. You can have Rs 0 in your account, and the bank will still not charge any penalty to you. This offers higher liquidity when you compare it with the savings account. Most private banks have a minimum balance requirement of Rs 10,000 in your saving account, but this limit goes away with the salary account. Moreover, you get a lot of offers on your salary account, including pre-approved loans and such things.
Can I Convert Savings Account to Salary Account?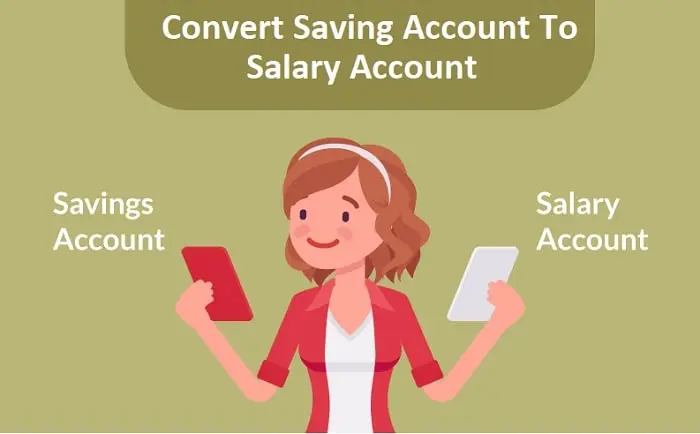 Yes, you can convert your savings account to a salary account, but certain conditions are associated with it. You would need to meet these conditions to be able to support the conversion. In most cases, you can convert the savings account to a salary account without documentation or issues. The lead times are also as low as one working day. We have listed two options for converting the savings account to a salary account, and below are the details.
Option 1 – You can check with your HR about the tie-up with the specific bank. If your company has a tie-up with the bank, then you can check with HR if they can help you convert the existing account to the salary account. Most of the time, the company has a dedicated account manager who can do this conversion for you without any documents or needing to visit the branch. Most likely, this is the option where you will fall in, and hence you will be easily able to convert your savings account to a salary account.
Option 2 – In the second option, you would need to visit the bank branch nearest to you, and you would need to check if you can convert a given saving account into a salary account. If the clause allows the conversion, then they may ask for some documents from you to initiate the process. These documents can be procured with the help of the company's HR. Mostly, the bank will ask you for an employment letter or a confirmation from HR. Once you submit the document, the account will be immediately converted into a salary account. The process is quick and easy.
Read This Also:
Final Verdict
It is easy to convert the saving account to a salary account if you meet the conditions. However, you need to understand that if the salary is not credited into a salary account for three months, then the bank will convert it into a regular savings account. Once it is converted to a savings account, you will need to maintain the minimum balance in your account. Failing to do so will have financial implications as the bank will start charging penalties. Apart from this, if you are not using any particular salary account as a salary account anymore, then you can get it closed, or you can have funds in the account as per the minimum balance requirement. You can call your banking partner or reach out to your company HR for more information.