Product-based businesses differ from service-based businesses in just one aspect, which is the production of the physical product. In today's world, if you pick any big or growing sector, you'd find out that within the same domain/sector/industry both service based as well as product-based companies exist. However, it is true that in the last decade or so, service-based businesses are growing quite rapidly because there is high demand, simple as that.
On the surface, a service-based business may seem pretty easy to start and quite profitable than normal businesses, but is that the whole picture? Well, if you are thinking of starting a service-based business in India, then you should look into the pros as well as cons of this business model. That way, you'll be able to decide whether you'd be able to continue a service-based business in the long run or not. And that's why we are here with this interesting post about service-based business advantages and disadvantages. Let's dive straight into it.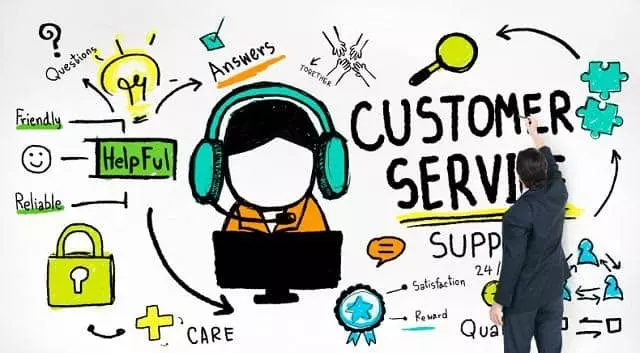 👍 Service-Based Business Advantages
Here are some benefits of service-based businesses:
1. Easy To Start
You probably heard of dozens of service-based companies that were started on a very small scale and now their evaluation is millions of dollars in the international market. Right? Well, yeah it is true that starting a service-based business is pretty much easier than a full-fledged product-based business. You can hire some people remotely or freelancers to work on your projects, and your job will be to manage everything, this way you can start your small-scale service-based business or agency. There are probably thousands of people doing the same thing, and guess what? Eventually, they end up making good profits out of this business model.
2. No Greater Capital Investment Required
What would you have to do when starting off a product-based business? Well to pull this off, you'd first need to create or produce the product. Right? And for that, you'd have to set up manufacturing units, gather raw materials, hire workers, get approvals, and after so many trials and errors you'd have a finished product ready to launch in the market. And that'll for sure require a huge capital investment up front. On the contrary, you don't need to do all of this when starting a service-based business, therefore you don't need a huge investment to pull this off.
3. It Could Be Interesting
Since you will be working with clients on a project-to-project basis, that's why the service-based business could be really interesting. It is not like you'll be doing the same thing every day, it is more like you'll have different challenges and requirements for different projects. And if you are someone who likes challenges, then you'd probably love a service-based business. On the other hand, for some people, it might be a little too hectic, and they might end up not liking this business model. So before starting a service-based business or company, you should have a good idea of what you are getting yourself into.
4. Be Your Own Boss
Of course, delivering the project on the deadlines to the clients would be a thing that'll bother you, but at least you'd be your own boss when pursuing a service-based business. You'll get to decide which project you want to work on, or which client to work with. Along with that, since you'll be managing most of the business, and who you want to hire, would be totally your decision.
5. It's Profitable
Service-based businesses are for sure profitable, plain, and simple. However, your profits depend upon how well you manage a project and minimize the expenses that could be cut down. If there is a market for the service you are providing, then you'd have a continuous supply for projects, and this will also motivate you to scale your business up by hiring more people for work.
👎 Service-Based Business Disadvantages
Here are some drawbacks of service-based businesses:
1. No Full Creative Control
For example, you are providing UI design services through your company/business. So when a client signs up a contract with your company, you'll have to deliver the UI designs as per the client's requirements. You can't just make the UI designs as per your liking or use too much creativity. All you can do is suggest the client, and besides that, you'd have to work on what the client's requirements are. That's why there is no full creative control in service-based businesses. And if you are someone creative and like to showcase your creativity through your work, then this creative control limitation will bother you for sure.
2. Communication Could Be Hectic
Service-based businesses are all about communication, and this can be really hectic sometimes. As a founder or owner, you'd have to communicate the requirements of your clients to the people you have hired to work on that particular project. If you underestimate the communication thing and take it lightly, it can really cause blunders. And believe it or not, no business owner wants that to happen to their company or business. That is why when looking for a service-based business or company, clients always check whether their message or requirements are properly communicated to the people who'd be working on their project.
3. Cash Flow
When starting a service-based business from scratch, you'd definitely face a cash flow problem. For instance, you have just signed a contract for a project with a client, and in most cases, you won't get the full payment for that project until you successfully deliver it to the client. That means you'd have to pay the workers or employees out of your own pocket to work on the project, and there could be other expenses to run a service-based business model. But over time, this problem will start to fade away when you have enough clients, thus it would not be a problem in the long run.
Conclusion
In our opinion, there are more advantages of a service-based business than disadvantages or shortcomings, and it definitely has the potential to change your life if you are able to pull it off correctly. All in all, these advantages and disadvantages will help you understand what your journey could be if you decide to begin a service-based company or business.
Service Based Business FAQs
Q1. What Are Some Common Challenges Faced By Service-Based Businesses?
Ans: Some of the most common challenges include inconsistent revenue streams, difficulty scaling, managing client expectations, and competing on price. However, with the right mindset and strategies, these challenges can be overcome.
Q2. Is It Possible To Market A Service-Based Business Without Spending A Ton Of Money On Advertising?
Ans: Yes! Marketing a service-based business doesn't have to cost a fortune. There are plenty of cost-effective marketing strategies that you can use to promote your services. For example, building a strong online presence through social media, a website, and SEO can help you connect with potential clients and improve your visibility. Word-of-mouth referrals and testimonials from satisfied clients can also be an effective way to promote your business.
Q3. What Things Should A Service-Based Business Consider When Scaling Up Its Operations?
Ans: Scaling up a service-based business requires careful planning and consideration. Some of the key things you should consider include hiring additional staff or outsourcing certain tasks to increase capacity, developing streamlined processes and systems to improve efficiency, reevaluating pricing to ensure that it covers the cost of additional staff or resources, and assessing market demand and competition to ensure that scaling is feasible and sustainable.
Q4. What Are Some Real-Life Examples Of Successful Service-Based Businesses In India?
Ans: Some of the most well-known and successful service-based businesses are Flipkart, a leading e-commerce platform, Zomato, a food delivery and restaurant discovery platform, Ola, a ride-sharing service, Practo, a healthcare platform, and many others. These businesses are known for their user-friendly interfaces, a wide range of offerings, and high-quality service providers.