There are different ways to do business. Some people prefer doing it all alone, while others prefer a partnership. While engaging in the partnership business, you can be two or more two people. In addition, you can partner with a family member, a friend or anyone you would like to work with. There are procedures to register a partnership business, and it is all straightforward to follow. You can easily create synergies and benefit from the partnership business.
What Should I Know Before Getting Into Partnership Business?
You must know about the different types of partnerships in India. One of the popular ones is the equal partnership, where all the partners invest an equal amount of money and also invest an equal amount of effort. Some people also work with silent partners. A silent partner may invest more capital and no effort in the business. There can be many modifications to the partnership business. You can also talk to your lawyer about the unlimited liability cost. If he recommends, you can set up a Limited Liability Company to limit your losses or liability.
If you want to know more about the partnership business, you can read all the information we have shared here. This will give you a clear idea about the pros and cons of the partnership business.
🤔 What is Partnership Business?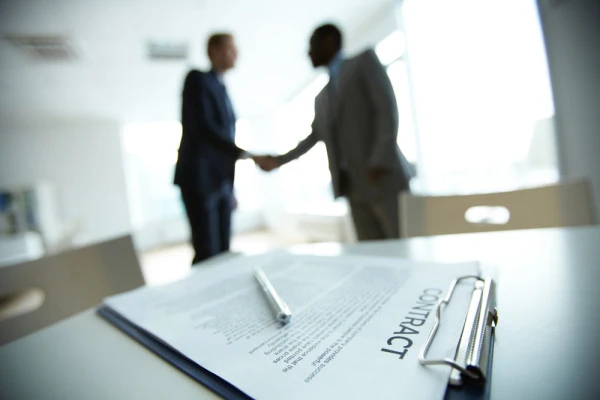 In a partnership business, two or more people come together to form a business and distribute profits in an agreed ratio. The partnership business can be done in any trade, and there are very few compliances in the case of these firms. The Indian Partnership Act of 1932 shares the regulations associated with the partnership business in the country. To start the business, you need to register a partnership deed. The documents for the registration should be sent to the Registrar of Firms through the post. Based on the documents, the certificate or registration is issued to you. Once this is done, you can register a partnership deed and start your business.
👍 Advantages of Partnership Business
Let us now look at all the advantages of the partnership business.
Easy to Start – A partnership business is the easiest to start. There is very less amount of documentation and compliance required in this type of business. So, the ease of doing business attracts many people into the partnership business. Registration doesn't cost a bomb, which is one of the best parts of the partnership business.
Sharing Workload – When working in a partnership business, you can share your workload with your partner. There is not just one person who is responsible for everything. You can divide your workload or responsibilities based on your interests or knowledge of the trade.
More Knowledge & Experience – When you have two or more people doing a business, they are also bringing more to the table. Each person has a different experience and a different knowledge so that you can work better and serve your customers better.You get a lot of versatility with the partners in the partnership business.
Better Decision Making – In a partnership business, you have two people who are working with each other, and they have different life experiences. It becomes easy to seek advice or consultation with someone. This way, you can make better decisions in a partnership business. Moreover, you have someone to retrospect with.
Ownership & Control – Ownership and control are only with the partners in a partnership business. This way, the decision-making process is very easy. The control is not engulfed with red tape. Instead, you can make quick decisions to service the customers in the best possible way. The only thing here is that the partners should have a higher level of understanding.
Access to Profit – You and your partner will have access to all the profits in the partnership business. You can decide to infuse funds into the business, or you can decide to withdraw a large amount of profit when required. This helps you feel empowered, and it also helps you become more confident.
Higher Capital – Since partners are coming together for business, you can get a higher paid-in capital when you start the business. Moreover, if you need to leverage debt for the business, you will have a higher borrowing capacity. The business loan can be obtained based on the personal profile of the partners, and hence you get easy access to loans and overdraft facilities.
👎 Disadvantages of Partnership Business
We have listed the disadvantages of the partnership business in this section.
Conflicts – If in case you are not able to gel with your partner, you can have conflicts. Eventually, this can become a source of unlimited conflicts. To avoid this, you must always ensure that the partner is a friend or a relative. We have noticed that a partnership business can lead to conflict between partners and relatives, so you must be very careful.
Unlimited Liabilities – You have unlimited liabilities for the partnership business. If there is a loss or a lawsuit, the liabilities can extend up to the owners' personal assets. This is a major turn-off when you have a partnership business. There are ways to mitigate the risk, and you can talk to your advisor about the same.
Combined Decisions – In some cases, combined decisions may not be the best option for a given situation. This relates to the first point where we have mentioned the possible conflicts. These conflicts can lead to poor execution plans and decisions, ultimately leading to loss of business.
Conclusion:
This was all about the partnership business. This form of business is the most popular and the most preferred form of business. It usually takes 12 to 14 working days to register a partnership business. Apart from this, the partners can choose to dissolve the business or get more partners by creating a new partnership deed. Lastly, if any liability arises from anyone's mistake, all partners will be held equally liable for the loss.
Partnership Business Frequently Asked Questions
Q1. How Do Partners In A Partnership Business Divide Profits And Losses Without Conflicts?
Well, in a partnership business, profits and losses are usually divided based on the partnership agreement. This is like the "rules of the game" that you and your partner agree to follow from the start. By having a clear and fair agreement in place, you can avoid any unnecessary conflicts and enjoy the sweet rewards of your hard work together!
Q2. What Traits Should I Look For In A Potential Business Partner?
Ans: When searching for a business partner, look for someone who shares your passion for the business, has skills that complement yours, and most importantly, someone you can trust and rely on. You want to make sure you're on the same page and can work together towards a common goal.
Q3. Do I Have To Deal With Legal Stuff Before Starting Out A Partnership Business?
Ans: Yes, starting a partnership business does involve some legal stuff, but it's not as scary as it sounds! To start a partnership business, you'll need to choose a business name, register it with the government, and obtain any necessary permits and licenses. You'll also need to create a partnership agreement, which is like your "dress code" for the business.
Q4. What Happens If One Partner Wants To Leave The Partnership, Or If A Partner Dies Or Becomes Incapacitated?
Ans: If one of your partners decides to leave the partnership, or if they're no longer able to continue due to unfortunate circumstances, you'll need to have a plan in place to handle it. By outlining the process for handling these situations in your partnership agreement, you can avoid any last-minute surprises and ensure a smooth transition.