It is true that whenever buying something, trust is one huge factor that people consider. And for sure, offline businesses are the best in terms of the trust factor, because a lot of things can go wrong with the product you order online. But still, people like to buy things online, especially on special occasions or festive seasons. However, this whole online shopping thing is just two decades old but now has become an integral part of everyone's life.
And if you are an offline business owner, or want to start a new offline venture, then this can be a real headache for you. Still, since you are considering starting a business on your own, you are off to a good start already. Today, we will be taking a look at what are the possible pros and cons of offline businesses compared to the online ones. So stay tuned because you'll learn about a lot of backend things that make a business successful.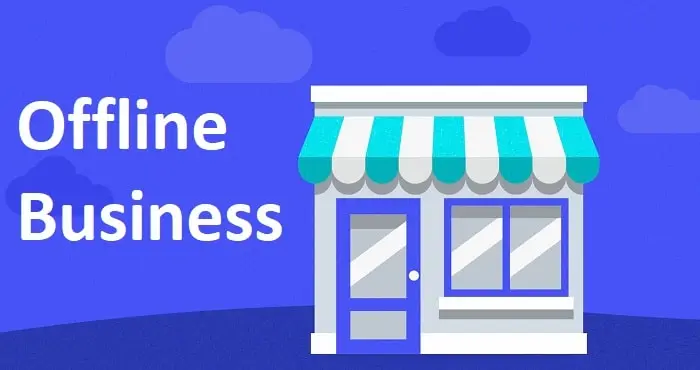 👍 Offline Business Advantages
Here are some benefits list of offline businesses:
1. Unique Connection With The Customers
When running an offline business, you can connect with the customers on another level. And if you are just starting out a new business, then to establish it in the market, you have to establish a unique connection with your customers. This way, you would have a better chance of standing out in the market compared to other competing businesses. Your main focus should be fulfilling the requirements of customers with exceptional customer service. These are the things that a customer looks for in a store, shop, or business. If you offer great customer service, polite behavior, and a top-notch quality product, your customers won't go anywhere else next time.
2. In Hand Feel Of The Product
The thing that is missing from all online businesses is that customers can't have the in-hand feel of the product before making the final purchase decision. And for that, they usually rely on recent product reviews and overall ratings. But the case is completely different with offline businesses, you can have an in-hand feel or overall look of the product before you purchase it. And not just that, when buying something online, it takes some time to be delivered to your address, but with offline businesses, you can pay for the product and take it home right away.
3. Lesser Returns And Refunds
As mentioned earlier, customers can have a good look at the product before buying it from your business/shop/store. And that's the reason when buying something, customers already have the in-hand feel, and they know about the usage of the product as well. That's why they usually don't return or refund the item. Along with that, there are close to no chances of dealing with cheater or fraud customers.
4. Personal Touch
You can decorate, and add the personal touch to your offline business in whatever way you want. This way, you can enhance the ambiance of your shop/store/business to attract more customers, which is a proven way of increasing traffic to your offline business. And by adding your personal touch, you can make your offline business unique and stand out compared to the other competitors in the market.
👎 Offline Business Disadvantages
Here are some drawbacks of offline businesses:
1. Limited Reach
It is true that your customer base will be limited to your locality or city. However, there is some hybrid business that has a local shop/store but also sells products online through huge marketplaces like Amazon. But still, it is a considerable disadvantage for offline businesses.
2. Higher Cost Of Maintenance
When running an offline business you have to pay the rent, electricity bills, employees' salaries, stock and manage the product, etc. Not just that, but starting an offline business also requires a huge investment in most cases. And that for sure creates a higher barrier of entry. Many offline businesses fail because they couldn't keep up with the maintenance expenses. This is for sure the biggest and most prominent disadvantage of running an offline business.
3. Limited Advertisement Options
Advertising your offline business to a demographic that is never going to visit your city, would be the most foolish mistake you can make when promoting your offline business. However, there are some platforms like Facebook that allow you to target and promote your business to people from specific cities. You can take advantage of that, or traditional methods of advertisement already exist.
4. Average Profit Margins
As an offline business owner, you have the freedom to decide the profit margin on every product, but the product's price and profit difference can't be too high because this way you'll start losing your customers. Other things like the stocking of the product, and business maintenance are the things that don't let you tamper with profit margins.
Conclusion
In a nutshell, both offline, as well as online businesses, have their own set of advantages and disadvantages. But if you are ready to deal with the negatives of offline business, then you should definitely give it a shot. However, we have tried our best to put every single positive and negative point in front of you about running an offline business to help you make a better and informed decision.
Offline Business Frequently Asked Questions
Q1. What Is The Best Offline Business Marketing Strategy One Can Follow?
Ans: Well, one strategy that can be highly effective is to focus on word-of-mouth advertising. By encouraging happy customers to tell their friends and family about your business, you can create a powerful network of advocates who will help spread the word about what you have to offer. Another fun and effective strategy is to host events or promotions that get people excited about your business. This could involve anything from product launches and giveaways to customer appreciation days and contests.
Q2. What Things An Offline Business Can Do To Make Their Customers/Clients Loyal To Them, So They Shop From Them Again And Again?
Ans: One approach that can be highly effective is to personalize the shopping experience for each of your customers. By taking the time to get to know your customers and offering personalized recommendations and discounts, you can create a sense of connection and loyalty that will keep them coming back again and again.
Q3. What Key Performance Indicators (KPIs) Can An Offline Business Use?
Ans: There are many key performance indicators or KPIs that can help you monitor your progress and make adjustments as needed. Some of the most important KPIs for offline businesses include sales revenue, customer acquisition cost, customer retention rate, average transaction value, and foot traffic.
Q4. Is It Advised For All Offline Businesses To Transition To An Online Business Or Also Offer Their Products Online?
Ans: Simply put, while some businesses may thrive in a purely offline environment, others may benefit from having an online presence. In fact, for many businesses, transitioning to an online model or offering products online can be a highly effective way to reach a wider audience and boost sales.