A refinancing program called Mudra is made available to banks and microfinance organizations. This program, a wholly owned subsidiary of SIDBI, offers banks and microfinance organizations refinancing options against the debts they have given to start-ups to encourage the growth of these micro-units. The main target of this program is the nation's MSME units. It was created specifically to provide capital, protect small business owners from money lenders' exploitation, and aid 1.5 crore new business owners in growing their operations.
The Mudra scheme provides loans without the need for security. The interest rate on the loans obtained under this arrangement is not fixed. The base rate is applied to interest, plus 1-7%. Based on the risks involved and the customer's profile, this could also be higher.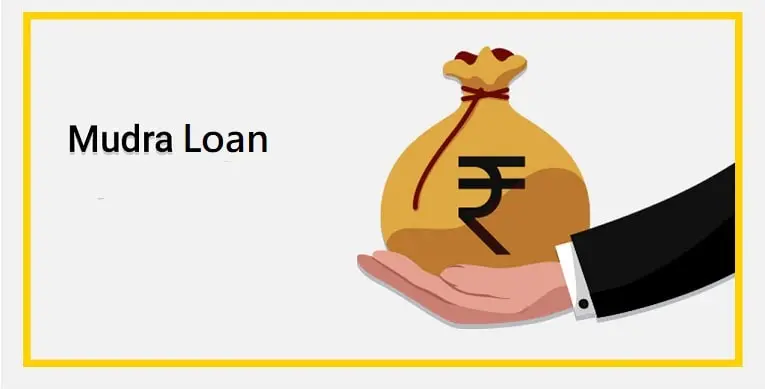 For qualified businesses, RRBS, cooperative banks, commercial banks, NBFCs, MFIs, etc. offer loans of up to Rs. 10 lakh. Borrowers can apply for loans through the MUDRA scheme in person at neighboring lending institution outlets or online.
👍 Mudra Loan Advantages
Let's examine the top five advantages of using a PMMY program.
1. Make a large loan under the Mudra program.
The mudra yojana scheme provides start-up businesses, and small business units, including MSMEs with loans ranging in size from Rs 50,000 to Rs 10 lakh. The credit products made available through the mudra loan program aid micro-units and small businesses in expanding their operations and meeting financial obligations.
2. No security is necessary
As an unsecured type of business loan, the MUDRA Yojana loans do not require the borrower to pledge any significant assets as security to the lender.
3. Services without hassle
The Micro, Small, & Medium Enterprises sector has long been disregarded due to a lack of trustworthy financial data and the assumption that they won't be able to make as much money. As a result, because of a shortage of access to financing, the development of this extremely powerful sector has continued to be hampered. By providing the MSME sector with speedy services and simple clearances, the Mudra loan plan addresses this problem and has greatly benefited the sector.
4. Beneficial for small and micro companies
Individuals are granted access to a microcredit scheme under the MUDRA Yojana for a specific income-generating microenterprise activity. This programme provides financial assistance to both new and small enterprises. Under the MUDRA Yojana scheme, the government guarantees the borrower's credit. This suggests that if the borrower defaults on the loan, the government is liable for it. Benefits of the Pradhan Mantri MUDRA Yojana are available to even the smallest businesses, such as food cart operators and shop owners.
5. Various goals may be achieved by using the loan amount.
The Mudra Loan programme gives vendors and store owners access to working capital loans via Mudra Cards, equipment financing for micro-units, and loans for transportation vehicles. The financing facility is made available for any type of fund or even non-fund-based need under the PMMY strategy. Those who opt for the MUDRA Yojana can get low-interest small business loans from trustworthy lenders.
👎 Mudra Loan Disadvantages
Here are some drawbacks of mudra loan:
1. It's unclear whether or not RBI is in charge of it:
Since the MUDRA loan was launched, not a single notice has said whether the Reserve Bank of India (RBI) is in charge of overseeing the entire process or not. It can be believed that RBI is not in charge of this PM Modi-led lending initiative because there is no obvious indication of its active involvement in this. In this instance, it will be a high-risk investment for many if MUDRA expands and eventually dominates the microfinance sector in India.
At the moment, RBI in India is in charge of and oversees all major microfinance organizations. If RBI doesn't actively participate in MUDRA, there will be a variety of regulations governing and affecting microfinance institutions. The financial system can experience shadow banking as a result.
2. In India, there are already a few microfinance organizations.
There is no denying the credibility of the MUDRA loan agency's voice. There is still some uncertainty, though, given the large number of microfinance organizations that are currently operating in this nation. In addition, there are programs established by the central government to finance small and micro businesses in India. Launching a new microfinance program in this circumstance has raised several questions. It is conceivable that this could result in India's banking or financial system becoming deregulated.
3. MUDRA is identical to every other microfinance organization.
MUDRA was established at a period when the microfinance sector was already thriving and supported by numerous businesses. Each of them offers a different set of perks to applicants. MUDRA is not all that dissimilar from them. The MUDRA scheme offers the same kinds of loans, interest rates, and repayment options as are now offered by every other microfinance institution in India. Therefore, MUDRA does not appear to be a promising plan at this time.
4. Under MUDRA, there is not a clear image of time and process.
Despite the fact that there has been no official confirmation that the RBI will control MUDRA, it has recently been reported that MUDRA could work with the Post Office loan procedure because it will be simpler to reach a larger audience. However, the authority does not specify a certain processing time. That is, no one is aware of the time frame for processing a loan after receiving a sanction. It causes greater misunderstanding regarding the plan. Additionally, if it is truly associated with the Post Office, the process will be slower than that of any other provider of microloans.
5. Better possibilities for microlending are available in the economy.
These microfinance organizations typically operate in places where people lack access to banks. It would be beneficial if banks could expand their networks and channels to rural areas to reach out to people instead of having so many microfinance organizations. Due to its adherence to the post office network, MUDRA can connect with a large number of people. But it can't be trusted in the same way that a bank can.
Conclusion
The MSME industry has long been disregarded due to a lack of reliable financial data and the belief that it generates less revenue. As a result, the growth of this extremely powerful sector has been hampered by a lack of capital. By giving people easy access to free services, the Mudra scheme addresses this very problem. Women business owners and those from Scheduled Castes, Scheduled Tribes, or Other Backward Classes can receive the money they need to operate micro-businesses and make a respectable living with the help of MUDRA Yojana. On May 29, 2018, PM Modi disclosed that financial institutions had given loans of Rs. 6 lakh crore to more than 12 crore recipients, of which 28% are first-time business owners. The majority of the additional Rs. 1 lakh crore that the government proposes to inject into the market will go to the Shishu category.
Mudra Loan Frequently Asked Questions
Q1. How Do I Know If I Am Eligible For A Mudra Loan Or Not?
Ans: Well, the scheme is designed to provide financial support to small and micro-enterprises. To apply, you need to visit a commercial bank, regional rural bank, small finance bank, or cooperative bank. The best part is that the loan amount can go up to Rs. 10 lakhs, depending on your business needs.
Q2. Is It Possible To Get Mudra Loans From Two Banks At The Same Time?
Ans: Unfortunately, you cannot get a Mudra loan from two banks at the same time, even if you're a master multitasker. So, choose a bank that suits your needs and apply for a Mudra loan to fuel your entrepreneurial spirit.
Q3. Can A Bank Reject My Application For A Mudra Loan?
Ans: Nobody likes rejection, but banks have the right to say no to your Mudra loan application. If your application is rejected, don't worry; you can still find other banks that can provide you with the financial assistance you need. Be sure to read the guidelines, and make sure you meet all the eligibility criteria before applying.
Q4. Do I Need To Provide Collateral Or A Guarantor To Get A Mudra Loan?
Ans: Are you tired of asking your rich uncle to be your guarantor for every loan application? Good news, with Mudra loans, you don't need to provide any collateral or guarantor! That's right; the loan is based on your business's viability and your ability to pay it back. However, for larger loan amounts, some banks may require collateral or a guarantor to secure their investment. So, start small, grow your business, and apply for a Mudra loan without any stress!