Power outages are a common issue in India,  they can be caused by a direct power cut from the powerhouse or by a malfunction in the electricity wire network or transformers near your house. But most of the time, these power cuts are unannounced, and sometimes it happens when the voltage fluctuates and damages the appliances and other electric or electronic equipment in a household. And, in order to avoid such damage, many Indians prefer to install an inverter in their homes, not only to safeguard the equipment and appliances that operate on electricity but also to utilize them when the power goes out. An inverter is a two-piece electronic device, where the battery plays an important role to store and deliver electricity when needed.
However, you may have seen people considering the good and bad aspects of a brand's inverter like the different types, actual power output, jerk load, efficiency, safety modes, technology implementation, etc. But the thing is if the battery you are using with your setup isn't capable enough, it'll definitely cause some problems in the future. Therefore, priority and consideration should also be given to the battery you'll be using with the inverter setup.
List of Top Inverter Battery Companies In India
And to help you out with that, we are here with a detailed list of the top 10 best inverter battery companies in India that manufacture the best batteries in the entire nation. So stay tuned because there would be a lot to learn.
1. EXIDE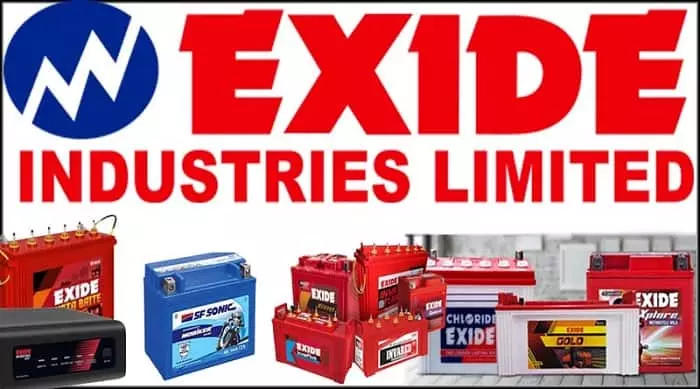 Whether it is the offline market or online, the inverter & battery domain is dominated by the largest manufacturer Exide. This company is one of the oldest when it comes to manufacturing and distributing inverters and batteries on a large scale. It was the year 1947 when Exide made its first appearance in the Indian market. And now, slowly it has become one of the leading companies when it comes to buying a full inverter setup including a battery. Exide IT-500 150Ah Tubular battery is one example of the best-selling inverter batteries in the Indian market. There is one thing why people choose Exide over other companies, it is the "Safety" thing. With every manufactured unit, Exide puts the safety of the customer first, thus people don't have any issues with most of the batteries offered by Exide.
2. Microtek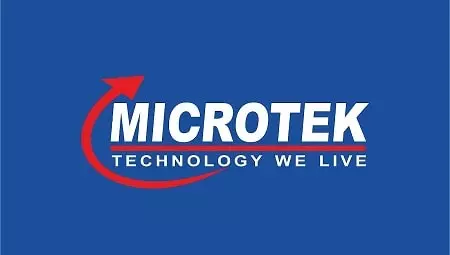 Microtek is one such brand that Indian consumers treat like an Indian-origin brand because it has been established extremely well in India. Not just in the power backup and solar solution department, Microtex excels in other industries like healthcare as well. Microtek is actually a Taiwan-based company, and it's been over four decades since this company has been doing a great job in the power backup domain. One thing that makes it different from other competitors in the Indian market is the state-of-the-art cutting-edge technology implementation. And as a result, you see the inverters, batteries and other electric or electronic devices have incredible safety features.
3. Luminous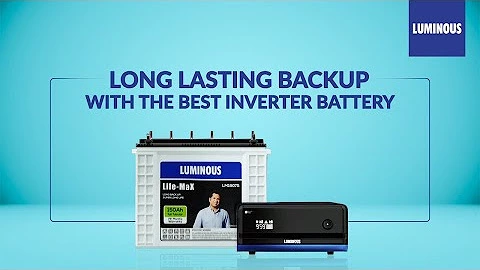 If we were to solely focus on the inverter part of the whole setup, then Luminous would be the number one company on our list. That is because Luminous makes one of the best inverters in the entirety of India. However, the inverter batteries offered by this company are quite good compared to most of the brands. Some of you may recognize this company from the famous TV commercials about light bulbs and inverters. Luminous focuses not just on inverters and power backup solutions, but you can also buy solar solutions, fans, bulbs, switches, etc.
4. Amaron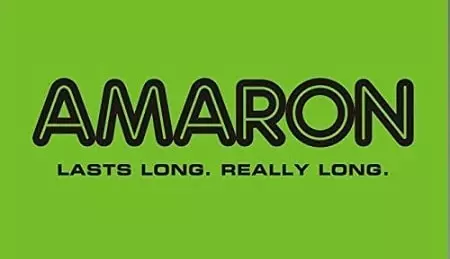 Well, Amaron is primarily known for the best automotive batteries, but they offer batteries for inverter setups as well. In fact, the Amaron Inverter 150Ah Tubular Battery is one of the best-selling ones for inverter setups in India. The prime reason behind that is the Amaron company offers high-quality batteries at a very affordable price point. Not just that, the Amaron batteries are usually built quite strong and have impressive heat resistance. Along with that, such batteries require pretty low maintenance, like once every month. With such durability and low maintenance requirement, Amaron tubular batteries can easily last up to 10 years.
5. Loom Solar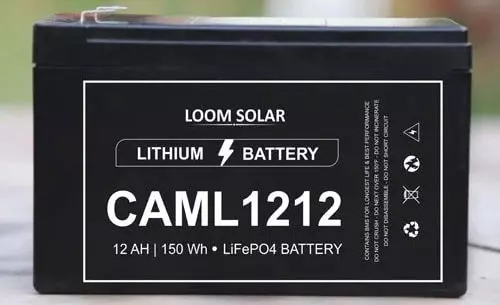 As the name suggests, Loom Solar is a huge and well-renowned solar solution provider in the country. If you are reading the post from the beginning, you know that we haven't mentioned buying a lithium battery for inverter setups. But the Loom Solar Lithium Battery could be a great option since they come with good output, top-notch safety features, and incredible build quality. Lithium batteries usually don't require any maintenance at all, and a good quality battery like Loom Solar's Lithium Battery can last up to 10 years easily while providing a 2 to 4 hours backup when there's a power outage.
6. V-Guard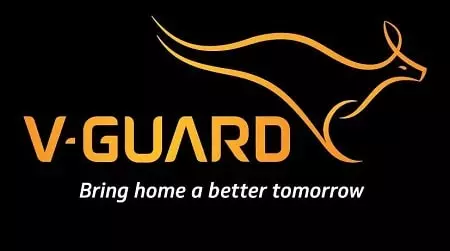 V-Guard is known as one of the leading brands in India when it comes to buying electrical appliances and other essential electrical items. And for sure, V-Guard is an Indian-origin company that started back in 1977, more than 4 decades ago. And now it has become a billion-dollar company that has been providing shoulder-to-shoulder competition to other foreign competitors dominating the Indian market. Talking specifically about the inverter batteries, then it is pretty hard to point out any shortcomings with V-Guard inverters and solar batteries. In our opinion, if you are looking for a reliable, and affordable inverter battery option, V-Guard wouldn't disappoint you at that.
7. Livguard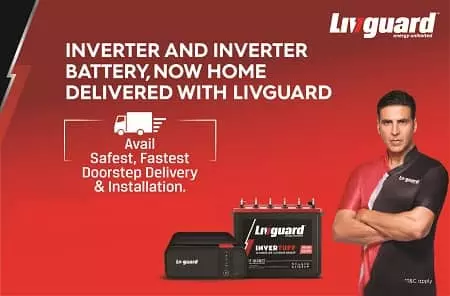 Livguard is quite an underrated company on our list with a huge potential to dominate the market in the future. We are saying that because Livguard has put its maximum efforts to promote the sustainable energy concept in India, and it looks like the efforts have pretty good outcomes. Whether you require an automotive battery, inverter battery, or solar battery, Livguard has got you covered. And the major selling point for this company is that it provides the best quality batteries at reasonable price points so that everybody who's planning to buy one can afford Livguard's solar/inverter or automotive battery.
8. Okaya Power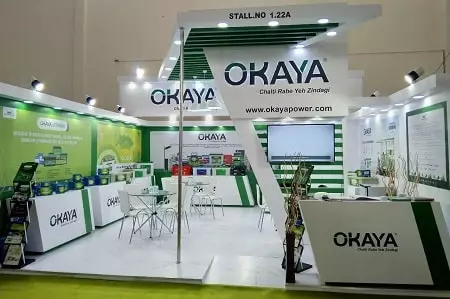 Okaya's inverter batteries are pretty common in the Indian market since there are nearly 40 thousand dealers who have the dealerships of Okaya Power. With such a decent network in India, Okaya Power has been quite successful at selling lithium as well as tubular batteries for inverter setups in India. If you are planning to buy one online, you'd find that Okaya's batteries have impressive feedback from customers and higher ratings on platforms like Amazon.
9. Genus Innovation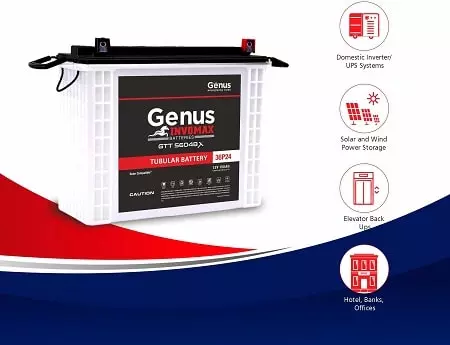 Genus is one such brand/company that many people are unaware of. However, Genus Innovation's tubular batteries perform quite well in India, and many electricians as well as electrical shop owners recommend people buy Genus inverter batteries. These batteries come in the range of 100 AH to 230 AH, with incredible power backup, low maintenance, and durable build quality. And this is what a person looks for when buying an inverter battery at an affordable price point.
10. Livfast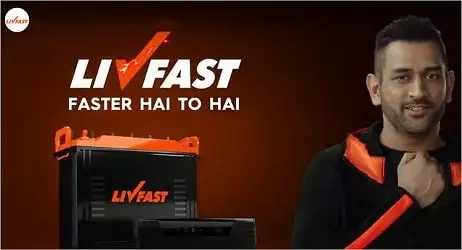 Livfast is a sub-branch of The SAR Group which has been working in the energy and power backup sector for more than 30 years now. No matter if you require batteries for automotive use, inverter setups, or solar setups, Livfast has got you covered. The selling point of Livfast is that the batteries are built in such a way as to provide excellent performance without compromising the safety factor.
How To Choose The Best Inverter Battery in India
Battery backup power is crucial, so having batteries on hand is essential. Having inverter battery is a necessity in areas with frequent power outages. The batteries used in inverters are specifically engineered to deliver a constant low current for a considerable length of time. The batteries in an inverter don't become completely drained for a long time.
Here's how you can choose the best inverter battery in India
1. Backup time
One of the most common concerns among consumers when looking into purchasing a battery is how long of a backup it will have. How long can something run on a battery's backup?
If a customer has to power 400 Watts of equipment for an extended period of time, such as fans, refrigerators, coolers, TVs, laptops, lights, etc., he could desire a backup time of around 12 hours.
In urban areas where electricity is more quickly restored, a customer may prefer a shorter backup length of 4 hours.
Because it may take more time for the grid to restore power in rural areas, some customers may prefer a 24-hour backup period.
He has the option of selecting the battery backup time that best suits his needs and the environment in which he resides.
2. Technology: Which battery technology is widely available?
a. Normal Battery
Standard batteries are the most widely accessible option. They're created in the area, and they have no name attached to them. We may safely assume that these batteries have lost their charge.
b. Inverter battery
A home's power system is not complete without an inverter battery as its central component. Only residences utilise single or dual batteries. Aside from that, everything is put to a commercial use. Both flat & tubular forms of this technology are commonly available.
c. Solar battery
A solar battery is identical to an inverter battery, except that it may be charged for extended periods of time.
d. Lithium battery
Due to their great energy density and rapid technological advancement, lithium batteries are rapidly decreasing in price. They require little care and have a low rate of self-discharge.
4. Warranty
The buyer wants to know more about the guarantee. Manufacturers of rechargeable batteries typically offer both replacement & service guarantees. Standard batteries have a warranty of 6 to 36 months, inverter batteries of 3 to 5 years, and lithium batteries of 3 years.
5. Budget
The cost of a single battery might range anywhere from INR 1,000 to INR 25,000. Have a look at the following price lists for several battery kinds and pick one that works best for you:
Lithium battery- 20,000 to 25,000 Rs
Inverter/solar battery- 6000 to 19000 Rs
Normal battery- 2000 to 14000 Rs
6. Other considerations
Is there a toll-free number and onsite warranty for the battery?
How long has this battery been available? How long will this last? Exactly what problems have been raised?
Finally, consider any constraints you may have about available space.
Note: Don't buy a battery of a local brand as it could break down at any time & leak poisonous gas from the cells, not to mention the high cost of upkeep.
Final Thoughts
Alright, these were our top 10 picks of the best inverter battery companies in India. Now you know what a reliable inverter battery company or power backup solution provider looks like. We have tried our best to let you know about the prime selling points of each company, so you can come up with an informed decision on your own.