As you may already know, India now has the largest population in the world. And that combined with the e-commerce scene of India, and the need for rising transportation, it seems like a great time for the transport companies to actually shine in the Indian market. Right? Well, the thing is that there are already dozens of transport and logistics companies in the country, but not every company is the so-called "BEST" in the eyes of customers and clients. There are a lot of things that actually make a transport company the best, especially in a busy country like India. We are talking about faster delivery times, lower transport costs, package safety, reliability, proper tracking systems in place, and a lot of other things.
So yeah, when calling a particular transport or logistics company the best one in the country, you must consider these factors. And if you are someone who's already on the lookout for the best transport companies in India, then you are at the right place. That's because we are about to give you a thorough lowdown on the top 10 best transport companies in India for 2023. If that intrigues you, then we'd advise you to keep on reading because it is going to be a lot of fun. Let's get started with the list now. Shall we?
List of Top Transport Companies in India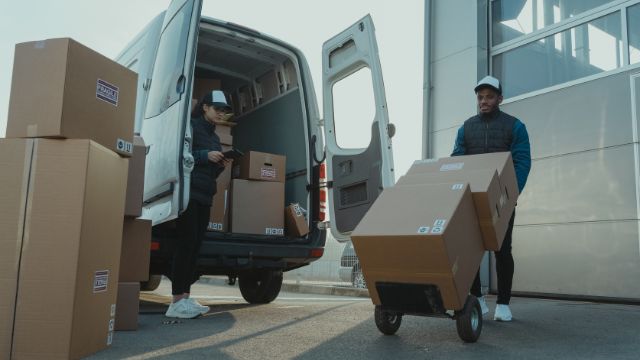 1. Blue Dart Express
Have you ever heard of Blue Dart Express? If you're from India, we bet you have! Founded way back in 1983 by the trio Tushar Jani, Khushroo Dubash, and Clyde Cooper, this Mumbai-based gem has been delivering smiles across the country. And they even have their own airline, Blue Dart Aviation, flying high across South Asia. Well, that's truly impressive, isn't it? On top of that, in 2002, they teamed up with global giants like DHL Express. And by 2004, DHL was so impressed that they invested a whopping €120 million, becoming a major player in Blue Dart's journey. Thanks to this power-packed alliance, Blue Dart's become the go-to name for reliability in India.
2. Transport Corporation of India (TCI)
Next on the list is TCI, or Transport Corporation of India, the brainchild of Prabhu Dayal Agarwal started in 1958. Starting off in Kolkata with just a truck and a dream, TCI is now a logistics giant in the country which is actually based in Gurugram. Their mantra is simple yet effective, which is excellence at every turn. Whether it's TCI Freight, TCI Express, or any of their other stellar services, they've got India covered. Their journey from "One Man, One Truck, One Office" to today's empire is nothing short of inspiring! And that is the prime reason why we have put it up so high on our list today.
3. DHL
When you think about global logistics, DHL's probably the first name that pops right up in your thoughts, right? And that too for a good reason! Since 1969, when Adrian Dalsey, Larry Hillblom, and Robert Lynn kickstarted this revolution, DHL has been setting the gold standard. With a presence in over 220 countries and a whopping 600,000+ passionate team members, they're the real big players on the global level when it comes to logistics. In this age of "I want it delivered now!", DHL's been the champion of quick and affordable deliveries. And yeah, did you know that while DHL's busy conquering the world with its range of services, its sibling, Deutsche Post, is ruling the roost in Europe as the top postal and parcel service?
Also read: Top 10 Best GPS Tracking Companies in India
4. Gati Ltd
See, way back in 1989, Gati Limited burst onto the scene and quickly became one of India's top players in Express Distribution and Supply Chain Management. Based out of the bustling city of Hyderabad, they've been making waves in the logistics game for quite a while now. From air express logistics to e-commerce services, they've got it all. And guess what? They've got a presence in a whopping 735 out of India's 739 districts. That's some serious coverage! With a legacy spanning over 30 years and a passionate team spread across 600 offices, Gati Ltd is surely the name to remember in Indian logistics.
5. Container Corporation of India Ltd
Launched way back in 1989, CONCOR took the bold move of scooping up seven inland container depots from Indian Railways. That right there was the move that started everything for this company. And now, they're not just any transportation company. Imagine having port facilities, including the nitty-gritty of Customs clearance, right at your doorstep. That's the real magic of CONCOR's dry ports. Plus, with most terminals linked to the massive Indian Railway network, they're transporting huge volumes without burning a hole in your pocket. And get this, they're not just about moving stuff around. They're also offering killer facilities like warehousing, container parking, and even container repair.
6. FedEx
Next up is FedEx. Now that's a name that rings a bell, right? Globally, they're the kings of express transport. FedEx Express, their superstar subsidiary, claims the title of the planet's top express transportation company. Their mantra is super simple, be fast, be reliable, be efficient. And, boy, do they deliver! In India, they're not just any courier service, they're a complex delivery network making timely deliveries look easy. And speaking of connections, FedEx Express recently teamed up with Delhivery, another rising star in India's logistics scene. This power duo is set to crack the code of India's cross-border potential.
7. Allcargo Logistics
Straight from Mumbai's hustle and bustle, we've got Allcargo Logistics next on the list. Kickstarted back in 1994, these folks began their journey by handling cargo at Mumbai's Jawaharlal Nehru Port. All thanks to the vision of Mr. Shashi Kiran Shetty, what started as a little customs gig soon started diving deep into freight forwarding. But the real game-changer was teaming up with Belgium's ECU-Line in 1995! This cool collaboration sent Allcargo into overdrive, growing and stretching its wings. By 2003, they were already popping up Container Freight Stations in places like Chennai, Mundra, and Kolkata.
8. Safexpress
Alright, next on the list is Safexpress, and boy, are they a big deal in supply chain and logistics! Having started their awesome journey in 1997, today they wear the crown of 'Knowledge Leader' in India's logistics arena. Whether you're selling the latest tech, dishing out tasty treats, or designing fabulous fashion, they've got you covered. Their commitment to going the extra mile (literally) shines bright. They're all about efficient, on-the-dot deliveries and state-of-the-art warehousing. Their motto is that you (customer/client) focus on what you do best and they'll handle the logistics.
9. VRL Logistics Limited
Based out of Hubballi in Karnataka, this company is a massive force in the Indian logistics scene. Started by Mr. Vijay Sankeshwar in 1976, it's got a rather unique beginning, with a publication house! Fast-forward to today, and they're not just about books anymore. They're one of the biggest names in logistics with a fleet so large that the Limca Book of Records gave them a shoutout! We're talking about 4360 vehicles ready to roll. From tourist buses for a comfy journey to trucks loaded with goods, VRL is the name you can trust to get stuff (or you) from A to B seamlessly.
10. Mahindra Logistics Ltd
Last but certainly not least, it is time to introduce Mahindra Logistics. Yup, they're from that Mahindra Group, known for being total pros in the logistics game. What's their specialty? Well, it's crafting top-notch, customer-focused logistics solutions. Whether you're a big enterprise or a rising startup, they ensure you've got your supply chain game on lock. Their mobility services ensure you get where you need when you need them. Their primary goal is clear, confident solutions that fit like a glove. With a keen eye on digital growth and being the top pick for their clients, Mahindra Logistics is all about that seamless and integrated experience.
Conclusion
There you have it. This is the most detailed and well-put-together list of the top and best transport companies in India for the year 2023. Whether you are an investor looking forward to investing in the top transport companies, or maybe you are just a curious person wanting to know about such companies, we hope that today's post has served you well. We've tried to provide you with a brief history, current status, and what makes a particular transport company stand out, in this post. So if you really want to dig a little deeper, then we'd advise you to do some of your own due diligence.