Nowadays, GPS tracking has been quite normalized in our lives, but back in the days when it was just introduced, it was a huge thing. It is possible to track anyone, anything, and anytime with GPS tracking, only if the GPS trackers are set up in place. It could be that you want to keep track of your dear ones for safety purposes, or you want to use GPS for adding an additional layer of security for your vehicle. GPS tracking, on the other hand, is incredibly important for organizations/businesses in terms of fleet and asset management or fleet tracking.
Every GPS tracking solution provider uses the Global Navigation Satellite System (GNSS) to track an object, person, device, or vehicle. But things like accurate mapping, geofencing, low latency, and easy-to-use interface make a GPS tracking company the best in the market. In India specifically, there are literally dozens of GPS tracking solution providers available in the market, but the question is, which one should you choose? Well, today we will be taking a look at the top 10 best GPS tracking companies in India to help you out. By taking a look at the services and products these companies offer, you'd be able to make an informed decision in the end.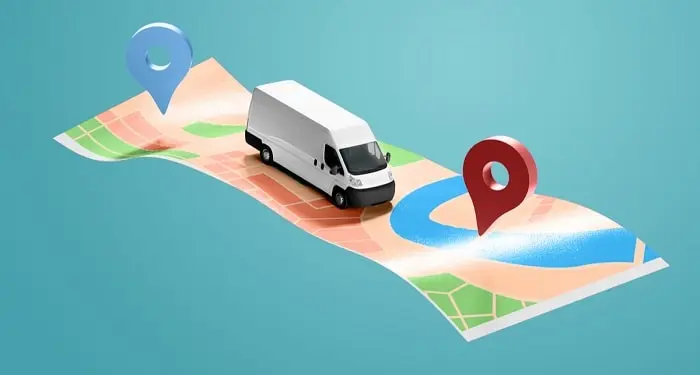 List of  Top GPS Tracking Companies in India
So, let's dive deep and select the best GPS tracking solution for you.
1. ATrack
ATrack is a one-stop GPS tracking solution provider, which is fairly new in this niche. The services offered by this company are the most phenomenal ones in the market right now. No matter whether you want a GPS tracking solution for personal needs, in the logistics department, car rental business, for school vans, cold chain, taxis, or anything like that, ATrack has got you covered. In just a decade or so, ATrack managed to expand itself to over 120 countries around the globe. In the Indian market, ATrack is quite popular since the software, devices, and hardware is durable, affordable, and easy to use for almost all sectors.
2. Ruptela
In today's list, Ruptela is the most trusted and popular GPS tracking company in the entirety of India, and even in other Asian countries as well. Ruptela started its journey back in 2007 with the sole goal to provide the best possible GPS tracking solution with a customer-centric approach. And now we know how that turned out. Don't we? In comparison to other GPS solution providers, Ruptela's team is quite small, but the company management has focused on hiring the best talent from around the globe. And that is how Ruptela comes up with the insanely accurate and best GPS hardware, software, and other solutions for various industries.
3. Teltonika
As the tech experts say "It is the era of the Internet of Things." And it is better to implement it in our lives for an additional layer of security. However, companies and organizations have a different use of IoTs, where they use GPS tracking systems for fleet tracking and other important things in the fleet management area. Teltonika is one such GPS tracking company that provides a one-stop solution for both personal as well as business needs. One thing that makes Teltonika stand out is its research department, where some talented individuals are constantly trying to make GPS tracking more seamless and accurate.
4. TrackingFox
When it comes to the best GPS tracker for your vehicle, TrackingFox for sure provides the best, most highly sensitive, affordable, and most durable trackers on the market. The car tracker offered by TrackingFox is one of the most popular ones in the Indian market for quite a while now. The prime reason behind that is the tracker is quite small in size, and easily can fit in the OBD socket, which makes it unnoticeable. And the mobile app is optimized so well that it is for sure the best in the market right now.
5. Skypatrol
Since the existence of Skypatrol in 2002, it has managed to spread itself in over 25 countries. Not just that, with more than 20 years of experience in this niche, Skypatrol has sold over 1.5 million trackers. The trackers/hardware offered by Skypatrol is not the smallest in the market but they can provide neck-to-neck competition with any other billion-dollar tracking company in terms of accuracy, geo-mapping, and real-time location. For the safety of your drives, mapping accurate routes, and tracking fleet, the Skypatrol Fleet Management software will be a great choice as compared to other more confusing ones.
6. GoSafe Systems
GoSafe GPS trackers have been dominating the Indian market for quite a while now. Especially the Plug-n-Play Trackers are the most popular ones in India since the installation and usage are quite straightforward. However, for business needs, the Fleet Tracker, and Asset Trackers are the best to plan out routes, save fuel, and for the safety of all your drivers. So no matter if you need a GPS tracking solution for personal needs, transportation or logistic department, asset tracking & management, or anything like that, GoSafe would always be a great choice.
7. Meitrack
Not just in India, but Meitrack is quite a recognized and trusted company all over Asia. Meitrack not only provides GPS tracking solutions but additional security solutions for various needs as well. For example, the Mini AI Mobile DVR is a great device to install in vehicles for video recordings, driving behavior analysis, and also GPS tracking as well. In almost all the departments like logistics, agriculture, construction, and fleet tracking, Meitrack provides the best possible solution you can get in the market. However, the cost of trackers and tracking software is a bit high compared to other popular companies on this list.
8. Queclink
Queclink is a multinational GPS tracking solution provider with an established customer base in almost all countries. This company is known for its Smarter IoT technology. The biggest use of Queclink's tracking system is in the transportation and logistics department where businesses use the software and trackers to keep track of shipments, fleets, and assets. If you are looking for smart trackers for personal needs like keeping track of your motorcycle, or car, then you should give Queclink a try. The software used by Queclink's IoT devices/trackers is developed by its highly talented developers, and that makes the overall tracking system of Queclink incredibly accurate, with low latency, and features like video telematics.
9. Letstrack
Letstrack is an India-based GPS tracking solution provider. Letstrack provides award-winning one-stop tracking solutions because of their incredible adaptability, value for money, and new innovations. When it comes to Letstrack, there is a bit of a trust factor involved and that's why in the Indian market, this company performs quite well as compared to others on this list. The tracking software and hardware offered by Letstack are packed with more than 250 tracking features, which is another thing that makes this company stand out in the Indian market.
10. Concox
Concox is a China-based company, but still, the popularity of this GPS tracking company is remarkable among the Indian customers who require GPS solutions. Whether it is about tracking solutions for personal needs or business needs, Concox does a pretty good job at providing durable, easy-to-use, impressively accurate, and affordable trackers for customers. Unlike already established tracking companies, Concox emerged just 15 years ago, and soon it made its appearance in more than 150 countries. From the very start, Concox had one sole goal to provide a highly accurate, and real-time GPS tracking solution for everyone.
Conclusion
These top 10 best GPS tracking companies have come a long way and now are well established in the Indian market. Most of these companies know what their customer actually wants, and that's why the majority of these companies are working on new innovations to make GPS tracking an inseparable part of our lives for additional security.
GPS Tracking FAQs
Q1. Is GPS tracking legal in India?
Ans: Well, there aren't any federal laws specifically prohibiting GPS tracking, but there are some restrictions on how employers can track their employees. The Information Technology Act 2000 helps keep data protection in check in India.
Q2. Is GPS tracking possible without the Internet?
Ans: Absolutely! Your mobile device's GPS can work without an internet or cellular connection. As long as your smartphone has some battery remaining, you'll be able to navigate remote areas and unfamiliar places. GPS tracking on your phone doesn't need internet connectivity or cellular service to work just fine.
Q3. Is it possible to hack a GPS device?
Ans: Well, believe it or not, like any other digital gadget, there's a chance that GPS can be hacked. Sneaky hackers can wiggle their way into your car's GPS device and pull off a trick called "GPS spoofing" to mess with your coordinates and location for their own sneaky purposes.
Q4. Do GPS trackers work everywhere?
Ans: You bet! Absolutely! Those nifty satellite-based GPS tracking gizmos can work their magic just about anywhere on this beautiful planet of ours, all thanks to cutting-edge satellite technology like GlobalStar or Iridium. And they don't even need a cellular connection to get the job done.
Q5. Is a GPS device more accurate than a phone?
Ans: Smartphones usually rely on cell tower triangulation before tapping into GPS satellites to figure out your location, which isn't as precise. So, a standalone GPS device is way more accurate than your phone's GPS feature.
Q6. Which technology is used for tracking?
Ans: GPS devices use Global Positioning Systems & Satellite Tracking, which is how they got their name. GPS is a groundbreaking technology that uses a network of satellites and complex algorithms to pinpoint an object's location with amazing accuracy.
Q7. What is a passive GPS tracker?
Ans: A passive GPS tracker, also known as a data logger, is designed for assets or vehicles. It continuously collects data and stores it on a USB stick, memory card, or internal memory. However, the info isn't available for real-time viewing.