The textile scene has been going around in India for thousands of years now. Some experts believe that it was actually the Indian subcontinent where the first textile industry began. As we all know, India used to be a prominent player in the silk weaving scene, and that is also a part of the textile industry, so yeah, that's kind of proof that India is one of the oldest textile hubs in the world. In today's modern times, this industry is growing at a rapid pace because of the increasing demand for all things textile-related.
That's the reason there are dozens of prominent players in the textile market of the country, we are specifically talking about the textile companies here. And if you want to know more about these top players in the game then you are at the right place because we are about to dive deep into the list of the top 10 best textile companies in India for 2023. We'll be taking a look at the history of each company, what challenges they faced, and why they are still considered one of the best textile companies in the country. So yeah, let's get down to it without further ado, shall we?
List of Top Textile Companies in India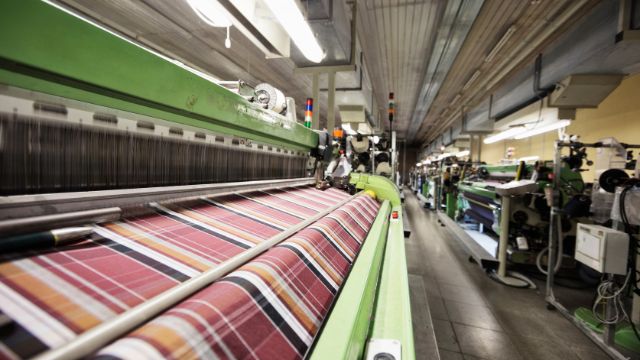 1. Arvind Ltd
Used to be called Arvind Mills, this company was born in 1931. Yeah, it's pretty old but gold! The Lalbhai family started it all, taking inspiration from Mahatma Gandhi's call for "Swadeshi" goods, basically, home-made stuff. Their goal was to make killer textiles that can go toe-to-toe with the best in the world. And they pulled it off! By the late 30s, they were sending their fancy "butta voiles" fabric all the way to Switzerland and the UK. Fast forward to the 80s, and they launched Flying Machine, India's first denim brand. It was all the rage among young folks! And in '86, they set up India's first denim plant. Arvind was also quick to make top-notch cotton shirts by the end of 1987. Over the years, they've branched out into different stuff, but textiles are their bread and butter.
2. Bombay Dyeing and Manufacturing Company Ltd
Bombay Dyeing, another big name in the textile scene of India, has been around since 1879. Yep, it's part of the Wadia Group, and their office is in the Ballard Estate in Mumbai. Nusli Wadia's the guy calling the shots, and his younger son, Jeh, is the managing director. Fun fact is that Ratan Tata, the business legend, was on their board till 2013! These guys have had their share of dramas and rivalries, but guess what? They are still standing tall and doing their thing. All in all, this company has got quality textiles and a killer brand name. They've been changing with the times, always coming up with something new and trendy.
3. Vardhman Textiles Ltd
Onto the next spot, we have got Vardhman Textiles. A part of the Vardhman Group, this one's around 50 years old but has turned a profit in 47 of those years. Talk about a good track record! It was started by Mr. S.P. Oswal, and it's one of the big companies in India's textile scene. They've got a whole lotta facilities all over India like Punjab, Himachal Pradesh, Madhya Pradesh, you name it! They make all kinds of yarns, and fabrics, and have even got a massive collection of sewing threads. They've got global partners too, like some fancy names from the USA and Japan.
4. Welspun India Limited
Then there is Welspun India Limited, straight out of Mumbai! Originally, it was called Welspun Polyesters but got a fresh name in 1995. Their main office is in a place called Welspun City in Kutch, India, pretty neat, right? But Welspun isn't just about making stuff. They like to say they're the "FMCG for textiles." That basically means they really care about what their customers want and use fancy tech to make sure they deliver it. They've also come up with some cool inventions, like temperature-controlling cotton and fabrics that won't make you sneeze if you're allergic. When COVID hit, and everyone was staying at home, Welspun was there with home care products. They did so well because they had a strong network of suppliers ready to go.
5. Raymond Limited
This company has history written all over it! Founded way back in 1925, it started as Raymond Woollen Mill near Thane Creek. Lala Kailashpat Singhania took it over in 1944, and with the help of future leaders like Gopalkrishna and Vijaypat Singhania, it became a global hit! If you're in India and you're talking about suits, you can't just ignore Raymond. They pretty much dominate the market, with a 60% share. They're huge on wool and wool-blend fabrics. Just to give you an idea, they have the ability to make 31 million meters of this stuff! Raymond is more than just textiles, though. They're in other businesses too like real estate and engineering.
6. Siyaram Silk Mills Limited
Next, let's talk about Siyaram's. They kicked off in 1978 and their main hub is in Mumbai. They're part of a bigger family called the Siyaram Poddar Group, which also has other businesses under its wing. They make all sorts of things: fabrics, clothes for both men and women, home goods, and even yarn. And they're pretty huge! They're connected to over 100,000 retail outlets and have their own branded shops all over India. Money-wise, they're doing great. Back in 2014, they reported a net profit of about ₹20.2 crores for just one quarter! They produce a crazy amount of fabric every month, 4 million meters to be exact.
7. Garware Technical Fibres Limited
Garware Technical Fibres was started back in 1976 by a guy named Abasaheb Garware. Initially, they were all about helping the Indian fishing industry with polymer ropes and stuff like that. Abasaheb's son, Ramesh, took things to the next level. The company didn't just stick to ropes; they expanded into things like Agro-Tech, Sport-Tech, and Geo-Tech textiles, fancy names, huh?  Oh, and if you play sports in India, you've probably seen their sports nets around. They're not just famous in India; they're popular around the world, especially in the fishing industry.
8. Grasim Industries
Next up is Grasim Industries, a really old player in the game, they started just 10 days after India became independent in 1947! They were founded by G D Birla, with the main goal of helping India grow and be self-reliant. They started with textiles and then spread their wings into a bunch of other sectors. Let's talk about Jaya Shree Textiles, a unit they started in West Bengal. It's a big deal in the world of linen and wool. They're also behind 'Linen Club,' which is super popular in India. They've got their hands in many pies, from spinning linen to wool combing and more.
9. KPR Mill Limited
KPR Mill is a company that began in 1984 in a small town in South India. It was started by K P Ramasamy, who later got help from his brothers to grow the business. They began with textiles and quickly expanded into fashion and exports. They're into all sorts of fabrics and garments, basically, if it's made from thread, they've got it! But that's not all, they're also making quite the name in green power with their windmills, and they've branched into sugar and ethanol production. In 2022, they hit record sales and profits. Internationally, they're doing great too. KPR Mill knows how to impress customers around the world.
10. Lux Industries Limited
Last but not least, let's talk about Lux Industries. You may not know it, but they've been around since 1957. Initially, they were called Biswanath Hosiery Mills and were all about making underwear. After a name change and a takeover by the founder's sons, they grew massively! Here's something fun, they were one of the first companies to bring celebrities like Bollywood stars into their ads. Ever heard of Shah Rukh Khan or Sunny Deol? They've been the face of Lux for many years! This brand knows how to make a splash, from smart advertising to having its products in over 500,000 stores.
Conclusion
There you have it. Now you know a lot about these top textile companies in the country. Maybe you were searching for these companies just for research purposes, or maybe you are an investor looking forward to investing in the future of the textile scene of India. So yeah, we hope that our post has provided you with valuable information about these textile companies.