A lot goes into writing and publishing a book, no matter if it's a fictional, non-fictional, or educational book. With the standard or usual approach of book publishing, writers usually handle the writing part of the book, and the publication house handles the rest. However, if you go with this approach, that will require an insane amount of work, time, and capital investment. But thankfully, there are self-publishing options or publication houses available for writers to publish their fictional or non-fictional art in the form of a book. With self-publishing, most of the time, it is the writer's responsibility to handle the editing, cover creation, copywriting, and promotion part. But since you don't need to get approval from a huge publishing house to publish your book, that's why self-publishing requires less capital investment.
And when choosing a self-publishing company, there are a lot of things to consider like the end product quality, royalties, distribution, promotion options, company policies, and so much more. Since there are dozens of self-publishing companies operational in India, it can be a little overwhelming to select the right one as per your requirements.
List of Top Self Publishing Companies In India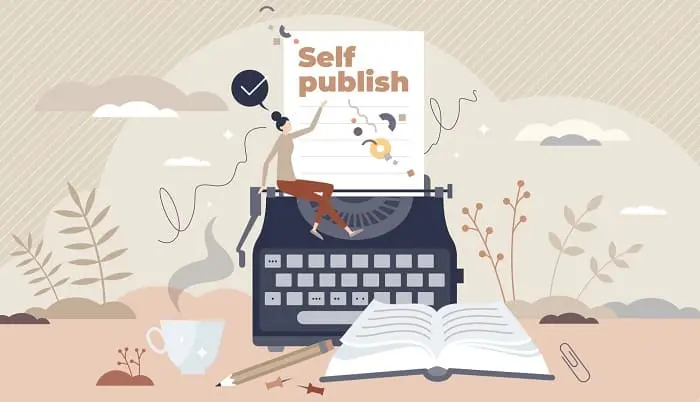 Therefore, to help you out we have compiled a list of the top 10 best self-publishing companies in India after thorough research in this niche. So sit back and relax because we'll be going over every aspect and highlighting features of these companies to help you form a better decision.
1. Astitva Prakashan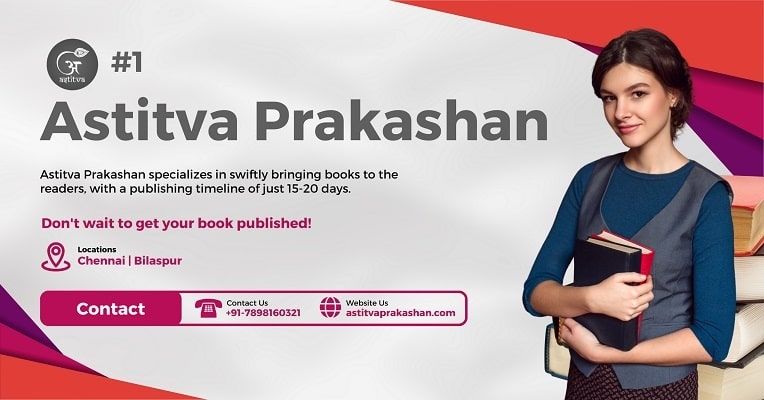 Astitva Prakashan stands as a prominent and well-established self-publishing company in India. Renowned for its seamless publishing processes and exceptional author satisfaction rates, the company has garnered significant popularity among writers. Astitva Prakashan specializes in swiftly bringing books to the public, with a publishing timeline of just 15-20 days. This ensures authors experience a rapid, dependable, and efficient publishing journey. The company facilitates authors by making their works available on major platforms, including Amazon India, Amazon.com, Flipkart, Kindle, Google Books, Playstore, and Barnes and Noble, along with numerous other ecommerce channels. Furthermore, Astitva Prakashan's success is evident through the creation of multiple bestsellers. The company's influence extends to offline distribution channels, underscoring its commitment to expanding its reach.
2. Notion Press
When it comes to self-publishing books for the Indian audience, there's no other option like Notion Press. It is an Indian company that made its appearance in the publishing business back in 2012. And it didn't take that long for Notion Press to establish itself as the most prominent self-publishing company in the entirety of India. Now Notion Press has become a multi-national self-publishing company directly providing competition to IngramSpark, Kindle Direct Publishing, and Lulu. Talking about why you should choose Notion Press over any other publishing house, this self-publishing company allows you to publish your book from the comfort of your home. Along with that, the end product's quality is quite good while keeping the final sale price affordable for the customers. Also know about the ExamLabs.
3. Kindle Direct Publishing
Kindle Direct Publishing (KDP) is a product of the biggest e-Commerce or online shopping platform on the planet. Back in 2007, Amazon introduced Kindle Direct Publishing to allow self or independent publishers to publish and list their books directly on the Amazon platform. As of now, there are hundreds and thousands of self-publishers using this platform to release their books with zero capital investment. Compared to other self-publishing companies in India, Amazon KDP's printing quality is way better. And the biggest advantage of using KDP is that you can have insane exposure to your book after its release without spending a single penny on the promotion since the customer base of Amazon is approximately 200 million. Not just that, you also get to set the royalties and end price of your book by yourself.
4. Blue Rose Publishers
BlueRose Publishers is a Delhi-based self-publishing company with a huge network all over India. In comparison to other companies on our list, BlueRose seems fairly new in this domain, since it made its first appearance just seven years ago. But BlueRose Publishers established itself in the Indian market quite well and fast. As of now, this company has published more than 5000 titles successfully, and some of them performed pretty well among the Indian audience. Currently, there are more than 4500 publishers joined with BlueRose, and the community is bigger than 100 thousand people.
5. Evincepub Publishing
Evincepub Publishing brings worldwide reach to the self-publishers of India, just like Notion Press and Amazon KDP. The network of this publishing house is considerably large with more than 39 thousand shop affiliations in more than 150 countries all around the globe. Similar to KDP, with Evincepub Publishing, you can publish your book in digital format as well, and the standard print-on-demand option is also there. Signup, account setup, payment setup, and book publishing tasks are pretty straightforward and easy with Evincepub. Once the review team approves your book, it'll be available worldwide for anyone to purchase in digital as well as print versions.
6. Partridge Publication
In the self-publishing or general publishing domain, Partridge Publication is a well-known name since it's been in this domain for quite a while now. This publishing company offers everything that an independent publisher would expect. The printing quality is top-notch, royalties are fair, the distribution side is handled pretty well, and there's nothing to complain regarding the packaging and delivery of your books. Since it is an Author Solutions LLC-powered company, you can be free-minded that your content will stay in safe hands. And if you want to build an international reader base, then Partridge Publication is a perfect self-publishing option since they have a customer base in many other countries around the globe.
7. The Write Order Publications
Write Order Publications is a highly innovative and creative self-publishing company since it is managed by the youngsters of India. This company is based in Bangalore, India, but you can self-publish your book without needing to travel, directly through their website. Book publishing is quite a simple task, but there are different plans for independent publishers. Silver, Gold, Platinum, and Pro are the plans offered by this publishing company, and based on these plans your royalty rates will differ. Another great thing is that you can keep your book's price low without compromising the print quality factor.
8. Blue Hill Publications
You may have heard about the popular title "The India Pakistan Tango" published by Blue Hill Publications. This self-publishing company is associated with IIT Kharagpur, and Manipal technologies, that's why it gained the trust of many independent publishers in India. After its existence, this publication helped independent publishers by publishing more than 500 titles. And all of these titles are made available in more than 10 countries in the world. Which works in the favor of the writer or author to gain popularity among the international audience.
9. White Falcon Publishing
White Falcon Publishing provides premium self-publishing for writers or authors in India. The special thing about this company is that it has an eco-system in play where they have more than 2.5 crore readers base. And if a writer or author's story or book is good enough, they have a higher chance of getting early exposure with White Falcon Publishing without having a huge budget for the promotion.
10. Become Shakespeare
Become Shakespeare is for sure not as popular as other self-publishing companies on our list, but it deserves a mention/spot on our list. So far, Become Shakespeare has published around 1050 titles from 850 authors all across India. With this company, you get top-notch print quality, with the excellent delivery system in place, and along with that, the seasoned professionals working at this company are capable of reviewing and pointing out any possible error or mistake that can be fixed before your book becomes available for the readers to buy.
Final Thoughts
Alright, now you know what option you have when publishing your book or story independently without going to any huge publication house. However, we recommend checking out the various plans and royalties offered by these self-publishing companies, and only then choose the one that is perfect according to your needs.
Self Publishing Companies FAQs
Q1. Should a first-time author self-publish?
Ans: If you're itching to get your book out there ASAP, go ahead and self-publish. But remember, reaching readers is crucial, so start building your author platform prior to that. It's your golden ticket to selling books, whether you self-publish or go the traditional route.
Q2. Is it profitable to self-publish?
Ans: You can earn 35% to 60% royalties on your self-published book's retail price, while traditionally published authors get just 10% to 15%. Not too shabby, right?
Q3. Should I copyright my book before publishing it?
Ans: You might think registering a book copyright is a must, but surprise! Current law already has your back, so getting a book copyright isn't a requirement for publishing. That is because as soon as you are done writing your book, you automatically own the copyright to your book.
Q4. Can I self-publish my book on Amazon as an Indian Resident?
Ans: Absolutely! Use Amazon KDP (Kindle Direct Publishing) to publish your book as an ebook, paperback, or hardcover, and reach millions of readers worldwide. And guess what? It takes less than 5 minutes, and your book will pop up in Kindle stores across the globe.
Q5. Does a self-published book need an ISBN?
Ans: If you want your printed book in bookstores and libraries, you'll need an ISBN. And if you are planning to sell through Amazon KDP or with any other online retailers and aggregators, you'll need an ISBN for that too.
Q6. Do I need some higher authority or anyone else's permission to publish a book?
Ans: Nope! You don't need anyone's permission to publish your own work. Just make sure you get the permission aka green light beforehand if you're republishing or using someone else's copyrighted material. Other than that, you are good to go.