No matter what, we must adopt the idea of sustainable energy, now or in the future. At present, we as a human species are heavily dependent upon fossil fuels, but it is pretty certain that we will run out of such fuels sometime in the future. That's why sustainable or renewable energy is the only way to move forward. And solar energy is the most prominent and advantageous renewable energy that we know of. Solar energy can be directly converted into electricity because of the photovoltaic effect. It is anticipated that if every country in the world works on the concept of solar farms, we would be able to eliminate our reliance on fossil fuels for power generation entirely. Currently, there are many countries working extensively on their solar farms, and India is one of those few countries to adopt and embrace the idea of sustainable and renewable energy.
One average size solar panel has many solar cells inbuilt, and these solar cells are the units responsible for converting the sunlight or light directly into electricity, which can then easily be stored for later use. There are many solar panel manufacturing companies in India that make pretty efficient and effective solar panels. And these companies provide solar system solutions for domestic as well as industrial needs. Not just that, the government of India hires some of these countries to work on their future solar farm projects. Today we will let you know about which are the top 10 solar panel manufacturing companies in India. And there will be a lot to learn about solar systems, solar power, and how it can be beneficial for you on an individual level.
List of Top Solar Panel Manufacturing Company In India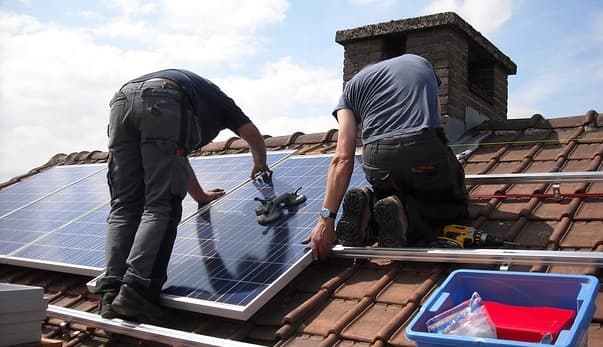 So stay tuned for that.
1. Tata Power Solar Systems Limited
As you may already know that Tata Group is by far the most trusted as well as the most popular business group in India. Tata Power Solar Systems Limited is a subsidiary of Tata Group and British Petroleum Company. The foundation for this revolutionary solar systems company was laid back in 1989. And at that time, Tata Power Solar Systems Limited was one of the few companies to start working on and promoting the idea of sustainable or renewable energy. This particular solar panel manufacturing company not just makes solar panels for domestic use, but also offers their end products for commercial or industrial use. Not just that, this company was one of few to hop on the trend of rooftop solar systems, and in a way, this company pioneered the idea of rooftop solar systems in the country.
2. Waaree Energies Limited
Waaree Energies Ltd began its journey from Mumbai in the year 1989, and since this, it has excelled in the niche of sustainable or renewable energy. As of now, Waaree Energies Limited has spread itself to more than 65 countries all around the globe. When you begin your search for the top solar panel manufacturing companies in India, you'll always find Waaree Energies Limited's name on every list or blog post. If you don't, then assume that post is completely biased. Since this solar panel manufacturing company has been in the business for more than 32 years now, that's why it is easily the most trusted solar panel company in the entirety of India.
3. Adani Green Energy Limited
Similar to Tata Group, Adani Group is also a multinational conglomerate company that has been functional since 1988. Compared to Tata Group, Adani Group is a fairly recently established business group, but it grew significantly well in the last three decades. And the main reason behind that is the expansion of the Adani group to capture the market share in the different domains or niches of the Indian market. Adani Green Energy Limited is the result of that business expansion. When it comes to the latest technological implementation, Adani Green Energy Limited's manufacturing facilities have got everything that is needed to make the best solar panels in India. In the rooftop solar system domain, Adani Green Energy Limited has been able to capture a significant market share in the Indian market.
4. Vikram Solar Limited
Vikram Solar Limited was not among the first few solar panel manufacturing companies in India, but it is for sure one of the leading companies in this niche now. Talking about the solar module manufacturing capacity, Vikram Solar Limited is one such company with a 2.5 GW module manufacturing capacity, which is comparatively impressive. When Vikram Solar Limited started its journey back in 2006, it wasn't a huge company right off the bat, but now it holds the title of the second-largest solar company in India. Because of technological advancement, Vikram Solar Limited is able to produce the most efficient solar panels in the country.
5. Loom Solar
When it comes to solar systems for domestic use, Loom Solar can be a one-stop solution for you. With this particular solar panel manufacturing company, you get everything you need in order to set up a full-fledged and fully functional solar system. Along with being one of the leading solar panel manufacturers in India, Loom Solar is also known as a significantly large lithium battery manufacturer as well. In short, Loom Solar is a consumer-centric brand or company, and it usually doesn't deal with the client to client basis projects. The thing that makes Loom Solar stand out the most is its marketing strategies. It is possible that you may have never heard about other companies listed in today's post, but you do know about Loom Solar because of only sources.
6. Microtek Solar Solutions
The efficiency of a solar panel mostly depends upon the technology being used to make photovoltaic cells. Thankfully, Microtek Solar Solutions excels in this part of manufacturing solar panels. That's why this company is considered one of the leading solar panel manufacturers in India. Microtek itself has been around in the Indian market for quite some time now, however it is most popular for providing the best inverters or power backup solutions to customers. Along with that, Microtek Direct also sells many other types of products and versatility is the key thing that made Microtek build a pretty loyal and huge customer base in India.
7. RenewSys India Private Limited
RenewSys is actually a subsidiary of ENPEE Industries, and the work of this company can't be neglected in making India a renewable energy-dependent country in the near future. Unlike generic solar panel manufacturing companies, RenewSys has a significant and strong global presence. However the solar panels distributed all across the nation are mainly manufactured in India, thus the cost of the solar systems from RenewSys is pretty affordable. Compared to most generic solar panel manufacturing companies, RenewSys provides the most reliable, sturdy, and efficient solutions to its customers and clients.
8. EMMVEE Photovoltaic Power Pvt Ltd
It is true that solar panels have a certain life span, and over time they become less and less efficient. But EMMVEE Photovoltaic Power Pvt Ltd's solar panels are made to last longer than normal solar panels. And that's because this company uses state-of-the-art and latest-generation equipment along with the latest technology implementation to make the most efficient solar panels. This is the prime reason why EMMVEE is an impressively successful brand in many European and Middle eastern countries. Usually, this company is known for working on large solar farm projects in many countries, but in India, they have also started focusing on the rooftop niche as well.
9. Trina Solar
Trina Solar is actually a China-based solar panel manufacturer, but it has been doing quite well in the Indian market. Not just that, since its establishment, one of the main goals of this company has been to expand itself to many nations all around the globe. No matter if it is about working on a solar farm project, industrial solar system project, or just normal domestic solar panels, Trina Solar has everything you need. One thing that we liked the most about this solar panel manufacturing company is that once you buy or opt for any of their products, you'll get lifetime support.
10. Goldi Solar
Compared to other manufacturers on our list today, Goldi Solar has the least experience in this industry, but you should not underestimate this company because of that. In fact, Goldi Solar has become one of the leading solar panel manufacturers in India within just a decade or so. In just 11 years of experience in the industry, Goldi Solar has been able to expand itself to more than 20 other nations around the globe. Currently, Goldi Solar is working on a few solar park projects, but they also provide solar solutions for commercial and industrial use as well. We had to drop some other worthwhile companies just to add Goldi Solar to this list because it certainly deserves a spot here.
Conclusion
Alright, now you have a pretty good understanding of what a top and leading solar panel manufacturing company looks like. Don't you? Well, we have done thorough research before coming up with this list of the top 10 solar panel manufacturers in India. So that you don't need to scroll endlessly on the web to find out the same information about solar panel companies.
Solar Panel FAQs
Q1. What Is A Photovoltaic Cell?
Ans: You might know them as solar cells, but these handy little devices, called photovoltaic cells, turn sunlight straight into electricity. The name "photovoltaics" (or PV for short) comes from the process of transforming light (that's the "photo" part) into electricity (aka voltage), which is known as the photovoltaic effect.
Q2. What is normal PV voltage?
Ans: The majority of PV panel makers crank out standard solar panels with output voltages of 12 and 24 volts. That's what you'll usually find on the market.
Q3. Who is the biggest manufacturer of solar panels in India?
Ans: Adani Solar is not only one of the 15 largest utility solar power developers globally but also India's biggest solar cell manufacturer, boasting over 1.5 GW of cell and module capacity. Impressive, right?
Q4. What is the new solar technology in 2023?
Ans: In 2023, off-grid solar is expected to keep growing. This nifty technology provides electricity to communities and individuals not connected to the grid, making it perfect for bringing power to remote or rural areas and promoting economic growth and development.
Q5. How Long does a typical Solar PV system last in residential use?
Ans: A Solar PV System can easily last up to 25 years. And if you treat it right, it can still work at 65 to 70% efficiency even after two decades!
Q6. Is This Just A Myth Or Do Solar Panels Actually Generate Electricity When It's Cloudy Outside?
Ans: While it's true that efficiency takes a bit of a hit on cloudy days compared to sunny ones, your solar system will still generate electricity despite the cloud cover. So, nope, not a myth!
Q7. What expensive material is used in solar panels?
Ans: The first generation of solar photovoltaic modules was crafted from silicon with a crystalline structure, and silicon remains one of the most widely used materials in solar photovoltaic tech. Researchers are always exploring ways to improve silicon's efficiency and sustainability, so stay tuned for more innovations!