One of the fastest-growing industries is the electronics industry, and China is known as the largest electronics market in the world. But India is not very far behind in this race. India's electronics market is at its all-time high now because now more and more companies are interested in capturing the market share of India by in-house manufacturing of electronic devices, equipment, appliances, gadgets, and other things. And that is primarily because no one can't deny the fact that many electronic items have become an integral part of our lives. Answer one simple question: what are you using to read this post today? Yeah, other than your eyes and brain, you have an electronic device like a laptop or a smartphone. Right? And that device definitely falls under the category of Electronics.
Just look around in your surroundings, and you'd find many electronic items in your home. And Electronic companies have made us somewhat dependent upon these electronic items. But that's fine as long as these products are of some benefit to us. There are literally dozens of electronic manufacturing companies in India, but out of those, just a few have been able to capture significant market share in the country. And in today's post, we will be going over the list of the top 10 electronics manufacturing companies in India.
List of Top Electronics Manufacturing Companies In India
So let's get started with that.
1. Havells India Ltd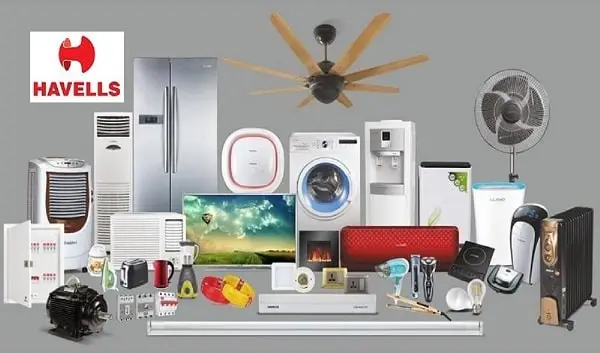 First up is Havells India Ltd which is known as one of the biggest home appliance companies in the country. Havells actually is an Indian-origin company that started its journey back in 1958 with the sole goal to offer the best consumer electronics items in India. And we can say for sure that, Havells India Ltd has been quite successful at that. Don't you think? On the stock market of India, Havells is one of the few home appliance and electronics manufacturing companies that has been profitable for its investors ever since it was listed on the NSE and BSE. The prime reason behind the growth of this company is its marketing strategies. Whereas other electronics brands focus on promoting their end product's features, Havells focuses on the security and safety features of their products.
2. Voltas
Voltas is one of the few and oldest established home appliances and consumer electronics companies in India. However, at first, Voltas was a small-scale consumer electronics company in the country, but as of now, this is one of the biggest companies in this domain. Voltas has seen the highest growth peaks after the 2000s, and that's because the management of this company started to work extensively on the marketing side of things. This is essential for consumer electronics companies because no matter how wonderful your products are but if you don't promote them to the correct audience or customers, no one would know such products exist in this world. That is what Voltas did, and now it has become one of the leading companies or brands in this specific industry.
3. Luminous Power Technologies
We would not have believed you if you were to say that you haven't heard of a brand or company called Luminous. And that is because Luminous has been dominating the electronics and lighting solution market in India for more than three decades now. Over the years, Luminous Power Technologies has built a significantly large and loyal customer base in India. And that's because no matter if it's about lighting solutions, home appliances, solar solutions, or power backup products, Luminous always makes sure to deliver quality products to its customers. In our opinion, if you want to buy lights, fans, and power backup solutions for your house, then you should always consider the Luminous company before coming up with a final purchase decision.
4. Bajaj Electricals
Bajaj Electricals is the subsidiary of one of the most famous multinational conglomerate companies Bajaj Group. You'll be surprised to know that Bajaj Electricals was one of the earliest starting companies in the electrical equipment domain in the country. The foundation for Bajaj Electricals was laid back in 1938 by Kamalnayan Bajaj. And ever since, this company has been dominating the electrical equipment domain in India. When it comes to home appliances, Bajaj is the most preferred brand in the country. However, throughout the years, the popularity of Bajaj Electricals has decreased a little, and that has nothing to do with the quality of the end products. It is actually because now there is too much rush and competition in this specific segment of the Indian market.
5. Crompton Greaves Consumer Electricals Limited
Cropton has become the most trusted consumer electrical and home appliances brand in India. But similar to any other country, Crompton also started out on a small scale, but now it has become a leading home appliance company. And this transition took many years, but after the 2000s, Crompton has seen incredible growth in their sales. That's because Crompton worked on different ways to advertise its products, and that is what made Crompton quite popular in every corner of the country. As of now, if you want to buy lighting solutions, kitchen appliances, home appliances, or water pumps you should definitely consider Crompton. Because that way you will more likely end up buying a sturdy, reliable, and feature-rich product.
6. Kirloskar Electric Co. Ltd.
Kirloskar Electric Co. Ltd is another electronics company started by one of the most successful Indian Conglomerates, and here we are talking about the Kirloskar Group. In reality, the Kirloskar Group has been around since 1888, thus it is one of the oldest established conglomerates in India. Kirloskar Electric is a successful subsidiary of the Kirloskar group in order to capture a significant market share in electrical and electronics niches. At the time when Kirloskar Electric started off in India, there were just a few other functional electronics or electrical companies in India. Because of an early start in this category, Kirloskar Electric was able to build a strong, and large customer base in the country.
7. Jabil
Jabil is actually a USA-based Electronics manufacturing services company and it was after the 1980s when Jabil made its first appearance in India as Jabil Circuits. Jabil mainly specializes in making the latest generation and innovative electronics items for various sectors. In the USA, Jabil also provides safe electronic systems and devices for the defense, healthcare, and energy sectors. In 1966, William E. Morean and James Golden started Jabil on a small scale, and it took them quite a lot of years to make Jabil a multinational company. As of now, Jabil is a market leader in more than 30 countries all around the globe.
8. Philips Electronics India
One electronics company that has been around for quite a while now, but it is still relative and comes up with the latest generation electronics solutions. Here we are talking about Philips Electronics India. Actually, Philips originated in the Netherlands in the year 1891, which means this electronics company has been around for over a century now. In India, Philips provides a wide range of electronics products for personal grooming, home appliances, sound, entertainment, lighting solutions, and whatnot.
9. Exide Batteries Limited
Exide specializes in making the best power backup solutions, and automotive batteries in India. And since these things can also be counted as electronic devices or systems, therefore we have decided to include Exide on our list today. Exide Batteries Limited holds the title of the largest and leading manufacturer of batteries in India. Since this company operates on an enormous scale, that's why it deserves to be on the list of the top 20 electronics manufacturing companies in India.
10. Bosch India
Lastly, we have included Bosch India on our list today. Bosch is actually a Germany-based conglomerate or business group. And Bosch India is the dedicated branch to capture a significant market share in the country. You'll be surprised to know the fact that Bosch established itself in India over a century ago. This is the prime reason why this foreign company was able to build a strong customer base in India, and you'll see many people treating it like an Indian-origin company. When it comes to buying home appliances in India, you'll get the recommendation to go with Bosch because its products are reliable, feature-rich, and long-lasting.
Conclusion
That is it for today. Now you have your hands on the list of the top 10 electronics manufacturing companies in India. We have to exclude many other electronics manufacturing companies so we could include these ten to our list today.
Electronics Manufacturing FAQs
Q1. How Do Electronics Manufacturing Companies Handle The Disposal Of Electronic Waste Generated During Production?
Ans: Electronics companies need to be super eco-friendly when it comes to dealing with e-waste created during production. They use all kinds of waste management strategies like recycling, reusing, and just reducing waste in general. They also work hand-in-hand with certified e-waste recycling facilities to make sure that their waste is handled in a way that's easy on the environment. That way, they can keep up with production demands while still being in favor of green.
Q2. What Is The Difference Between Contract Electronics Manufacturing And Original Equipment Manufacturing (Oem)?
Ans: Contract electronics manufacturing is when a company outsources the making of electronic components or whole products to another manufacturer that specializes in that stuff. On the flip side, original equipment manufacturing is when a company designs and produces electronic products under its own brand name, handling everything from manufacturing to marketing and sales. Basically, contract electronics manufacturing is more cost-effective and flexible, while OEMs keep total control over their products and production process.
Q3. What Is The Impact Of Emerging Technologies, Such As The Iot And Ai, On The Electronics Manufacturing Industry?
Ans: Well, these fancy new techs have created smarter and more connected electronic products, making advanced components and manufacturing processes a must. That means electronics manufacturing companies have had to step up their game and adapt to meet these new demands. Plus, IoT and AI have helped manufacturers to up their production game, using data analytics and machine learning to fine-tune operations, cut down on waste, and boost efficiency.
Q4. What Is The Role Of Automation And Robotics In Electronics Manufacturing?
Ans: By bringing automated machines and robots into the mix, manufacturers can seriously speed up and improve the accuracy and efficiency of their production process. Automating boring, repetitive tasks saves on labor costs, reduces human error, and lets employees focus on the more interesting, value-added work. As a result, the electronics manufacturing industry has seen a big jump in productivity and competitiveness.