The shipping industry is the backbone of the global economy. Without the shipping industry, the price of logistics would increase by multiple folds. Shipping bulk goods by aeroplane is not viable, and hence the shipping industry offers economical, reliable and scalable solutions to the world. The scope of shipping is not just restricted to manufacturing units; even the government uses shipping to transport grains, oil and many other essential things. Over the decades, the shipping industry has reduced transport times, and with the huge shipping tonnage, the cost has also come down.
In addition, ship management companies are critical to the era of globalization. Most manufacturing units are in Asian countries because of the low labour cost. This model for the developed nations has shot up the demand for ship management companies. These companies can coordinate with the buyer and the seller and help with the transportation of the goods. As per the statistics, 80% of the goods are transported via sea route. In addition, the shipping industry's value is estimated to be ~ $15 trillion.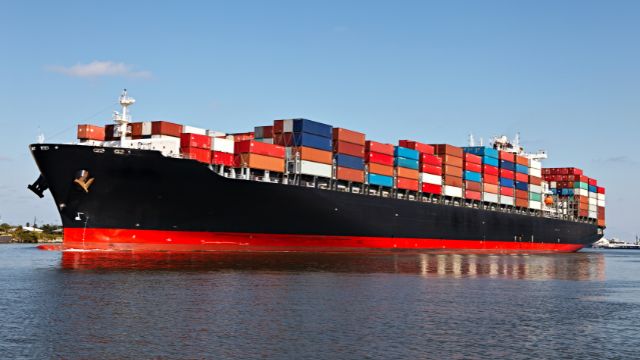 If you are looking for a ship management company to help you with end-to-end operations or supply chain solutions, you are on the right page. On this page, we have shared the list of the top 10 best ship management companies in 2023. Go ahead and check them out in the section below.
World's Top Ship Management Companies in 2023
In this section, we have shared the top 10 ship management companies. Our experts looked at multiple data points before coming up with this data. We have also looked at the TEU capacity, market penetration and the number of ships owned by the company while compiling this page. So, let us take a plunge and check out the list now.
1. Maersk
Maersk has been in operation since 1904, and it is the largest ship management company in the world. The global headquarters of Maersk is located in Copenhagen, Denmark. It comes as no surprise that Maersk operates some of the largest container ships and vessels in the world. The company also have many subsidiaries that help it with logistics and end-to-end supply chain management. The company operates in over 130 countries and has a more than 4.1 million TEU capacity. The global employee strength of Maersk is over 76,000, and it has approximately 17% market share globally with over 705 ships.
2. Mediterranean Shipping Company
Moving on, we have the Mediterranean Shipping Company, which was established in 1970. The headquarters of the Mediterranean Shipping Company is in Geneva, Switzerland, and the company owns over 580 ships. The total capacity of the Mediterranean Shipping Company is estimated to be 4 million TEU. As per the information available, Mediterranean Shipping Company covers 500 ports and 200 trade routes around the globe. The employee strength of Mediterranean Shipping Company is close to 70,000, and it has a market penetration of 16%. Together, all these resources generate a revenue of more than $28 million for the company.
3. CMA CGM Group
At 3rd rank, we have CMA CGM, which is the largest ship management company in France. The company was founded in 1978, and it has been operating from over 420 ports. CMA CGM covers 200 shipping routes and operations in 150 countries. CMA CGM comes from the name of two companies which are Compagnie Maritime d'Affretement and Compagnie Generale Maritime. These were the two sea freight companies and general marine companies in France. CMA CGM offers various services, including cargo cruises, fleet management, freight delivery and logistics. The capacity is estimated to be 3.4 Million TEU with approximately 570 ships.
4. COSCO Shipping
COSCO Shipping is also known as China Oceans Shipping Company, and it is a government-owned entity based out of China. COSCO has many subsidiaries, which include OOCL, Shanghai Pan Asian Shipping and New Golden Sea. This is a relatively new company, as it was set up in 2016. The company was formed due to the merger of COSCO Group and China Shipping Company. COSCO group has over 500 ships in the fleet, and they have a market penetration of 12.5%. The total capacity of COSCO is estimated to be at 3 million TEU. COSCO is one of the preferred shipping partners for cargo out of China.
5. Hapag Lloyd
We have reached halfway through the list, and the next name on the list is Hapag Lloyd. This company is based in Germany and it was founded in 1970. The company's headquarters are in Hamburg. Technically, it is one of the oldest shipping companies, as it was founded by the merger of two ship management companies. These companies were Hamburg American Line (Founded in 1847) and Norddeutscher Lloyd (1857). As of today, Hapag Lloyd is a market leader in the ship management space, with a total capacity of 1.8 TEU and a market share of 7.2%. The company operates mainly on Middle East trade routes, Latin America transatlantic and intra-American routes.
6. Ocean Network Express
Ocean Network Express has its headquarters in Tokyo and Singapore. The company was founded in 2017 after many Japanese companies decided to join their hands together. The operations of Ocean Network Express were started in 2018. The capacity of this company is estimated to be over 1.55 TEU, which is an impressive number considering it is a very young company. The company operates in 120 countries with a total employee strength of 14,000. In just five years, the company has reached a market share of 6.5% with a fleet of approximately 220 ships.
7. Evergreen Marine Corporation
Taiwan is the global hub of silicon chip manufacturing, so it needed a large ship management company. Evergreen Marine Corporation fulfils this need, and this company is based in Taiwan. Today, Evergreen Marine Corporation employs over 10,000 people, connecting the far east to the rest of the world. The total shipping capacity of Evergreen Marine Corporation is estimated to be 1.66 TEU, and it has over 200 ships which help it achieve the capacity. Evergreen Marine Corporation has a market penetration of 5.3%.
8. Hyundai Merchant Marine
Moving on to the next ship management company, we have Hyundai Merchant Marine. This company is based in South Korea and was founded in 1976. One of the best things about Hyundai Merchant Marine is that it offers specialized solutions for dry and refrigerated cargo. In addition, the company can help you with other special requirements as well. The company is known to operate over 160 vessels, and it serves 100 countries worldwide. Hyundai Merchant Marine has a capacity of 800 thousand TEU and around 5000 employees. Hyundai Merchant Marine has a share of 3% in the global shipping industry.
9. Yang Ming Marine Transport Corporation
At number 9, we have Yang Ming Marine Transport Corporation, which is yet another ship management company from Taiwan. Yang Ming Marine Transport Corporation was established in 1972, but it was formed after the merger of China Merchants Steam Navigation Company (Founded in 1872). The company is a critical player in international logistics, serving more than 80 countries. The country operates through 170 ports. Yang Ming Marine Transport Corporation has more than 5000 employees, and the company's total capacity is 700 thousand. The company also has a penetration of approximately 2.7%.
10. ZIM Integrated Shipping
We have reached the end of the list, and ZIM Integrated Shipping Company is the last one here. This company was founded in 1945 and has its headquarters in Israel. ZIM Integrated Shipping was the result of the collaboration between the Israel Maritime League and Histadrut. The company exceeds expectations when it comes to shipping solutions. In addition, ZIM Integrated Shipping offers containerized cargo. As per the estimate, ZIM Integrated Shipping operates 90 vessels with a capacity of 700 thousand TEU. The company operates in over 100 countries and has a market penetration of 2.7%.
Choosing a Reliable Shipping Partner
All these companies are very reliable as shipping partners, but it is always a good idea to talk to them about the offerings and the requirements. You can work out an efficient transit route which will help you optimize the value of the goods you are transporting. Even if you wish to enter the supply chain business, it is important for you to know these companies and their ratings. Lastly, you must always look at insurance solutions while shipping your goods. Some ship management companies offer you insurance as a value-added service, which can hedge your risk to a much larger extent. Many times, this transit insurance can save you from going bankrupt.
Final Take
By going through the list, you would have an idea about the most important shipping partners in the global supply chain. These ship management companies are the soul of the brick-and-mortar stores. In addition, almost every automobile organization also use ship management companies to deliver their cars in their region of operation. 2023 has been a crucial year for ship management companies as the demand is growing again after the pause of almost three years. The covid has been harsh on these companies, but we expect a recovery in the upcoming months and years.