Which is more pleasing to the eyes: a completely grown lawn with pale grass and dead leaves scattered everywhere, or a well-managed area of land covered with perfectly trimmed green grass? It is not always about just managing the patch of land outside your property because you should, it is more about bringing some positive vibes around your property. So when you close the door behind and look outside, it'll give you positive and refreshing vibes. Imagine if you were to buy a new property, would you pick a property with a lawn or landscape area that looks like complete trash? You won't. Right? The point is, the landscape area around a property also increases the sale ability of properties.
It is better if you can manage your lawn or landscape area on your own. But if you can't or don't have time to do so, then hiring a landscaping company would be the best bet. Landscaping companies are usually responsible for modifying and managing plants, trees, grass, lighting, terrain, and water bodies around a property. Not just for personal needs, but these companies are a great option for businesses and other organizations with heavy greenery in the area. But the actual problem arises when you are searching for the best landscaping company since there are literally hundreds of them in India. Therefore, to help you out we decided to come up with this detailed list of the top landscaping companies in India.
List of Top Landscaping Companies in India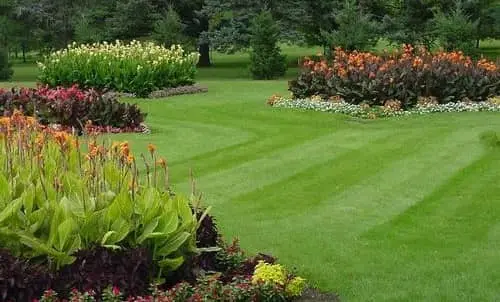 1. Four Leaf Landscape
Four Leaf Landscape is a New Delhi-based landscaping company that was established back in 2013. Founder Mr. Dheeraj Godara's sole goal was to provide the best possible landscaping and lawn management services not just for individuals, but for businesses and organizations' needs as well. It wouldn't be a wrong statement to make that Four Leaf Landscape is quite successful at achieving that goal set by Mr. Dheeraj Godara. In recent years, this company has managed to expand to some extent, and now they offer dozens of services like landscape horticulture plantation, pools & water features, civil works & hardscape landscaping, terrace & vertical gardening, garden irrigation, wooden decking & pergola, outdoor furniture, and many others.
2. Greenstar Landscape
Greenstar Landscape is again another New Delhi-based landscaping company. And with over 25 years of experience in this niche, Greenstar is for sure the best landscaping company we can recommend to anyone. This company has also won the award for quality excellence in this domain, not just that, it is also an ISO-certified company. Greenstar is primarily known for huge projects, and over the years, it has completed more than 110 projects in and around Delhi. You can take advantage of services offered by Greenstar like landscape development & maintenance, vertical garden creation, terrace garden, imported plants, hard & soft landscaping, landscape irrigation, lighting work, maintenance and development of water bodies & pools, etc.
3. Ecoscapes Landscaping
If you want to opt for the most creative landscaping company, then we'd say go for Ecoscapes Landscaping. This company has more than 14 years of experience in the landscaping domain, and over the years, Ecoscapes has managed to build a strong client base in and around Bangalore city. And there is one thing for sure that you would fall in love with the recent project of Ecoscapes since they are incredibly appealing and soothing to the eyes. You can check out their gallery or project section on the website to see the actual work done by this company.
4. MyCloudforest
When you search the term "Best Landscaping Company in India," MyCloudforest's name will come right up in the search results with the highest ratings and reviews from recent clients/customers. Whether it is about a makeover for your lawn area or garden, you want to start from scratch to build a garden, water body, or any other natural decorations, MyCloudforest will offer the most affordable as well as most creative services for that. MyCloudforest offers the services like a Balcony garden, Artificial grass, Vertical garden, Basic & Hard/Soft landscaping, and terrace garden development as well.
5. My Dream Garden
There is no other landscaping company in India having a strong online as well as offline presence like My Dream Garden. Literally, thousands of people have rated this landscaping company with high ratings on Google and other platforms. The thing that makes this company stand out compared to others on our list is that the management has hired highly creative and talented people for landscaping tasks. If you are just going for the maintenance services by My Dream Garden, then you get assurance that you'll get your lawn, garden, or landscape area's maintenance done regularly. By visiting their website, you can check out more about other services like balcony gardens, terrace gardens, decorative gardens, lawn maintenance, artificial lawn/grass, sit-out area creation, pergola, etc.
6. Plantshala
Plantshala is one of the most popular landscaping companies that's been working for the greener future of Telangana state. This company does not just provide services regarding the development and maintenance of the lawn, garden, or any other landscape area, but you can also purchase seeds, plants, and other equipment for maintaining lawns or gardening. Of course, every landscaping project is different, but at Plantshala the experts would recommend the best settings and solutions at affordable price points.
7. Green Mall
Green Mall is a sub-branch of Cinderella Flora Farms Pvt Ltd in West Bengal. And this landscaping company has been around for more than two decades now. Throughout the years, this landscaping company has managed to build a recurring client base for landscape maintenance by offering top-notch services. And whether it is about landscape maintenance or development, Green Mall won't disappoint you in any way. Other than being a typical landscaping company, Green Mall also sells gardening equipment, accessories, and more than 2500 varieties of plants.
8. Aqua World Greentech
Aqua World Greentech Pvt Ltd has multiple branches in India. If you live in or around Chennai, Hyderabad, and Pune, then you can take advantage of the services offered by this awesome landscaping company. Unlike most landscaping companies, Aqua World Greentech also provides gardening solutions both indoors and outdoors. And of course, there are other basic maintenance and development services offered by this company like Swimming Pool Construction & Maintenance, Landscape Design & Maintenance, Softscape/Hardscape, Sauna Rooms, etc.
9. Seven Bucks Irrigation
Seven Bucks Irrigation is a multinational landscaping company that has been around for quite a while now. The head office is situated in Uttar Pradesh, India. It may surprise you that since its existence, this company has completed more than 19,000 projects in various countries. And now Seven Bucks Irrigation has a strong and recurring client base all around the world. You can check out the video as well as written testimonials of recent clients on their website.
10. Jai Durga Garden
JDG or Jai Durga Garden is a Jaipur, Rajasthan-based landscaping and gardening company. In and around Rajasthan, Jai Durga Garden is known for its highly creative gardening and other landscaping projects. No matter whether you require landscaping services for business, organizational or personal needs, Jai Durga Garden has got you covered. But in most cases, this landscaping company has done small to medium-level projects, and the outcome has been always better than expected. With JDG, you can opt for various services like farmhouse gardening, plantation, vertical landscape gardening, tree cutting/trimming, roof landscape gardening, architects for landscape roofing, 3d-garden-pond designing, etc.
How to Choose the Best Landscaping Company in India
The primary goal of any landscaping company is to boost your home's curb appeal and resale value. Urban areas can also benefit greatly from landscaping efforts. Here is the simple guide that you must follow while choosing the best landscaping company in India
1. Knowledge
To achieve the finest outcomes, the leading landscaping firm in India should have both creative and technical knowledge. The best landscaping businesses also offer individualized services to ensure that their work meets the specific requirements of each client.
2. Check out their features
There is no shortage of landscaping businesses around the country, but if you want top-notch results, you should hire an organization that has the resources to back up its claims and the technical knowledge, scientific understanding, practical expertise, and innovative spirit to match.
3. Experience
The top landscaping businesses will have extensive experience in addition to a solid foundation of expertise in landscape design & property upkeep. Generally speaking, a corporation with more than a decade of existence in the market may be trusted.
Those that succeed in this field for more than a decade have established credibility and a loyal consumer base.
4. Professionalism
While the process by which a professional can convert the same area into distinct living quarters is up to debate, there is little room for doubt that a professional will be able to determine the optimal use of a given area and the people who will be occupying it.
Although landscaping is sometimes viewed as a form of interior design, it entails much more than a carefree collection of plants. Before beginning any landscaping project, experts will do a thorough analysis of your property to develop a plan.
5. Understanding of environment
Choosing a landscaping company which is familiar with the area and uses that knowledge during landscaping is crucial. It's crucial that they have experience putting together plant combinations that complement your lawn's aesthetic.
Since badly placed plants can harm an otherwise attractive and growing landscape, you should find out whether Landscape Company uses horticulture experts that know this information.
6. Licensing
Good landscaping companies will employ a staff with qualifications and diplomas in horticulture, even though there are no mandated license criteria for landscape companies like there are for other crafts like electricians.
In order to keep up with the latest developments in the landscaping industry, their workers may take advantage of the colder months to attend specialized training sessions. The accountability for any injuries sustained on your property is also removed from you when you hire a professional landscaper. They have never had any issues with any occupational safety authorities.
7. Does it provide commercial landscaping?
The top commercial landscaping firms in India serve the hospitality, retail, office, and institutional markets. Make sure they offer commercial landscaping apart from residential one.
8. Check out their additional services
Commercial buildings are not the only ones that can benefit from landscaping. The following can also be offered to improve the appearance of private gardens and yards.
Vertical gardens
Office greening and indoor home
Home garden
Veranda
Roman styled portico
Terrace garden
Final Thoughts
Alright, now you know which are the top 10 best landscaping companies in India. And based on the services offered, and the characteristics these companies have, you can easily identify a good landscaping company in or around your area.
Landscaping Company FAQs
Q1. What services does a landscaping company provide?
Ans: A landscaping company offers various services such as lawn maintenance, tree and shrub care, planting and gardening, irrigation system installation and repair, landscape design and installation, hardscaping (patios, walkways, retaining walls), and seasonal clean-up.
Q2. Can a landscaping company help with landscape design?
Ans: Yes, many landscaping companies offer landscape design services. They can help you plan and create a visually appealing and functional outdoor space by considering your preferences, budget, and the environmental factors of your area.
Q3. How much does landscaping service cost?
Ans: The cost of landscaping services can vary depending on factors such as the size of the project, complexity, services required, materials used, and location. It's best to request quotes from multiple landscaping companies to get an accurate estimate for your specific needs.
Q4. Do I need to be present during the landscaping project?
Ans: Typically, you don't need to be present during the entire project unless you prefer to oversee the work. You can discuss this with the landscaping company beforehand and establish a schedule that works for both parties. However, it's recommended to be available for initial consultations and periodic check-ins.
Q5. How often should I schedule lawn maintenance services?
Ans: The frequency of lawn maintenance depends on factors like the climate, grass type, time of year, and personal preferences. Generally, lawn mowing is done every 1-2 weeks during the growing season, while other tasks like fertilizing, aerating, and weed control may have different schedules.
Q6. Are landscaping companies environmentally friendly?
Ans: Many landscaping companies embrace sustainable practices and strive to be environmentally friendly. They may use eco-friendly materials, promote water conservation through efficient irrigation systems, implement proper waste disposal methods, and recommend native plants that require less maintenance and water.
Q7. Do landscaping companies provide ongoing maintenance services?
Ans: Yes, most landscaping companies offer ongoing maintenance services to help keep your landscape looking its best. These services may include regular lawn mowing, trimming, pruning, fertilizing, pest control, and seasonal clean-ups.
Q8. Are landscaping companies insured?
Ans: Reputable landscaping companies should have liability insurance to protect both their clients and themselves in case of accidents or damages that may occur during the project. Always ask for proof of insurance before hiring a landscaping company.
Q9. How can I contact a landscaping company for a consultation or service?
Ans: You can typically contact a landscaping company through their website, phone, or email. Many companies have online inquiry forms or booking systems where you can provide details about your project and request a consultation.