The business world is moving at lightning speed and the way we use software is changing too. Software-as-a-Service (SaaS) is basically a cloud-based approach where software providers offer their applications online to customers who pay for the service on a subscription basis. SaaS has proven to be highly effective compared to traditional physical product-based business models, as it allows businesses to scale faster, reduce costs, and deliver better customer experiences. The SaaS industry is experiencing an unprecedented boom globally, including in India. This growth is fueled by the increasing demand for cloud-based software solutions, the need for businesses to adopt digital transformation strategies, and the rise of remote work due to the COVID-19 pandemic.
According to a recently published report, India's most prominent SaaS companies are on their way to generating more than $30 billion in revenue by 2025, capturing an estimated 8 to 9% of the global SaaS market. India is now considered a hotbed for SaaS startups, with many companies developing innovative software solutions tailored to various industries. These firms have caught the attention of investors, with many of them raising substantial amounts of funding and expanding their operations globally. In this article, we'll delve into the leading SaaS companies in India, and these are the companies that are pioneering the way in providing cutting-edge software solutions and disrupting traditional business models.
List of Top SaaS Companies In India
1. Zoho Corporation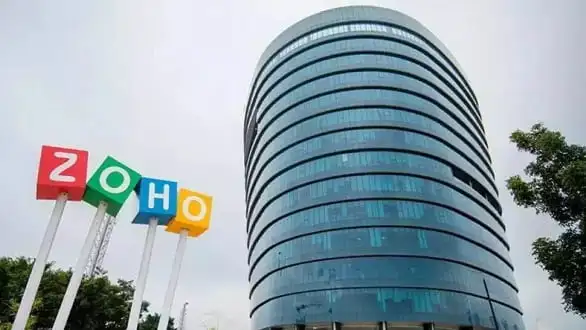 First up is the Zoho Corporation, a leading SaaS company based in Chennai, India, which is transforming the way businesses operate with its suite of online productivity and collaboration applications. Founded in 1996 by Sridhar Vembu and Tony Thomas, Zoho has grown to become a major player in the tech industry, serving over 50 million customers worldwide with a team of nearly five thousand dedicated professionals. Zoho's ultimate goal is to make technology accessible to everyone and help businesses thrive. Zoho's vision is to create products that cater to diverse industries and locations, ensuring that every business can benefit from its innovative solutions. With Zoho, businesses can harness the power of technology to achieve their goals and reach new heights of success.
2. Freshworks
Picture this, a software-as-a-service (SaaS) company in Chennai, India, that's on a mission to revolutionize the way businesses operate. Freshworks is its name, and it's offering a suite of online tools that are making waves in the industry. In fact, over 50,000 businesses around the world have jumped on the Freshworks bandwagon! Freshworks was founded in 2010 by the dynamic duo of Girish Mathrubootham and Shan Krishnasamy, and since then, it has grown into a global player with a team of more than a thousand people serving clients worldwide. Their product suite includes sales CRM, marketing automation, customer support, and a host of other essential tools that are designed to help businesses grow faster with less effort. So if you're looking for a game-changer in the world of online tools, Freshworks is the company to keep an eye on!
3. Agile CRM
Agile CRM is a cool SaaS company based in Hyderabad, India. They offer a range of online tools for businesses to improve their sales, marketing, and customer support. What's more, Agile's customer base spans more than 10 thousand businesses worldwide! The company was founded back in 2013 by Raju Vegesna and Manoj Saxena, and it has since grown into a team of almost 300 people. Agile is committed to helping businesses grow faster with less effort, which is why its product suite includes Sales Force Automation, Marketing Automation, Customer Support, and more. Agile has become a reliable solution for businesses of all sizes. Their vision is to be the world's leading SaaS company for sales, marketing, and customer support.
4. KONZE
Founded by Dharmendra Patel in 2018, KONZE specializes in creating software solutions for the edu-immigration industry. Their innovative product line includes KONDESK, a CRM software designed to streamline lead case management, and KONPARE, a platform that allows users to compare OSHC and OVHC policies efficiently. KONSIGN, their electronic signature platform, facilitates paperless documentation, while KONCHECK serves as an online portal for police checks. SearchMyAnzsco, another tool developed by it, provides users the ability to check their occupational eligibility for Australian immigration. KONZE's holistic approach towards providing comprehensive solutions within the edu-immigration space sets it apart in the industry.
5. Hippo Video
Hippo Video was founded by Karthi Mariappan and offers businesses of all sizes a suite of video creation, editing, and marketing tools. Whether you're a marketer, educator, or small business owner, you can use Hippo Video to create professional-grade videos in no time, without requiring advanced video editing skills. Competing with other popular online video editing/making platforms like InVideo, Kapwing, and ClipChamp, Hippo Video stands out for its budget-friendly pricing plans and robust offering. You can choose from a range of plans to suit your needs and budget, making it easy to access the tools you need to create and market your videos.
6. ProofHub
Founded in 2011, ProofHub has quickly become a favorite among businesses and individual creators around the globe. Big names like Netflix, NASA, and Trip Advisor all trust ProofHub to keep their teams organized and on track. ProofHub offers a consolidated view of tasks and progress, so everyone stays in the loop no matter where they are or what device they're using. It packs a powerful set of features into one easy-to-use platform, making it a breeze to plan, organize, and deliver projects of all sizes. But what sets ProofHub apart is its unbeatable value. It's a cost-effective solution for teams of all sizes and industries. With features ranging from task management to time tracking, custom workflows to online proofing, and more, ProofHub has everything you need to get the job done.
7. Facilio Inc
Founded in 2014 by Prabhu Ramachandran and Suresh Sambandam, the company has quickly made a name for itself in the SaaS industry and currently has a team of over 100 professionals serving more than a thousand clients globally. Facilio's suite of products includes a range of applications such as marketing automation, human resources management, and customer support. Headquartered in Chennai, Tamil Nadu, the company has set its sights on becoming the leading SaaS company for businesses of all sizes worldwide. By offering user-friendly and state-of-the-art online tools, Facilio aims to simplify the management of business operations, allowing companies to focus on their core business functions.
8. ChargeBee
ChargeBee is a multinational corporation that was established in 2010, providing an excellent subscription billing solution to online small and medium-sized businesses. The company's main focus is on B2B SaaS and offers an extensive range of features, such as invoicing, automated notifications, coupon management, and analytics to help businesses manage their recurring billing with ease. What sets ChargeBee apart from other similar companies is the ability to integrate with over 30 payment gateways worldwide, making it easy for businesses to collect money through different payment types at lower rates. Furthermore, ChargeBee's mobile-compatible check-out pages and support for custom fields and domains give it an edge over other similar services.
9. Dukaan
In India, the world of eCommerce is rapidly growing and Dukaan has emerged as a real game-changer. Developed in India, Dukaan is a user-friendly platform that allows anyone to quickly and easily build and manage their own online store without any coding or design skills. With just a few clicks, anyone can create an online storefront in seconds and start selling their products online. Founded by Suumit Shah, Dukaan has already gained widespread popularity, and its potential has been recognized by investors who have invested a total of $17 million in funding. The platform has also been acknowledged by prominent organizations such as Kalaari Capital, who identified it as one of the top eCommerce enablers in their "Beyond E-Commerce 3.0" report.
10. Vtion
Vtion is a cool Indian company that provides super helpful online tools for small businesses. They've got everything from accounting and invoicing to customer relationship management and human resources. The company was founded back in 2010 by two dudes, Sanket Atal, and Abhishek Saha, and has grown like crazy since then, with over a million people using their tools all around the world. They've managed to get some serious investors interested in them, too, and have raised a whopping $8 million from Sequoia Capital and Tiger Global Management. Vtion's headquarters are in Pune and Maharashtra, but they're making waves all around the world. They're working hard to become the top SaaS company for small businesses globally, and we think they're well on their way there.
11. CloudCherry
Although the company is based in San Mateo, California, it was founded by Jai Sankar and Vijay Sankar in 2010, and it now boasts a talented team of over 100 people who serve more than a thousand clients worldwide. CloudCherry's suite of products includes customer support, marketing automation, and more, all designed to help businesses grow faster with less effort. With a passion for innovation and a commitment to excellence, CloudCherry has quickly become a trusted partner for businesses looking to streamline their operations and improve their bottom line. Through cutting-edge technology and exceptional customer service, CloudCherry is revolutionizing the SaaS industry and is poised to continue its impressive growth for years to come.
Conclusion
With India's SaaS companies on track to generate $30 billion in revenue by 2025, the future looks bright for this industry in India. These top 10 companies are pioneers in providing top-notch software solutions that help businesses scale faster, reduce costs, and deliver better customer experiences. It's an exciting time for the tech industry, and we can't wait to see what the future holds.