We can all agree on one thing: plastic is slowly destroying our world. Right? Just look around you, wherever you are, you'll have a bunch of products and things made out of plastic that you use on a daily basis. Even the smallest thing that we use is made out of plastic like toothbrushes, hair brushes, cups, water bottles, and whatnot. Which is not only good for the environment but for the users as well. And that's the thing people are slowly getting aware of all around the world. However, in Asian and other Eastern countries, people are starting to use other natural alternatives for essential daily use products. That's the reason you see people specifically buying bamboo-made or other wooden products like toothbrushes, baskets, spoons, hair brushes, and other such daily-use products.
And there are hundreds and thousands of people in India as well who love to use these bamboo-made products over regular, cheap, and unhealthy plastic products. Because there is such high demand for bamboo products in India, many manufacturers in the country are keeping up with the rising demand. And in today's post, we'll be taking a look at the top 10 best bamboo products manufacturers in India.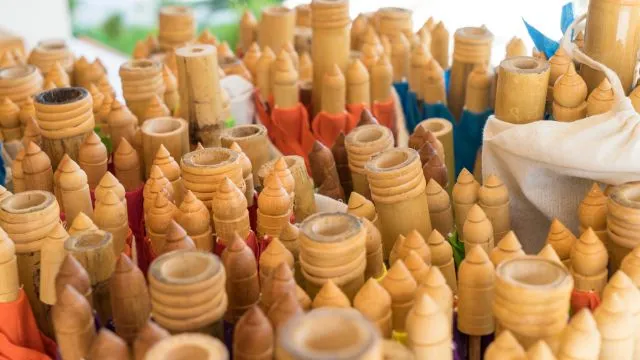 So, if you are someone who always prefers these natural bamboo-made products over plastic ones, we'd advise you to stick to this post till the end, because you'll be learning a lot about this particular industry and the key players in the game. Let's get down to it then.
1. Kerala State Bamboo Corporation
Kerala State Bamboo Corporation Ltd. is a company owned entirely by the Kerala government that has been promoting and developing the bamboo, cane, reed, and rattan industries in India since 1971. The company's main objective is to produce and trade high-quality bamboo products. To achieve this, the corporation has set up the Kerala State Bamboo Mission (KSBM), a subsidiary that focuses on revitalizing the bamboo sector. KSBM has taken a focused approach to promote value addition, enhance income generation, and alleviate poverty in the bamboo sector. The mission has several interventions to achieve these goals. By adopting an intervention-based approach, KSBM aims to create income generation opportunities, especially for women, and improve the living standards of artisans and craftsmen. This is expected to contribute to the overall growth of the sector and the economic development of the country.
2. Codesustain
Next up is the Codesustain brand which started out fairly recently in the year 2020. Codesustain rose in popularity within a year or so because this company collaborates with artisans, manufacturers, and NGOs to create a sustainable ecosystem for both consumers and craftsmen. They are socially aware and eco-conscious, and they donate 10% of their profits to NGOs that uplift underprivileged communities. One of their most popular collections is called Kaca, and it features handcrafted products made from bamboo and seagrass. Codesustain is a leading bamboo manufacturer in India, and all of its items are ethically and sustainably sourced. You can check out their online store if you ever need to buy handbags, table settings, platters, serving trays, and other hand-crafted and natural material products which are completely safe to use and environment friendly.
3. Beco
Beco is a renowned bamboo brand in India that offers sustainable alternatives to single-use plastics and packaging. Established in 2018 by Aditya Ruia, Akshay Varma, and Anuj Ruia, the brand has a diverse range of eco-friendly products to choose from, including reusable kitchen towels, bamboo and wooden toothbrushes, organic baking paper, toilet paper, and many other environment-friendly daily use products. The brand is also committed to selling environmentally friendly products like compostable rubbish bags, reusable shopping bags, cleansers, and more. Headquartered in Andheri, Maharashtra, India, Beco has gained immense popularity among customers who prioritize sustainable living. Beco has raised $3.5M in funding to date, which has allowed it to expand its product line and reach more customers.
4. Mutha Industries
The fourth spot on our list is taken by Mutha Industries, a company that values sustainability and aims to bring eco-friendly initiatives to households in India. They offer a wide range of ready-made and custom furniture options made from bamboo that provide the same experience as hardwood while being a more sustainable choice. As part of the Anil Mutha Group, Mutha Industries is dedicated to innovation and producing high-quality Bamboo wood. Their first factory was established in 2012 at the first-ever Bamboo Park in India, with trial runs starting in 2013 and commercial production in 2014. Mutha Industries' commitment to sustainability has earned them recognition from various organizations. In 2014, their EPITOME Bamboowood became a member of the Indian Green Building Conference and was included in the GRIHA catalog.
5. Madake
Madake is a bamboo products manufacturer that was established in 2019 with the goal of providing sustainable alternatives to non-biodegradable daily essentials. The company is named after a Japanese bamboo plant called Madake. Vidit Patni, the founder, recognized that bamboo could be an excellent substitute raw material for non-biodegradable daily essentials, and his background in the hotel industry and passion for the environment inspired him to start Madake in 2019. Madake is dedicated to developing innovative, superior-quality, and environmentally-friendly products. The focus is on providing high-quality products that do not harm the environment, reflecting Vidit Patni's background in the environment and luxury.
6. Brown Living
Brown Living is a Mumbai-based company that was established in 2019 by Chaitsi Rajendrakumar Ahuja and Varun Rajendra Ahuja. The company's legal name is Living Brown Private Limited, and it is a group of earth advocates who are committed to promoting sustainable living. Their objective is to inspire people to make informed decisions and avoid mindless consumption. Brown Living obsesses over every aspect of its products, from production to delivery, to ensure that its items are both sustainable and stylish. They curate and produce a variety of earth-friendly everyday goods, with the goal of leaving the planet better than they found it. Brown Living offers an online store that specializes in eco-conscious everyday-use goods. Their store is created to provide a hassle-free shopping experience for consumers who want to shop in a sustainable and ethical manner.
7. The Bamboo Bae
Next up is the Bamboo Bae, a company that was founded in 2020 by two passionate travelers, Anuj and Sanchit, with a mission to promote a plastic-free environment for the love of nature. The founders of the Bamboo Bae were inspired to introduce plastic-free products to the world after discovering handcrafted bamboo byproducts during their expedition to the jungles of Northeast India. They believe that no change is too small and that everyone can make a difference by choosing sustainable and eco-friendly products. And did you know that an average human unknowingly consumes about 50 thousand particles of microplastic per year, equivalent to eating one credit card per week? That sounds scary, isn't it? Well, Bamboo Bae is working towards changing that, which is a good initiative.
8. Bamboo India
Bamboo India is a start-up based in Pune, India, that was established on August 15th, 2016 by Ashwini Shinde and Yogesh Shinde. Bamboo is the largest grass on the planet, with native species found on every continent except Antarctica. Bamboo India recognizes the potential of this "wise man timber" and aims to create sustainable products that can replace plastic, reducing plastic waste. Bamboo India has set some ambitious targets to achieve by the end of 2025 like, they aim to associate with over 1,000 families as part of the Bamboo India mission and reduce 10 Lac kg of plastic waste globally every year by using innovative bamboo products.
9. Bamboodu
Bamboodu is another online store on our list today that offers eco-friendly bamboo products as an alternative to plastic. At Bamboodu, they strongly believe in the importance of sustainability and aim to develop and sell a range of zero-waste products made from natural bamboo material. They are passionate about serving practical and eco-friendly alternatives to non-compostable plastic products and strive to meet the highest standards of quality and ethical business practices. Bamboodu is dedicated to providing customers with a luxurious and eco-friendly shopping experience. All of their products are manufactured from natural bamboo material and adhere strictly to the brand values.
10. The Village Craft Store
Last on our list is another online store that sells in-house manufactured bamboo products for daily use. We are talking about The Village Craft Store. The products offered are reusable, decomposable, and made with care. The store's aim is to deliver the best products to customers' doors while promoting sustainable living for a healthier future and environment. The store's ultimate goal is to establish an online presence for Indian village products. It serves as a marketplace that brings together crafts from artisans across India. By choosing to purchase from The Village Craft Store, you are supporting local communities and promoting sustainable living.
Conclusion
And there you have it. These are the top 10 key players who are making a huge impact in the lives of hundreds and thousands of people in India by offering safe, reusable, and environment-friendly daily-use bamboo products. If you are an investor and looking forward to investing in the green future of India, you should definitely check out these top bamboo product manufacturers.