In a way, tractors are the backbone of the Indian agriculture industry. Yeah, before tractors were a thing, people in India used to do farming quite well, but you can't deny the fact that tractors have sped up things multiple folds. Right? And on top of that, the craze for tractors in India is on another level. Because of this fact, there are so many companies in the country that are trying to capture a significant market share of this particular segment in India.
But only a few companies, that manufacture and sell the most reliable tractors, have been able to do that. And today's post is going to be all about that. Here we are going to take a good look at the top 10 best tractor-manufacturing companies in India for 2023. So yeah, if that's what you are here for today, then keep on reading. Here we go.
List of Top Tractor Companies in India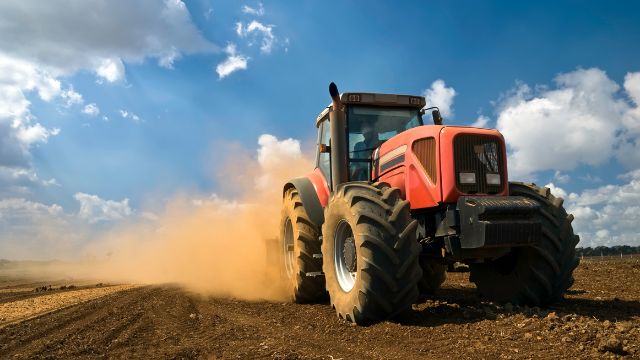 1. Mahindra & Mahindra
Hey there, ever heard of Mahindra & Mahindra? If you're into tractors, you probably have. This brand started way back in 1945 in Mumbai and has become the go-to name for rugged and reliable tractors. They've got this cool philosophy they call the "Mahindra Way" which is all about pushing boundaries, thinking differently, and making a positive impact. And their approach is all about YOU, the customer. They want you to feel that Mahindra magic. And it's not just talk, they're the top-selling farm tractor in the world. Yep, you read that right. That's some serious trust from their customers and dealers. They're all about delivering the toughest, meanest tractors out there. And the world has noticed. They're not only making waves in India and North America but are also the World's #1 Selling Farm Tractor. That's some serious claim right there, don't you think? But it's all thanks to their dedication, values, and the trust they've built with their customers.
2. Sonalika Group
Now, let's talk about the Sonalika Group. These folks are always one step ahead when it comes to tractor manufacturing in India. They're obsessed with bringing new stuff to the table. Just last month, they sold a whopping 10,634 tractors. But it's not just about numbers for them. They genuinely believe in the power of farm mechanization to boost productivity. They've got this massive range of tractors, each designed keeping in mind the unique needs of farmers from different regions. And their dedication? Well, that's literally off the charts! They produced over 16,300 tractors in a single month. But what really warms our hearts is their mission. They're all in to help farmers adapt and grow in this ever-evolving farming landscape.
3. Eicher tractor
And now's the time to travel back in time to 1936. That's when the Eicher brothers, Josef and Albert, started their journey in a small town in Germany. These guys were true pioneers. They didn't just make tractors, they actually revolutionized them. From crafting their first tractor in the 1930s to introducing the world's first air-cooled diesel engine tractor in 1948, they've always been ahead of the game. What's really cool about Eicher is their motto "Ummed Se Zyada," which means "it exceeds expectations." And they surely live up to it. Whether you need a tractor with 18 HP or one with 60 HP, they've got you covered.
4. Tractors and Farm Equipment Limited
Next up is TAFE, the tractor titan that's been fueling India's green revolution since 1960. Not just a big deal in India, TAFE is the third-largest tractor player globally. And guess what? They're not just conquering the fields of India but have planted their flags in over 100 countries. Whether you're into basic farming or looking to cultivate some exotic crops, TAFE's got your back. This manufacturing company is known for its relentless pursuit of innovation. They're not just building tractors; they're crafting the future of farming. And TAFE's deep roots in India's agricultural landscape, combined with their global swagger, means they're not just making tractors, they're making tractors that understand farmers. And that is exactly why TAFE is the biggest player in the tractor manifesting scene of India.
5. Escorts Kubota Limited
Way back in 1944, two visionaries, Har Prasad Nanda and Yudi Nanda, started something big, we are talking about Escorts Limited. Fast forward to today, and they're known as Escorts Kubota Limited, a name that resonates in industries from farming to railways. Based in Faridabad, Haryana, they've spread their wings to over 40 countries. In the tractor game since 1960, they've got some iconic brands like Farmtrac, Powertrac, and Steeltrac under their umbrella. And here's a fun fact, by 1969, they were shaking hands with Ford to make tractors just for India. Want to know how they're doing now? In February 2023, they sold nearly 10 thousand tractors. That's a 27.8% jump from the previous year. It's clear they've got a special place in the hearts of their customers.
6. New Holland
Imagine a time when tractors weren't roaring across fields, and the world of farming was a bit simpler. Now, picture a quaint horse barn in the heart of New Holland, Pennsylvania, back in 1895. This isn't just any barn, it's where the legacy of New Holland began, all thanks to the vision of Abe Zimmerman. From the bustling streets of Turin, Italy, to the serene landscapes of Pennsylvania, New Holland's influence is undeniable. But did you know this powerhouse is a blend of four legendary agricultural brands? That's right! Ford, Fiat Trattori, Claeys, and, of course, New Holland, all came together to create the tractor titan we know and love today. From tractors that seem to have a personality of their own to grape harvesters that look like they've jumped out of a sci-fi movie, New Holland has it all.
7. John Deere India Private Limited
For over 187 years, this tractor brand has been the go-to for farmers everywhere. And guess what? In 2023, they celebrated a whopping 25 years in India. Time flies, right? Over the years, they've been like a tech geek in a gadget store, always bringing the latest and greatest to Indian farmers. And this year they've got some cool stuff tailored for crops like rice, wheat, and cotton. Oh, and if you're into gears and stuff, their 5D Gear Pro Tractor Series is something to check out. Models like the 5045 D and 5050 D even have 4WD for those tricky terrains. The bottom line is that John Deere is like that reliable friend who always has your back, especially if you're an Indian farmer.
8. Preet Tractors
See, when we talk about the giants in the Indian agricultural machinery landscape, Preet Tractors is a name that instantly pops up. Don't you think? Established in 1980, this remarkable company has grown from a small company into the giant manufacturer that it is today. What makes Preet Tractors stand out is the spectrum of tractors they make. From compact beauties perfect for your small farms to powerful beasts designed for large-scale farming, they've got it all covered. These machines are not just tractors, they're symbols of durability, versatility, and exceptional performance.
9. Captain Tractor
Now, here's a fun story. Captain Tractors started out in Rajkot, Gujarat, as Asha Exim Pvt Ltd. Founded by the Patel brothers in 1994, they decided to shake things up by launching India's first mini tractor in 1998. And they named it, wait for it, Captain! Over the years, they've added more and more to their lineup, even grabbing some awards along the way. These tractors aren't just machines, they're a symbol of trust and tradition in the farming community. So, if you're looking for something compact yet powerful, Captain Tractors is the company you should look forward to!
10. Indo Farm Equipment Limited
Then there is Indo Farm Equipment Limited, or as you may know it as Indo Farm. These folks are making waves in the agricultural machinery sector in India. Established in 1994, with its roots in the scenic Solan, Himachal Pradesh, this company has been making quite the waves in the tractor manufacturing scene of the country. And for 2023, they've got a tractor lineup that's as diverse as the land of India. Especially their heavy-duty tractors like the Indo Farm 3048 DI and 3040 DI. And if you're wondering about the price tag, they've got tractors ranging from a cool 3.90 lakh to a grand 17.10 lakh rupees.
Conclusion
That'll do it. Now you have a pretty good understanding of what a top-tier tractor-manufacturing company looks like. So, next time you are considering a brand of company to buy a tractor from, just choose any of the contenders from this list and you'll be good for the most part.