India is a country that's bursting with color and life, and its paint industry is no exception. With construction projects on the rise and a growing middle class that's eager to bring some color into their homes, the paint market in India is truly thriving. But with so many options out there, choosing the right paint company can feel like a daunting task. That's why we're here to make it a little easier for you. We've scoured the industry and found the top 10 best service-based paint companies in India that are sure to bring your walls to life.
Whether you're a DIY enthusiast looking to give your home a fresh new look or a contractor searching for the perfect paint for your next project, these companies are sure to have what you're looking for. Or it could be that you are a job seeker and want to try some luck in this industry, or maybe you are an investor looking to diversify your portfolio by investing in some of the best paint companies that have a bright future in India. For whatever reason you were searching for the best paint companies in India, we are glad and proud to say that your research will come to an end after reading this post.
List of Top Paint Companies In India
So let's get started now.
1. Asian Paints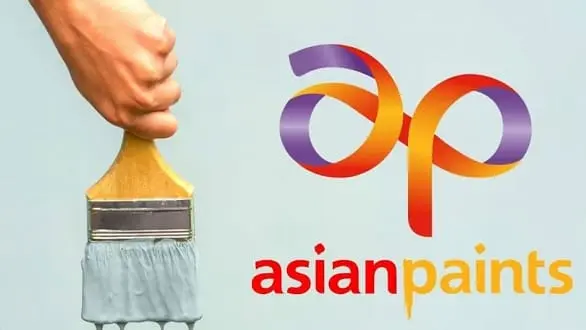 Asian Paints is a paint company that has been brightening up homes and buildings since 1942. It all started in Mumbai, India, where four friends with a love for color and creativity decided to shake up the paint industry. Fast forward to today, and Asian Paints is now a global force, spreading its vibrant hues to 17 countries across the world. Imagine being able to turn your walls into a canvas, your floor into a dance floor, and your home into a reflection of your unique personality. That's exactly what they offer, a range of paint products that includes everything from interior and exterior wall paints to enamels, wood finishes, metal finishes, and waterproofing solutions. And that's just the beginning! They also cater to automotive and industrial needs, as well as offer home decor solutions like wallpapers, flooring, and modular kitchens.
2. Berger Paints
With a rich history that started in 1760 in England, Berger Paints has been providing top-notch paint solutions to customers all over the world and is now the leading paint company in India. Let's start with the products. Berger Paints offers a wide range of paint solutions that cater to everyone's needs, whether you're looking to spruce up your home or your commercial space. From the weather-resistant WeatherCoat to the luxurious Luxury Emulsion, they have something for everyone. And let's not forget their special effect paints that'll add a touch of magic to your walls. Also, they're always at the forefront of new paint technologies, making sure their customers get the best of the best. And with over 20,000 retail outlets and a strong online presence, they're making it easier than ever to get your hands on their amazing paint solutions.
3. Dulux Paints
Dulux Paints has been a part of the Indian paint industry for an impressive 90 years, starting out as an import company and evolving into a manufacturer and supplier of top-quality paint products. Dulux Paints is dedicated to making your walls come to life with its range of wall paints, wood finishes, metal finishes, and other special products. Also, their paints are made with the finest raw materials, so you can rest assured that they'll provide superior coverage and long-lasting protection. And if you're environmentally conscious, you'll love the fact that Dulux Paints uses eco-friendly production processes and offers low-VOC paints that are safer for the environment and human health.
4. Nippon Paint
Nippon Paint is a paint company that truly cares about its customers and the world we live in. It all started back in 1993 when Nippon Paint first made its mark on the Indian market, and since then, it has been providing top-notch paint solutions to everyone from DIY enthusiasts to professional contractors. Nippon Paint knows that choosing the right paint can be overwhelming, which is why it offers a wide range of products, including decorative paints, automotive paints, industrial coatings, and marine paints. And with cutting-edge technology, Nippon Paint's products are easy to apply and provide excellent coverage, making painting a breeze. But Nippon Paint doesn't just offer great products, it also provides exceptional customer service. The company has a team of experts who are always ready to help you find the perfect paint for your specific needs.
5. Indigo Paints
Do you want your walls to not only look stunning but also be eco-friendly and safe? Well, then you should definitely check out Indigo Paints' product collection.  Their range of innovative products, including emulsions, enamels, primers, and texture coatings, is like a breath of fresh air in the paint industry. Each product is crafted with love and care, using the latest technology, and available in a variety of textures and finishes, so you can find the perfect one for your unique project. And, their customer service team is always there to lend a helping hand and make sure you have a seamless experience. So, how did Indigo Paints become one of the top paint companies in India? It's simple, their passion for quality and customer satisfaction is unmatched.
6. Kansai Nerolac Paints
Founded as Goodlass Nerolac Paints in 1920, this top paint company in India has been making homes and hearts brighter for over a century. And in the year 2000, their story took a new turn when they teamed up with the renowned Kansai Paint Co. Ltd. of Japan, becoming one of the most loved paint brands in the country. At Kansai Nerolac Paints, they understand that every home is unique, and so are the people who live in them. That's why they offer a rainbow of options, from premium interior paint like Nerolac Impressions to all-in-one interior solutions like Nerolac Excel Total. They believe that a beautiful home starts with a beautiful world, and they work tirelessly to create products that not only look good but do well too.
7. Shalimar Paints
This company has been around for over a century, brightening up the lives of Indians one brush stroke at a time. When you walk into a paint store, it's like entering a world of endless possibilities. And with Shalimar Paints, you can be confident that you're getting the very best. They only use the finest raw materials and production techniques, so the paint you put on your walls is of the highest quality. But it's not just about the paint. Shalimar Paints understands that its customers are the heart and soul of their business. That's why they've put together a customer service team that's always ready with a smile and a helping hand.
8. British Paints
For nearly 100 years, British Paints has been a trusted name in the paint industry, providing customers with quality products and exceptional service. Whether you're a DIY enthusiast or a seasoned pro, this company has everything you need to make your painting project a success. With a wide range of products that cater to different tastes and budgets, British Paints has something for everyone. And, to make sure you choose the right products for your needs, British Paints offers personalized recommendations and expert advice.
9. Jenson & Nicholson
At Jenson & Nicholson Paints, they believe in more than just producing high-quality paints, they believe in creating a better world, one brush stroke at a time. Established in 1922, this company has been a household name in India for decades, providing innovative paint solutions for both homes and industries. Over the years, Jenson & Nicholson has grown from a small startup to one of the top paint companies in India. With a vast network of over 5,000 dealers and distributors, and a commitment to constant research and development, they're always pushing the limits of what's possible in the paint industry.
10. Sirca Paints India
Lastly, we'd like to introduce a paint company that has been consistently rising up the ranks and competing against some giants in this industry, we are talking about Sirca Paints India. Whether you're looking to paint your walls, revamp your furniture or touch up your exteriors, they've got you covered. With a range of colors, finishes, and textures to choose from, you're free to unleash your imagination and add your personal touch to any space. And, to top it off, they offer free color consultations to help you find the perfect hue for your space. Therefore, it's no wonder why Sirca Paints India is loved by so many.
Conclusion
In conclusion, the paint industry in India is a vibrant world of possibility, where creativity and quality come together in a burst of color. So whether you are just starting out a DIY project to make your place more colorful and dazzling, or maybe you want to invest in some of these paint companies. No matter why you were searching for the best paint companies in India, we hope that our today's post delivers on that.