See, without elevators, it is kind of impossible to research the 90th floor of a skyscraper, right? That's why we all should appreciate elevators whenever we use them. And nowadays, literally, every multi-story building has elevators, which has ultimately made it a lot more convenient to reach our desired floor on a building without putting too much strain on our knees while climbing stairs all the way up. Right? It's not just good for our knees, but elevators save a lot of time too. That's why, again, it is important for us to appreciate the elevators. And in India too, the role of elevators is simply huge.
If you live in a big city in India, and you use an elevator probably every single day, then chances are you may be using the creations of some of the top elevator companies in the country. So, if that intrigues you already, and you wanna know more about it by digging a little deeper then keep on reading. That's because, in today's fascinating post, we are going on a little detour of the top 10 best elevator manufacturing companies in India for 2023. So yeah, if you are here just for that, then let's get down to it right away. Shall we?
List of Top Elevator Companies in India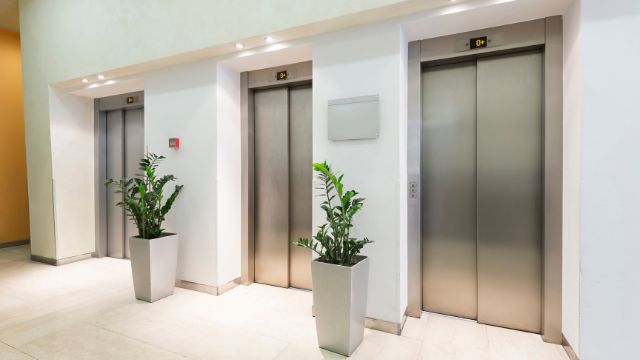 1. KONE Elevator India Private Limited
If you've been in an elevator or escalator, chances are you've come across KONE's name. They've been around for a long time and are kinda like the big players in the elevator scene, not just in India but all around the world. They've got a bunch of different products, some fancy names are KONE DX Class, KONE A, I, U Series, and more. What's great about them is that their machines are safe, top quality, and good for the environment. On top of that, they're all about giving people a smooth ride from the building's entrance to wherever they need to go. In India, lots of folks pick KONE for their buildings because of their smart, safe, and eco-friendly approach.
2. Otis Elevator Company (India) Limited
Now, Otis is like the legendary brand of elevators. Way back in 1853, a guy named Elisha Otis invented a super important safety brake for elevators. Imagine that! This one idea completely changed how buildings could be designed and how we live in cities. Over the years, Otis has been behind many of the tall buildings and modern designs we see all around us. They're big not just in India, but all over the world! The secret to their success is that they keep coming up with new ideas and really care about their customers and clients.
3. Johnson Lifts Pvt. Ltd.
Johnson Lifts started off in Chennai, Tamil Nadu, by a guy named K.J. John in 1963. He got the idea after working at another elevator company in Chennai. At first, they were just fixing lifts, with their first project at the New Woodlands Hotel in Chennai in 1966. By 1970, they were making their own! They make all sorts of lifts, from standard to high speed, and even have an escalator called the Glide Escalator. They were the first in India to make or manufacture their own escalators! They've grown a lot over the years, spreading across India in 1999 and really making a name for themselves.
4. Schindler India Pvt. Ltd.
Now, as you may already know, Schindler isn't just an Indian name. They're big all around the world, starting off in Switzerland. They've come up with cool ways to help people move around inside buildings. Apart from your usual elevators and escalators, they've got stuff like walking pathways, modernization fixes, and even tech solutions that decide where the elevator should stop next! Their focus is simply to make sure folks travel safely and smoothly, with a sprinkle of style. That is the prime reason why Schindler India Private Limited became a good and prominent player in the Indian market.
5. Mitsubishi Electric India Pvt. Ltd.
Mitsubishi Electric is a big-time company from Japan. They've been around since 1921, starting out by making electric motors for ships. Now, they're in India too! They make all sorts of cool things, like air conditioners, automation systems, and even hand dryers. But what we're really talking about here is their elevators and escalators. Even though it would be a little technical and complex to learn about their elevators, that's why just know this, they're famous worldwide for top-quality, super-safe, and long-lasting products. So, if you're looking for a trustworthy elevator, Mitsubishi Electric is a solid choice!
6. Fujitec India Pvt. Ltd.
Just like the previous company on our list today, Fujitec is another gem from Japan. They've been in India since 2004, and they started off in Mumbai. These guys make elevators, escalators, and those moving walkways you see in airports (auto walks!). Seeing how much India needed good-quality stuff, they set up a big factory near Chennai in 2010. And it was made just to match their global standards, meaning you get world-class products right here in India. They've grown a lot since they started, even buying another company called Express Lifts Ltd. So, they're now everywhere, like from Gujarat to Madhya Pradesh. All in all, Fujitec is all about delivering top-of-the-line, safe, and stylish elevators and escalators.
7. Hitachi Lift India Pvt. Ltd.
Have you heard of Hitachi? Yup, we are talking about that famous global brand! They have a cool branch in India, called Hitachi Lift India Pvt. Ltd., which started in Mumbai in 2004. At first, they sold and set up elevators, escalators, and those moving walkways you see in airports. Because a lot of people in India wanted their products, they decided to make a big factory near Chennai in 2010. Everything they make is top-notch and matches what you'd find anywhere in the world. Oh, and they also teamed up with a company called Express Lifts Ltd. to cover more areas in India. All their products are super safe and super efficient, and they look pretty good too!
8. Beacon Elevator Co. Pvt. Ltd.
Next up is Beacon Elevator! They've got big dreams and are all about making the future brighter. Since they started, their goal was to wow their customers with the coolest elevator tech from around the world. They even have a quality stamp, the ISO 9001:2000, which means they're really serious about what they do. They make elevators, lovely wooden ceilings, and control panels. Lots of places use their stuff from car showrooms to malls and hotels. Plus, they've collaborated with Suzhou Jiangan Express, a big name globally, to make things even better. People trust Beacon because they always put their customers first, make top-quality stuff, and make sure everything's safe and long-lasting.
9. Omega Elevators
This cool company started thanks to Mr. Kumarpal M. Desai, a smart guy who studied electrical engineering in Ahmedabad. He realized that buildings were getting taller and people would need a way up and down. So, he started Omega Elevators! What makes them special? Well, they've got the latest tech and put customers first. They offer not just elevators, but escalators and parking solutions too! Oh, and they have this nifty thing called the SMART Elevator LMS which helps keep an eye on how their elevators are doing.
10. ThyssenKrupp Elevator (India) Pvt. Ltd.
TK Elevator is a big name, and it's part of this super famous group called ThyssenKrupp AG. ThyssenKrupp AG came to be when two big steel companies in Germany joined hands in 1999. Both of them have been around for a really long time. Over the years, they decided to branch out, and boom! TK Elevator was born. These guys are known all over the world for their elevators, escalators, etc. They always come up with cool stuff, like the EOX, a smart elevator designed for smaller homes, and ApronVision, a top-tier system to keep things moving smoothly. Plus, they care about the planet! They got a Gold rating for being eco-friendly.
Conclusion
That'll do it. Now, keep in mind that there are literally dozens of elevator manufacturing companies in India that are competing with each other for market share in the Indian market. But in our research, these are the top 10 by far the most popular and considered elevator companies in India. And yeah, chances are, you may have already seen or used some of the products like elevators, escalators or walkways in some way, maybe in a nearby building, airport, or in a mall.