India has seen a surge in the beauty and grooming industry over the past few years owing to newer technology and a wide variety of overall grooming experiences. That alongside the increase in the purchasing power of consumers has created the need for quality salon and grooming services. This has brought a rise in the number of entrepreneurs creating grooming and salon businesses in recent times.
Salons have become much more than something that is associated with merely haircuts or trims. It's become a wholesome personality upliftment and grooming service that every consumer is seeking to partake in. That and the various endorsement and marketing has given the salon a different niche of its own.
We here take a look at some of the best salon franchises in India and delve deeper into what makes them the best of the lot alongside key details on new franchise setup and more. Read along.
List of Top Salon Franchise in India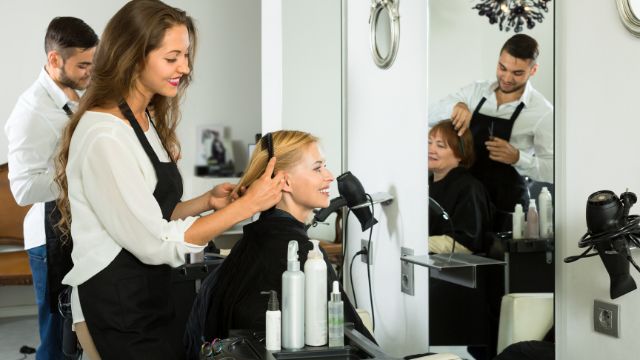 1. Shahnaz Hussain
The first pick of our list is the well-renowned and famous celebrity salon persona Shahnaz Hussain. An astonishing entrepreneur and multifaceted salon and grooming expert, she started her journey back in 1971 and ventured into the franchise model from 1970 onwards. They already have more than 400+ franchises operating under them. Shahnaz Hussain chain of salons is one of the top acclaimed salons in India and focuses on creating a fusion of luxurious captivating grooming with ancient herbal medicinal usage. They train and teach the franchise beforehand and guide them into creating a successful franchise ahead. It is estimated that the initial cost of investment for the franchise of Shahnaz Hussain is around Rs 20-30 lakhs.
2. Lakme
Next up we have undoubtedly one of the top brands in India when it comes to grooming, cosmetics, and personal care, i.e. Lakme. It has been the face of modern India for personal care and cosmetics and has carried the tradition ahead with grooming and salon ventures along with the mainstream business verticals. It was founded in the year 1952 and started the franchise model in 1998. Lakme already has a strong franchise network of over 400+ outlets across India. It has an entrusted business model focusing on top-level standards which has helped them acclaim top places in the salon industry in India. It will cost around Rs 50-60 lakhs as an initial investment for Lakme's franchise.
3. Jawed Habib Hair and Beauty Salon
Next up we have the famous Jawed Habib Hair and Beauty Salon which revolutionized the way beauty salons and grooming centers were seen as. They expanded the business across multiple outlets and franchises to become one of the largest in this field. It was started back in 2006 and followed the franchise model from 2009. They already have over 900+ franchises across India and abroad. This salon is famous for its expert and skilled manpower who are trained to provide exceptional service to the customer. They offer a range of grooming services from hair treatments, manicures, and pedicures to facial treatments and more. Jawed Habib Saloon already has been a top name and joining hands with them will surely yield great business growth ahead.
4. Studio11 Salon and Spa
Studio11 Salon is one of the recent entrants into the salon and grooming industry but has quickly risen to become one of the top names around. They cater to a holistic salon experience providing cutting-edge solutions and complete grooming service with an ambience. The range of services stretches from hair treatment and face care to overall personal grooming. Studio11 provides the franchise opportunity for interested parties where they can invest initial capital and get the authorized franchise license. Studio11 Salon gives extensive training and guidance to the franchises to help run the business better. They have a network of 150+ franchise salons under them.
5. Truefitt & Hill
Truefitt & Hill is one of the legacy salon and grooming brands and has been in the running for the last two centuries having started back in 1805. It's a premier top-line salon that caters to specialized grooming and salon services to customers. The brand expanded further into a franchise model from 2015 onwards and has seen a great growth curve. It is acclaimed as the oldest barbershop in the world and holds its importance and prominence in the market. The franchise model of this particular brand allows you to bring world-class franchises into India and provide exclusive top-notch salon services. A franchise holder of Truefitt & Hill has the opportunity to represent the brand all over the region and provide unrivaled top-notch salon services.
6. Naturals Salon
Naturals is a chain of salon and grooming service providers which started back in the year 2000. It ventured into the franchise model from 2006 onwards and has made a great name for itself in this field. Naturals Salon stands as one of the reputed and trusted brands in the segment and has over 400+ franchises across India. They provide franchise holders with extensive training and support guidance to help build the business alongside assistance in branding and marketing activities. They also offer a pay-back period scheme that ranges from 2.5 years to 3 years.
7. Juice Salon
Juice Salon is another top name in the personal grooming and salon niche in India. They are one of the active brands operating on the franchise model allowing interested parties to come and join hands to build a long-term successful business. They operate more than 20+ franchises across India and provide exclusive training, guidance, and support for the franchises to help them function better. The brand also provides regular timely workshops to train the staff and employees to accentuate the service further. The royalty structure for them is set at 9% which allows you to pay minimal and earn good by partnering with them.
8. Neeldavid's International Salon
Another famed salon franchise network Neeldavid's International Salon is a brand to take notice of. It was founded in 2009 and started operating on the franchise system in 2014. The brand has made a name for itself with high-quality service and grooming to its customers. It's a proactive brand focusing on trending and fashion grooming and styling allowing customers to find the best possible look for themselves. They have an unwavering commitment to excellence which has created a large fan following for them and an opportunity for extensive growth for any franchise partner willing to join them. Neeldavid's already has over 100+ network salons operating under their brand and the numbers are going to increase further in the next few years.
9. Green Trends
At eight, we have Green Trends, a prominent hair salon brand operating in India. It was founded in 2002 and started operating on a franchise basis in 2010. They already have a wide franchise network of more than 250+ stores operating under them and costs around Rs 30 lakhs for the initial investment to take their franchise. Coming to their salon service and status, they are an exceptional salon with a prime focus on providing top-notch services to the customer. They focus on creating a relaxing vibe along with full-fledged grooming and salon services. Green Trends also focuses on allowing extensive training and guidance alongside comprehensive support to its franchises for overall growth starting from pre-launch to vendor management and more.
10. Cut & Style
Rounding our list of best salon franchises in India is Cut & Style which has been operating in India for the last two decades. The brand has been the famed destination for people looking for top-quality salon service and personal grooming. They have an extensive range of services providing customized to personalized packages and more to customers. The brand also works in detail with all its franchise networks to create a successful venture by providing them with a detailed business strategy, planning, and execution model whilst also supporting them throughout with timely workshops and employee training facilities. They already have more than 50+ wide range of network salons working under them to create a growing business with loads of potential.
Final Words
Salon business in India is one of the profitable and easy-to-set-up fields of work that new and upcoming entrepreneurs can tap into. There are many top-range salon businesses and franchises working in India which provides ample growth opportunity to people. We hope this list can help you find the right salon franchise to partner with.