When it comes to lighting solutions, LED lights are by far the best option we got. They are much better, power efficient, and effective than all the other options like halogen lights, or your typical filament light bulb. Seriously, LED lights have revolutionized the way we see light sources in our day-to-day lives, and that's why they are so popular, not just in India but all around the globe. That is the main reason literally every household in India now has LED lights, and since the government is also promoting the use of LED lights, that's why this option is much more affordable as well.
But we all can agree that without the LED light manufacturing companies backing up the high demand, these lights would not have been this popular in India. Right? And if that intrigues you already, then we'd suggest you to keep on reading because we are about to get down deep and explore the list of the top 10 best LED Light manufacturing companies in India for 2023. So yeah, without wasting any more time, let's get straight to it. Here we go.
List of Top LED Light Companies in India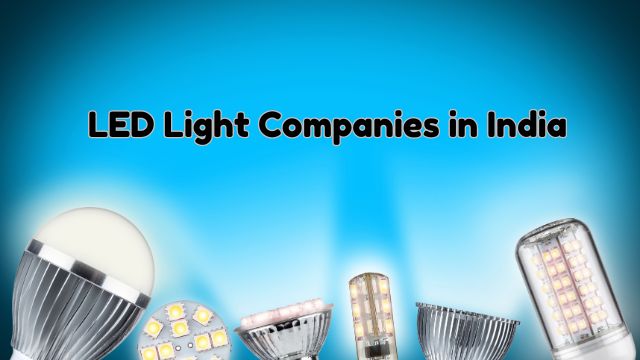 1. Havells India
Do you know that Havells India has been lighting up our lives since 1983? They're like the big players in the electrical and power game in India. Whether it's for your home, a business, or a big factory, they've got you covered with all kinds of electrical goodies, from cables and fans to water heaters and, of course, LED lights! And, it's not just in India, they're spreading the light globally with cool brands like Crabtree and Sylvania. Oh, and if you're into cricket, you've probably seen them sponsoring big matches like the T20 World Cup and IPL seasons!
2. Philips
Now, who hasn't heard of Philips, right? This company has been around since 1891. Yep, that long! Started by Gerard Philips and his dad Frederik in a place called Eindhoven. Their first item was Light bulbs! Since then, they've grown big, making all sorts of things. They came to India in 1948 and started with radios in Kolkata. Fast forward to now, they're rocking the LED light scene in India. In fact, they liked it so much that they decided to focus mostly on LED lights here. And you won't believe this, but they hold a massive 30% of the light market in India. With that said, we had to include Philips in our top 3 on today's list because this brand or company deserves that.
3. Osram
Did you know Osram has been around for over 100 years? Yep! They started back in 1919 in Germany. The name "Osram" is a mix of two cool words: osmium and Wolfram (which is just German for tungsten). These were both used in the old-timey light bulbs. Osram is actually the result of a merger between three big companies from the past. Fast forward to today, and they've become a big deal in India, with their footprint literally in all states and regions. They've got a strong team of 1,200 people in India and have sold loads, like over Rs. 1 billion worth! In the country, they focus on making LED lights that aren't just good but also save energy and fit just right for Indian users.
4. Syska
See, Syska is quite the big name in lights and gadgets in India. The main group behind Syska has been doing business for over 30 years! And guess what? They're everywhere, quite literally! They've got places in every state and have teamed up with tons of distributors, dealers, and stores. That's about 5,000 distributors, 10,000 dealers, and a whopping 200,000 stores. Impressive, right? Syska's LED lights stand out because they're smart, save energy, and last long. They're made keeping the best global practices in mind. On top of that, if you buy one, you get a 2-year warranty. So, they really trust what they make. From the bulbs in your room to the lights on the street, Syska has got it all.
5. Wipro Lighting
Well, Wipro Lighting is a part of the big Wipro family and has been lighting up our lives for over 30 years! Way back in 1992, they set up shop and since then, they've been wowing us with super cool lighting stuff. In 1994, they were the first to bring out lights with metal halide lamps in India. And in 2010, they bagged an award for a fancy LED street light. They've got a ton of other awards too, showing just how awesome they are. What's cool about their lights? Well, for starters, they're smart, save energy, and are perfect for what we Indians need. With all the hard work they put into making new things, it's no wonder they're at the top of their game!
6. Crompton
Now's the time to talk about Crompton. Or as some might know it, Crompton Greaves Consumer Electricals Limited (that's a mouthful!). These guys have been around since 1937, so they've got some real stories to tell. Based in Mumbai, they've become one of the big players in India's electrical world. They don't just make lights, they've got fans, grinders, heaters, and even microwaves! And they don't just stick to India, they send their goodies to other countries too. With a history as rich as theirs and a dedication to being the best, it's easy to see why they're a go-to name for LED lights in India.
7. Surya
Surya is this awesome company from Delhi, and they've been lighting up our homes since 1973, thanks to Mr. B.D. Agarwal. They started with tubes but now make everything, from fans to kitchen appliances and even PVC pipes! And they don't just shine in India, they're big deals in over 44 countries too. They make their cool stuff in places like Bhuj, Gwalior, Bahadurgarh, and Shimoga. Oh, and they love trying new things, which is why they have a special place in Uttarakhand just for coming up with cool LED ideas. If you need lights for your home, office, or factory, Surya's got your back.
8. Bajaj Electricals
Bajaj Electricals set up shop in Mumbai way back in 1938, all thanks to Mr. Kamalnayan Bajaj. They've got a big basket of stuff, from lights to fans, cookers, and even big engineering projects. Their lights aren't just ordinary, they've helped brighten cool places like the Commonwealth Games stadium and that awesome Bandra Worli Sea Link bridge. They're everywhere in India with offices, stores, and care centers sprinkled all around. If you ever need anything electrical, chances are Bajaj has it!
9. OPPLE Lighting
Now, OPPLE Lighting started out in 1996, and now they're a big deal in the lighting scene of India. They're based in Shanghai, but they make their stuff in a couple of places like Wujiang and Zhongshan. They don't just make regular lights; they have a range of products from LED lights, and regular lamps, to even kitchen and bathroom ceiling lights. They've come up with a lot of cool ideas like over 2,800 to be precise! They've got tons of places selling their products, and in India, they've been making waves since 2014. They even opened a special store in Chennai where you can see what they're all about. And they are planning to open even more stores soon!
10. Eveready Industries
Then there is Eveready Industries. This company is like an old friend in India, they've been around since 1905! Most people in India know them because they've been making batteries and lights for, like, ages. They're the go-to brand for many, symbolizing trust. Besides the usual stuff, they make some other cool things too. Eveready's journey in India started by selling batteries they got from the USA. But by 1939, they were making their own batteries right in Kolkata! They added another place in Chennai in 1952 and, seeing the need for handy lighting, they started making torches in Lucknow in 1958. Today, that place in Lucknow is one of the biggest torch makers in this part of the world. Over time, Eveready's been changing things up, always trying to meet what people in India need. And trust us, they're really good at what they do!
Conclusion
All in all, these are the top and best-LED light manufacturing companies that are directly contributing to the lower cost and higher efficiency of LED lighting solutions in India. And if you are in need of some LED lights for your house, then simply choose any of the companies listed above, and you'll be good for the most part.