From the small-scale paper mills of the past to the modern and state-of-the-art facilities of today, the Indian paper industry has come a long way. With the increasing demand for various types of paper products such as writing and printing papers, packaging papers, and specialty papers, the industry is on the cusp of a new era of growth and expansion. But what makes this industry truly intriguing is the potential for growth that lies within it. With increasing literacy rates, rising disposable income, and growing use of paper-based packaging in various sectors, the Indian paper industry is poised for significant growth in the coming years. It's not just about producing paper anymore, it's about creating sustainable solutions and finding new ways to recycle and conserve resources.
From pulping to forming paper sheets to finishing and cutting, the manufacturing process is complex and requires precision and expertise. And it's this expertise that sets the best paper manufacturing companies apart. As we delve into this article, we will be uncovering the top 10 best paper manufacturing companies in India. These are the top companies pushing the boundaries and driving the paper manufacturing industry forward. So let's take a look at which are the big players in this game.
List of Top Paper Manufacturing Companies In India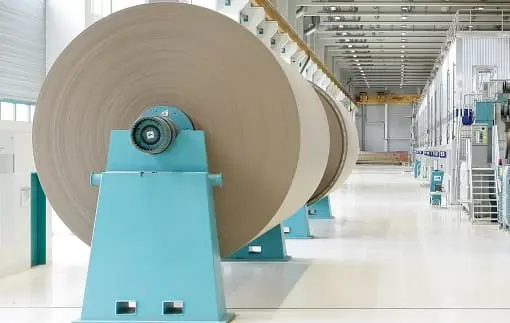 1. Ballarpur Industries Ltd
Ballarpur Industries Ltd (BILT) is a leading paper manufacturing company in India, with a rich history dating back to 1945. The company has been a pioneer in the industry, known for its cutting-edge technology and innovative processes in paper manufacturing. In 2008, BILT made a major leap forward by implementing new technology for paper manufacturing, which led to new peaks in sales growth and profits for the company. This bold move not only put BILT on the map as one of the most prominent paper brands in the country but also made it a leader in the industry. With more than 2470 employees working at its headquarters in Gurgaon, Haryana, BILT is a significant player in the Indian paper industry. The company has a yearly turnover of nearly 3000 crore rupees, making it a major contributor to the Indian economy.
2. Tamilnadu Newsprint & Papers Limited
There are literally dozens of paper manufacturing companies in the country, but only the ones that produce world-class paper, and by following ethical practices have made it to this list. And without a doubt, Tamilnadu Newsprint & Papers Limited (TNPL) is one of those companies. This company has been operational since 1979, and within just a decade or so, it became one of the leading paper companies in India. This company has a production capacity of a staggering 4,00,000 TPA. And since the last decade, Tamilnadu Newsprint & Papers Limited has been consistently making a turnover of more than 1000 crore rupees every single year.
3. ITC Paperboards and Specialty Paper Division
ITC Paperboards and Specialty Paper Division is a paper manufacturing giant that stands out from the rest in India. But what really sets ITC Paperboards and Specialty Paper Division apart is their innovative approach to paper production. Their distribution network is another strength, with several manufacturing units located in different parts of India, this allows them to cater to the diverse needs of their customers, and they even export their products to various countries worldwide. In terms of financial performance, ITC Paperboards and Specialty Paper Division have consistently performed well, reporting steady growth in revenue and profit in recent years. But what's even more impressive is the company's ability to maintain this level of success while still prioritizing sustainability.
4. JK Paper Limited
JK Paper Limited is a paper manufacturing powerhouse in India, known for producing some of the highest quality paper products on the market. Founded in 1962, JK Paper is a part of the prestigious JK Organisation, a renowned industrial conglomerate in the country. From Coated Paper to Copier Paper, Writing and Printing Paper, and even Packaging Board, JK Paper has a wide range of products to cater to every need. The company is particularly known for its exceptional quality, with its paper products being used across various industries such as printing, publishing, and packaging. The company has a well-equipped research and development center that is constantly pushing the boundaries of innovation, allowing JK Paper to stay ahead of the competition.
5. West Coast Paper Mills Ltd
West Coast Paper Mills Ltd is a true veteran in the Indian paper manufacturing industry. Established in 1955, this company has been producing a wide range of paper products for over six decades. With its headquarters nestled in the picturesque city of Kolkata in West Bengal, West Coast Paper Mills Ltd boasts two state-of-the-art manufacturing units in the state and one in Andhra Pradesh. The product portfolio of West Coast Paper Mills Ltd is as diverse as it is impressive, from bond papers to writing and printing paper, Kraft paper to specialty paper, you name it and they have it.
6. Emami Paper Mills Ltd
With a combined production capacity of a whopping 1,50,000 TPA, this company is a force to be reckoned with in the Indian paper market. But what sets Emami apart from the rest of the pack? Well, for starters, the company is a true champion of environmental sustainability. Emami Paper Mills Ltd has implemented a variety of initiatives to reduce its carbon footprint and minimize the impact of its operations on the planet. This makes them a shining star in an industry that isn't always known for being eco-friendly. But Emami Paper Mills Ltd isn't just doing good for the environment, they are also killing it in the global market. Around 15% of their final products are sold internationally, catering to the rising demand for high-quality paper products.
7. Century Pulp & Paper
When searching for the best paper manufacturing company in India, you may come across some resources where the name of Century Pulp & Paper company isn't listed. And that's mostly because the turnover of this company is under 1000 crore rupees. Yeah, that's true, but in reality, this company is one of the best-performing ones, especially in the Indian market. However, over 2650 employees are working under the Century Pulp & Paper name to make it a shining name in the paper manufacturing industry of India.
8. Andhra Pradesh Paper Mills Ltd
Andhra Pradesh Paper Mills is one of the companies that pioneered paper manufacturing in the country. It was established back in 1964 and has been leading this particular industry for decades now. In the early 2000s, the sales numbers were exploding for this company, and that's because the management decided to implement and use cutting-edge technology to make the production process even more efficient. And we all know how that turned out for Andhra Pradesh Paper Mills Ltd. As of now, it stands strong and holds its position as one of the most preferred and leading paper manufacturing companies in the country.
9. Rainbow Papers
Rainbow Papers is a name not very well known in India, and because you do that, you may overlook this company during your research. However, Rainbow Papers Limited is known to perform extremely well, and in the last decades or two, this company has been competing against the giants in this particular industry. Over 1500 employees are working in this company, and it's a combination of manpower and cutting-edge machinery that has been keeping this company steady in the game.
10. Seshasayee Paper & Boards
Lastly, we'd like to introduce Seshasayee Paper & Boards, which has been functional since the year 1960. However, the popularity of this company seems to fade away, and that's because the paper manufacturing market is extremely competitive now. However, the management is trying to keep up with the rising demand and competition. And because of that, the sales graph of this company has started to curve upwards in the last decade or so.
Conclusion
Alright. There you have it, the list of the top 10 best paper manufacturing companies in India for 2023. Whether you are interested in the stocks of these companies, or you were just curious, we hope that this post gives you a pretty good overview of these paper manufacturing companies.