Do you know how your packages get delivered on time, every time? Well, that's because there is probably a top-notch and reliable courier or logistics company working behind that. Whenever you want to ship an item or package to someone, these are the companies that are your go-to, well, most of the time. Also, whenever you buy something from an e-commerce store, there are higher chances that the e-commerce platform already has ties with some of the top courier companies in the country that deliver the customer's packages on time and safely.
These are the prime reasons why the courier and logistics niche or market is booming, and of course, there is a lot of money to be made here. But the thing is, you can't just start your own courier company from scratch, that'd be a lot of work and require a lot of money too. That's why there is another option, which is to own a franchise of a popular courier company in the country and take it from there. And that is exactly what we are onto today because here we will be going over the list of the top 10 best courier franchises in India for 2023. So yeah, let's get to the list without further ado.
List of Top Courier Franchises in India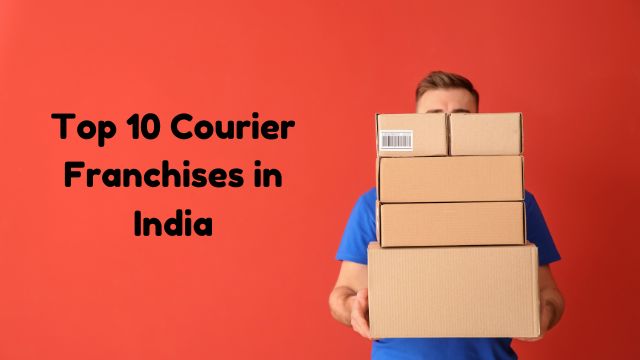 1. Delhivery
Delhivery started out in 2011, and guess what? It's a big deal in India's delivery game right now. First, they were into food delivery but now they're the go-to people for sending parcels, storing stuff in warehouses, and all that stuff. They've handled more than 1.9 billion orders! Crazy, right? Wanna be part of the action? They offer franchise deals starting at just ₹50,000. You'll need some space, like 400 sq. ft., and maybe shell out 1 to 2 lakh rupees as a refundable brand fee. They got centers and teams that number in the thousands. And they're quick like 24/7 quick!
2. Blue Dart
Blue Dart has been the go-to company for sending stuff around since 1983. Based in Mumbai, they're not just big in India; they've got their reach in over 220 countries. If you've got a business and need something sent ASAP, these guys are your saviors. Feel like owning a piece of this awesomeness? Their franchise opportunity starts from 2 to 5 lakh rupees, plus a security deposit. You'd need a spot that's 200 to 300 square feet, preferably somewhere that's easy for people to find. They're connected to DHL, which is like, global-level stuff. And hey, they've won a bunch of awards, so you know they're legit.
3. InXpress
Alright, next is InXpress. They're all about helping small businesses send stuff around the world without breaking the bank. Founded in '99, they've grown a lot and now make more than $165 million a year! The cool thing? You can join in the fun for around 9 to 10 lakh rupees, plus tax. They'll even train you and give you online courses to get you going. The best part is that you can run this business from your own home. No need to worry about pickups and deliveries; they've got partners like Blue Dart and DHL to handle that. So, if you wanna work with a low-investment, high-return kinda deal, InXpress is where it's at.
4. DHL
So, DHL is this big-shot global shipping company, right? Been around since 1914, thanks to this dude Adrian Dalsey. If you're in India, you've probably seen them everywhere because their main office is in Mumbai. They're in like 220+ countries, so yeah, they're literally everywhere! If you want your stuff shipped fast and safe, DHL's got your back. Now, they don't do traditional franchises, but they've got this thing called DHL Service Point Partnerships. To get in, you gotta have a retail shop that's doing well and can handle money and customer service like a pro. Investment-wise, you're looking at around 2 to 5 lakh rupees to get started, and you could make about a lakh per year. Sweet deal, huh?
5. DTDC Courier and Cargo Ltd
Next up is DTDC! Established in Bangalore, India, since 1990. They're like the trendsetters in the quick delivery game. We're talking about domestic and international courier, cargo, and even online shopping deliveries. The founder, Subhashish Chakraborty, made it what it is today, a brand with over 1000 franchises across India. So, if you're thinking about starting a business in delivery, DTDC is a killer choice. The initial investment is just 50,000 to 2 lakhs rupees. They've got a real knack for keeping things fresh and customer-friendly.
6. Day Xpress Courier and Cargo Services
Then there is Day Xpress. Based in Karnataka and only launched in 2015, these newbies are already making waves. They offer a bunch of services like domestic and international courier delivery, cargo, and e-commerce solutions, too. If you're itching to start a franchise, they offer a pretty unique deal. You could start with as little as 10k rupees and they have a royalty system that ranges between 40-60%. They've got somewhere between 100 to 200 franchise units, mainly in Karnataka, but they're looking to spread out. So, if you wanna get in on a growing biz, this might be your ticket.
7. Shadowfax Franchise
Shadowfax is this tech-savvy logistics company that's really been shaking things up in India. They do all sorts of delivery stuff, last-mile delivery, warehouses, and even reverse logistics (that's like, sending stuff back). They started out small in 2015 but have zoomed ahead, working with big e-commerce names and local businesses too. They're super popular in big cities and are loved by e-commerce companies for their tech smarts. Real-time tracking, super smart route planning, you name it, they've got it. This helps them save money and keeps customers happy. So, if you're all about tech and wanna ride the e-commerce wave, keep an eye on Shadowfax.
8. Ecom Express Franchise
Founded in 2012, Ecom Express is big, like, "2,400 cities" big. They cover more than 26,000 pin codes, so yeah, they get around. They're a one-stop shop for all your delivery needs. When it comes to logistic franchises in the country, they're definitely a name you'll wanna consider. They're super reliable and always on time. Their tech game is also strong, with real-time tracking to keep everyone in the loop. With e-commerce booming in India, joining the Ecom Express fam could be a goldmine. And like any other courier franchise on this list, you can become profitable within a few months of starting the franchise, so yeah, that definitely sounds good.
9. Max Courier Franchise
Next on the list is Max Courier Franchise, another well-known name within the logistics scene in India. They not only deliver packages within the country but also have international courier delivery facilities as well. Also, they have partnered with many e-commerce platforms for their logistics solutions. To become a part of the Max Courier franchise, you'll need to invest anywhere between 50,000 to 2 lakh rupees depending upon the size of your logistic center. And if you are worried about the space requirements then we want you to know that Max Courier only requires about 250 square feet of space to set up a decent facility. That means, if you have about 50k to 2 lakh rupees to shell out, and have enough space to start a courier facility, then you should give a shot to the application of Max Courier.
10. Trackon Courier Franchise
Last on the spot is another well-known courier and logistics company in the country, we are talking about Trackon Courier. Again, like many other franchise opportunities on this list, Trackon also has delivery services both domestically and internationally. The stats about this particular company are quite impressive because they deliver around 200k packages to more than 5,000 pin codes every single day. Can you believe that? This simply means that Trackon is definitely among the most popular and trusted courier companies in the country. By looking at the number from this company, you can estimate that they are stacking up some really good profits, right? And if you wanna be a part of this company and get a piece of their profit pie then you should definitely check out their franchise option.
Conclusion
There you have it. Now is your turn to dive deep into each franchise opportunity's details. See, you gotta be careful with the terms and conditions so that you don't regret affiliating with a courier company later on. That's why we suggest doing some of your own due diligence, that way you'll be able to decide which franchise opportunity is the best one for you.