Kids find bearings quite fascinating and that's because of their smooth motion, but as an adult bearings may seem like small, insignificant components to anyone. But in reality, they play a significant role in ensuring that our world runs smoothly. These seemingly mundane components keep things moving by reducing friction and enabling the smooth operation of rotating machinery, from the engines in our cars and planes to the turbines in wind farms and power plants. And in recent years, India has emerged as a major player in the global bearing manufacturing market, with its skilled workforce and state-of-the-art manufacturing facilities. Indian bearing manufacturers have gained a reputation for producing high-quality bearings at competitive prices, making them a top choice for industries worldwide.
But, who are the top players in the Indian bearing manufacturing market? Well, that's what today's article is all about because here we're going to introduce you to the top 10 best-bearing manufacturers in India. We'll take a deep dive into each company's history, products, and accomplishments, revealing the secret sauce behind their success. Whether you're an industry expert or simply curious about the fascinating world of bearings, this article is a must-read.
List of Top Bearing Manufacturers In India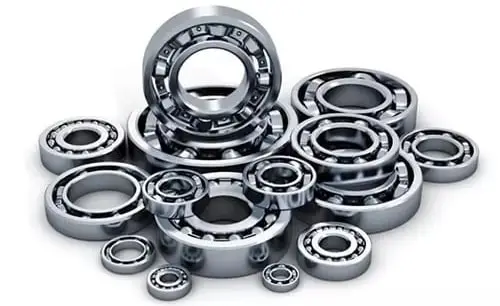 So let's get down to it then.
1. SKF India Ltd
Looking back to 1923, when SKF India began its journey with a small trading office in Kolkata, it's hard to imagine that it would grow to become a significant player in the bearing industry. Today, SKF has six manufacturing units, and eight distribution centers serving more than 25 industries in India. From the company's first manufacturing facility in Pune to its factories in Bangalore, SKF has been committed to innovation and sustainability. The company's mission is to reduce friction and CO2 emissions while maximizing machinery uptime and performance. With a supply chain network of more than three hundred distributors, SKF provides top-of-the-line bearings to its customers. And now, SKF India is all set to celebrate its centenary milestone in 2023! With a long-standing dedication to sustainable and profitable growth, SKF has become an undisputed leader in the bearing business.
2. NRB Bearing
For over half a century, NRB Bearings has been a major player in the world of needle and cylindrical roller bearings. They've built a reputation for providing high-quality products that won't break the bank. Since its inception in 1965, NRB Bearings has set the standard for quality and innovation in the industry, with divisions located in Thailand, the USA, and also SNL Bearings Limited. And did you know that NRB Bearings was the first needle roller bearing manufacturer in India? That's right, they've been leading the pack for a long time. And it shows, over 90% of automobiles on Indian roads today use NRB parts! And the good news just keeps coming. In the quarter that ended December 2022, NRB Bearings' net profit increased by a whopping 39.19% with sales climbing by 8.83% to Rs 251.09 crore.
3. Schaeffler India
With a rich history dating back to 1962, Schaeffler India has been churning out rolling and plain bearings, maintenance services, and digital solutions for a wide variety of industries across the country. Their product lineup is impressive, to say the least. From standard ball bearings to spherical roller bearings and wheel bearings, Schaeffler India has got you covered. And speaking of impressive, their manufacturing facility in Vadodara, Gujarat, is a sight to behold. Since 1964, this factory has been cranking out a diverse range of bearings using the latest technology and a relentless commitment to quality. Schaeffler India's recent financial report is music to our ears. Their net profit in Q4 2022 jumped up an impressive 21% compared to Q4 2021. The Managing Director, Harsha Kadam, credited the growth momentum to a favorable sales mix and sustainable countermeasures.
4. Timken India Ltd
This company was formed in 1987 as a joint venture with Tata Iron and Steel Company, and they've been making waves in the industry ever since. Timken India's first manufacturing facility was established in Jamshedpur, and now they've expanded to include sales offices in several cities, including Delhi, Bangalore, Kolkata, Pune, Chennai, and Jamshedpur. They opened their Technology Center in Bangalore in the year 1998 to keep up with the latest in bearing technology. Today, Timken India is the go-to source for mechanical power transmission equipment, industrial services, and of course bearings. And for all you investors out there, Timken India (NSE: TIMKEN) is a smart choice! The company has reported revenue growth of 33% to ₹27b, a clear sign of progress.
5. TATA Bearing
TATA Bearing is an Indian bearing manufacturing company and a subsidiary of the well-respected TATA group. It's widely known for its high-quality products, and its prices won't break the bank. Located in Kharagpur, their facility produces millions of bearings every year, including ball bearings, clutch release ones, magneto bearings, taper roller bearings, hub unit bearings, and more. Their products are manufactured using cutting-edge technology and undergo rigorous testing to ensure they meet the highest standards of quality and durability. Therefore, it's no surprise that TATA Bearings is considered the best bearing manufacturer in India.
6. Menon Bearings Ltd
Established in 1991 and headquartered in Kolhapur, Maharashtra, Menon Bearings Ltd produces high-quality products for a range of applications. From automotive and marine engines to generators, compressors, earthmovers, and tillers, Menon Bearings has you covered. With fully integrated production facilities, Menon Bearings is involved in every stage of the process, from designing to validating and manufacturing to testing. The company's commitment to quality and precision is evident in its products, which are widely used in a variety of industries. The company has a global presence, exporting over 30% of its output to foreign markets. And if you're wondering about the company's financials, Menon Bearings has got you covered. Their revenue for the Second Quarter of 2023 was ₹525 million, an increase of 8.2% from the same period in 2022.
7. MBP Bearings
For over four decades, MBP Bearings has been rocking the bearing manufacturing game. From agricultural machinery to automobiles, and material handling equipment to machine tools, their precisely manufactured, high-quality, and anti-friction bearings are the go-to for industries far and wide. Their range of products is as varied as a buffet spread! You name it, and they've got it – standard Ball Bearings, Taper-Roller, Needle-Roller, Cylindrical-Roller, Spherical-Roller, Angular-Contact, and many other types. Each product is crafted with meticulous attention to detail, ensuring superior performance and longevity. The wizards at MBP Bearings Pvt Ltd have got all the tools of the trade at their disposal. They use the latest technology and machinery to produce high volumes of top-quality products without any compromise on quality.
8. Bimetal Bearing Ltd
Bimetal Bearing Ltd is a company that has been rolling out high-quality bearings since the good old days of 1961. With integrated production facilities in Hosur, Chennai, and Coimbatore, they produce an impressive range of products for the automotive sector. From two-wheelers to bigger commercial vehicles, their thrust washers, clad bimetallic strips, alloyed copper powder, and top-notch bearings are a must-have. Bimetal Bearing Ltd is not just about delivering top-notch products. They also invest heavily in research and development, keeping them ahead of the curve. It's no wonder why many businesses in the automotive industry trust them as their go-to partner.
9. NTN Bearings
Since 1918, NTN has been delivering top-notch products globally, with production facilities across the world. NTN is one of the biggest and most prominent bearings suppliers to the industrial and automotive sectors in the country. They collaborate with some of the most popular and well-respected brands worldwide, including top-notch manufacturers in India. Together, they design and deliver custom-bearing solutions that cater to specific needs, and NTN always delivers! With an extensive supply chain network spanning Europe, the USA, Asia, and Japan, NTN Bearing is a leader in the industry, not just domestically, but in the global market.
10. Galaxy Bearing Ltd
Lastly, we'd like to introduce Galaxy Bearing Ltd which is actually a subsidiary of the Galaxy Group and has experience in making top-notch bearings for over 25 years. At Galaxy Bearing Ltd, customer satisfaction is at the heart of everything they do. Based in Rajkot, Galaxy Bearing Ltd offers an extensive range of bearings, including Wheel Hub Bearings, Cylindrical Roller Ones, Taper Roller Bearings, and many other types of bearings. Established in the 1960s, this company is one of the largest and most renowned ISO-certified manufacturers and one of India's biggest producers in terms of machinery components.
Conclusion
So, whether you just want to invest in a top-bearing manufacturing company, or just wanted to get to know about this particular industry, we hope that this list has helped you in some way. Based on the facts, and data presented in today's article about these bearing manufacturers in India, you can have a good overview of the overall industry, and which are the ones leading the way. This way, if you were looking forward to investing in the best bearings manufacturer with a strong presence in the Indian market, you can do so pretty easily.