Have you ever looked at an industrial-grade boiler and thought to yourself, "Wow, that's a big and boring piece of machinery"? But keep in mind that these boilers play a vital role in powering the machines and systems that keep industries running. So it is safe to say that many industries and sectors in the country rely on these so-called "dull pieces of machinery." The demand for such high-quality boilers is already higher than ever before, and in our estimation, this demand does not appear to be waning anytime soon. And you'd be glad to know that there are dozens of manufacturers in the country that specialize in making several types of industrial boilers, even as per the particular or specific needs of clients and businesses.
In other words, companies that require industrial-grade boilers don't have to trawl through the global market, since they can obtain superior boilers in India without burning a hole in their pockets. And if you're wondering who's leading the pack in the Indian boiler manufacturing game, you're in luck because that's what today's post is all about. We'll be taking a deep dive into the top 10 best boiler manufacturers in India today. We'll be exploring their history, their strengths, and of course, their impressive range of boilers that are powering some of India's most prominent industries.
List of Top Boiler Manufacturers In India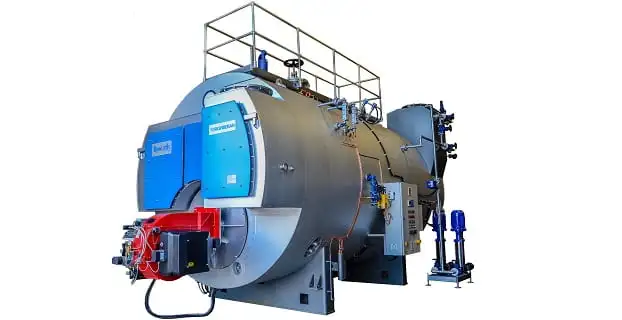 So, let's get going now.
1. Thermax India Limited
Thermax India Limited, established in 1980, is one of India's oldest and leading manufacturers of industrial steam boilers. With a presence in over 75 countries, this $661 million company has made a name for itself in the global market. Headquartered in Pune, India, Thermax Group's product portfolio includes a range of heating & cooling, waste management, and specialty chemical solutions. Their products help industries improve resource productivity while ensuring a cleaner environment. Thermax is known for its expertise in designing, constructing, and commissioning large boilers for steam and power generation, industrial usage, and air pollution control projects. In exciting news, Thermax Limited recently signed an MoU with Fortescue Future Industries to explore green hydrogen projects in India, including new manufacturing facilities.
2. Forbes Marshall
The company's story started back in 1926 as a textile accessories trading company in Ahmedabad, Gujarat. Since then, Forbes Marshall has diversified into steam engineering products and control instrumentation. Two joint ventures, Forbes Marshall Arca and Krohne Marshall were established in the 1980s. Forbes Marshall opened a modern manufacturing plant in Chakan, Pune, in 2013, featuring dedicated assembly and test rigs for hydro, seat leaks, and thorough testing. Forbes Marshall is a top-notch provider of energy conservation and automation solutions for the process industry, with a legacy of over 75 years. They strive to enhance process and energy efficiency while also promoting environmental responsibility. Additionally, they have a keen interest in community initiatives like healthcare improvement, education accessibility, and women empowerment programs.
3. Agni Boilers Pvt Ltd
This non-governmental company was incorporated on 17th May 2007 and has gained an excellent reputation for manufacturing high-quality special-purpose machinery. Agni Boilers Private Limited specializes in providing process heat equipment such as steam boilers, hot air generators, heat recovery systems, thermic fluid heaters, and other industrial products. With years of expertise in the heating equipment sector, the company provides efficient solutions to meet its customers' heating requirements. To maintain its excellent reputation, Agni Boilers Private Limited conducts comprehensive studies of existing systems to improve their value efficiency. The company's intensive research and innovation help to produce a superior quality range of heating equipment.
4. Thermodyne Engineering System
Founded in 2001, they're a respected service provider in the industry and have made it their goal to lead the pack in the steam boiler world by continuously evolving and saving energy. Thermodyne's energy-efficient designs are crafted to help customers save costs while also being kind to Mother Nature. The CEO has a vision of positioning Thermodyne as the go-to solution provider for thermal energy users, helping them save energy and increase their profits. But that's not all. Thermodyne is always on the cutting edge of the game and plans to launch a brand-new energy-saving product every single year. They're all about delivering products that are eco-friendly and improve their customers' quality of life. They're also looking to shake things up by initiating partnerships and joint ventures in areas that are currently underserved.
5. Cheema Boilers
This family-owned business started in 1991 and has since grown into a major global supplier with clients in a wide range of industries. What sets CBL apart is its dedication to quality. They've supplied more than 2,500 boiler systems to over 140 countries, and they don't skimp on their products. Each boiler is optimized for efficiency and durability, and they're built to last. CBL even has an in-house laboratory for research and inspections, so you can be sure their boilers meet strict quality standards. But CBL doesn't just stop at quality products. They also offer comprehensive support from conception through commissioning, so you'll be taken care of every step of the way. Plus, all of their tubes and auxiliaries are manufactured in-house to ensure the highest quality standards.
6. Industrial Boilers Limited
Industrial Boilers Limited (IBL) is a prominent player in the boiler industry, with an impressive history that dates back to 1974 when it was established in Mumbai, Maharashtra. Since then, IBL has delivered over five thousand steam turbines and six thousand boilers to its customers, earning a reputation for exceptional quality and innovation. IBL offers a diverse range of products, including packaged oil, gas, traditional wood-fired boilers, combustion boilers, and steam turbines. One of IBL's areas of expertise is biomass boilers, which has made them a leader in this field on the global stage. Over the years, their cutting-edge technology and focus on sustainability have helped them stay ahead of the curve.
7. KCP Group
Next up is the KCP Group, an 80-year-old business conglomerate that has rapidly expanded its operations into other areas like Heavy Engineering, Cement, and the Power sector. With a turnover of over 250 million USD, KCP has successfully established itself as a leading player in the industry. The group boasts 9 world-class manufacturing plants located in India and Vietnam. With a focus on contributing to the nation's lifelong infrastructure, KCP has established over 40 sugar plants and 12 cement factories in India and overseas, reflecting its unwavering commitment to the nation's development. The group produces top-notch steam boilers and hot water boilers catering to various industries. Their emphasis on technology and innovation ensures that their customers receive only the best quality products and services. KCP is for sure a name synonymous with excellence and reliability, making it the go-to choice for customers across industries.
8. Hitech Technochem
If you're looking for a reliable boiler manufacturing company in India, HiTech Technochem should be on your radar. Established in Ghaziabad in 2001, this company has more than 23 years of experience in supplying a wide range of top-notch boilers and heaters. Before they ship out each item, the company's team inspects it thoroughly to make sure that it meets the highest quality standards. HiTech Technochem's boilers and heaters have many applications across a variety of industries, which shows just how versatile and dependable they are. And, of course, none of this would be possible without Mr. Subhash Chauhan, the company's leader, who is passionate about understanding and addressing the ever-changing needs of customers. All in all, HiTech Technochem is a name you can trust in the boiler manufacturing industry in India.
9. Ambey Boilers & Fabricators
Since 2009, Ambey Boilers & Fabricators has been igniting the industry with their top-of-the-line boilers and unbeatable customer service. As an exporter and manufacturer, Ambey Boilers offers a sizzling range of heat exchangers and blowers, including regular industrial boilers, oil-fuel boilers, and more. Ambey Boilers has earned a reputation as the hottest supplier in town, and their CEO, Devender Dutt Sharma, is leading the charge with a turnover of Rs. 5 to 10 Crore. At Ambey Boilers, they believe in putting people first, and it shows in their excellent customer service. They're passionate about building strong relationships with their clients, and they're always ready to go the extra mile to ensure total satisfaction.
10. Southern Boilers and Equipment Pvt Ltd
With over 27 years of experience, this multi-product company has earned a reputation for excellence in the process heating and captive power generation sectors. From steam and hot water boilers to thermal fluid heaters, Southern Boilers offers a wide range of high-quality products that can be customized to fit the unique needs of various industries. Their flexible engineering solutions are designed to make life easier for their clients, and their turnkey approach to captive power generation and heating needs means that you can sit back and relax while they take care of everything. And as an EPC contractor for mini captive power generation and process steam requirements, Southern Boilers has the expertise to get the job done right.
Conclusion
All in all, when it comes to industrial-grade boilers, it is not like there are hundreds of companies competing with each other, there are only a few. In our thorough research, these are the top and best ones that are clearly the winner in this game. So if you were looking forward to investing in a best-performing boiler manufacturing company then you have the top 10 contenders in front of you.