Due to recent technological developments, there is an increasing dependency on robots. You will find unmanned armed vehicles and drones serving various sectors, which are also very reliable. Unmanned Aerial Vehicles or Drone Technology has achieved a very high adoption rate, and the technology is used across the globe. Even in India, drones are used in multiple sectors. Believe it or not, the drone sector in India is the third largest in India. The Make in India effort is reaping the benefits, and many Indian manufacturers have started research & development on drones within India. The result is better drone manufacturing units and drones which serve different purposes.
Many of the organizations in drone technology are start-ups. However, you will also find some seasoned companies in this space. Huge capital investments back these companies. Many companies in this sector are also public, so investing in these large entities makes sense, even from an investment perspective. So, which are the top 10 best drone manufacturing companies in India in 2023? Let us find out more about them in the section below.
List of Top Drone Manufacturing Companies in India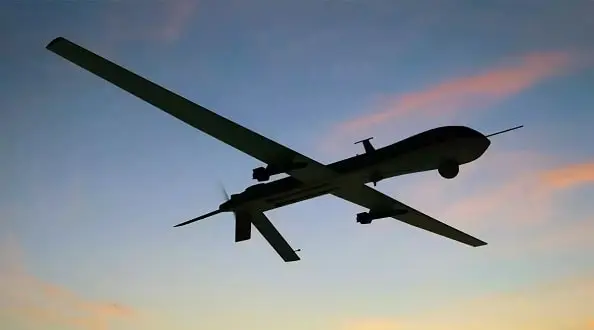 In this section, we have covered the top 10 best drone manufacturing companies in India. We have considered the size of the company and the technology available, among some other factors, to compile this report. So, go ahead and check out the list below.
1. Hindustan Aeronautics Limited
Hindustan Aeronautics Limited is a state-owned company, and technically, the President of India is the owner of this company. Hindustan Aeronautics Limited is a specialized organization for all manufacturing and maintenance of all aeronautical-related needs in India. The government is heavily invested in drone technologies through Hindustan Aeronautics Limited. There are many programs under which this company has developed surveillance drones and offensive unmanned aerial vehicles. The continuous R&D combined with huge capital helps HAL become one of India's best drone manufacturing companies.
2. Adani Defence & Aerospace
Adani Group of Industries is one of the largest groups of companies in India. The company also entered the defence and aerospace domain with the inception of Adani Defense & Aerospace. This company is mainly focused on the military application of drones or UAVs. Apart from drones, Adani Defense & Aerospace is also into the manufacturing of Unmanned Aerial Systems. This company not only manufacture drones for domestic usage but also has a huge export market. The headquarters of Adani Defense & Aerospace is in Ahmedabad, and they have an indigenous aerospace park in Shamshabad (Hyderabad). The strong area of Adani Defense & Aerospace isLong Range UAVs, Tactic UAVs, Anti-Drone Systems, High Altitude UAVs and Low Altitude UAVs.
3. Paras Defense & Space Technologies
Paras Defense & Space Technologies have a subsidiary that deals in drone technologies. The name of the subsidiary is Paras Aerospace. It is one of the largest drone companies in India that offers UAV-based services and integration. Paras Defense & Space Technologies is among the few manufacturers in India that can manufacture the camera, payload, electronic components, transmitters, hardware and composite material. The headquarters of Paras Defense & Space Technologies is in Mumbai, and the company has products which are specially designed for highway mapping, construction monitoring, military usage, drone detection, stockpile monitoring and other similar uses.
4. Dronix Technologies Private Limited
If you are looking for a commercial drone manufacturer in India, then Dronix Technology is a big name in this domain. This company manufactures drones for monitoring, surveillance, inspections and industrial survey. Many companies also use the offerings from this company for land and pipeline monitoring. Because of the high-resolution camera and the sensors, the drones from this company are also inducted in rescue operations and military intelligence missions.
5. Zen Technologies
We also have Zen Technologies on the list, and this company was incepted in the year 1993. Zen Technologies started with training simulators, eventually increasing its investments in drone technologies. Today, the company also has heavy-load logistics drones, a very niche segment. Apart from this, Zen technologies have registered a 100% growth in the last three years, which gives you an idea about their commitment towards drone technologies. Another major product from Zen Technologies includes Anti Drone Systems that help you with drone detection and neutralization of drones through jamming signals.
6. Omnipresent Robot Technologies Private Limited
Many companies have integrated drone technology with augmented reality and virtual reality. One Indian manufacturer that made it large in this area is Omnipresent Robot Technologies. This company has its headquarters in New Delhi, and industrial drones are its strength. Drones from Omnipresent Robot Technologies use virtual reality & machine learning to deliver the required results. Apart from this, Omnipresent Robot Technologies is also targeting delivery services using drones. This brand has offerings for e-commerce, agricultural and surveillance industries. The brand also has huge penetration in defence services.
7. Throttle Aerospace
Throttle Aerospace is yet another company in Bengaluru and one of India's fastest-growing drone manufacturers. The company has expertise in Drone Designs, Manufacturing Processes, Software Development and Hardware Development. In addition, Throttle Aerospace relies on advanced technology for the manufacturing process. Throttle Aerospace was also among the very first company that receive a permit from DGCA and the Ministry of Defense to manufacture military drones. The present manufacturing facility of Throttle Aerospace is in Kolar District in Karnataka. This company has certainly made it huge in drone technologies.
8. Garuda Aerospace Private Limited
At number 8, we have Garuda Aerospace Private Limited. This is not a huge company, but it is rather a start-up. The company offers low-cost drone solutions. The main application of drones from Garuda Aerospace Pvt Ltd is in the commercial and service sectors. The headquarters of this manufacturer is in Chennai (Tamil Nadu), and the company has received many national & international awards. Garuda Aerospace Pvt Ltd played a pivotal role during the Uttarakhand Glacier Disaster, and they were honoured with NRDF Award for Bravery. Garuda Aerospace Pvt Ltd's offerings include mapping, agricultural, and surveillance drones.
9. General Aeronautics Private Limited
The next on our list is General Aeronautics Private Limited, which has very innovative aircraft design solutions. The company has extensive experience, and many experts from the industry have joined this organization. General Aeronautics Private Limited has an advanced crop protection platform that helps improve agricultural land efficiency. The headquarters of this company is in Bengaluru, and the company is also specialized in providing defence as well as civil solutions. In recent times, General Aeronautics Private Limited has been trying to enter the healthcare domain, carrying out a lot of R&D for the same.
10. Thanos Technologies
We will close this list with Thanos Technology. This company has its headquarters in Hyderabad, and the company is largely focused on automated solutions. Thanos Technology has aerial transportation products and aerial automation drones. The core business of Thanos Technology is drone manufacturing, aerial surveying, drone repairs and drone delivery. If you need a custom build drone for any application, you can even reach out to Thanos, who will help you with the build. Thanos Technology has also developed drones for spraying, racing and even payload delivery. So, if you need a drone customized for a specific purpose, then Thanos Technology is the best manufacturer.
Final Verdict
Drones are extensively used in agriculture, energy, security, infrastructure, mining and even entertainment sectors. They are used for surveillance, and many government agencies are already using drones. You will also find many vloggers using drones for content creation, and the footage that comes out of it is mesmerizing. The Indian government has also started framing policy around drones, and getting a non-commercial micro or nano drone is very easy. You can explore the options from the companies listed above, or you can also explore international brands like DJI. If you still have questions about the drones, models or the companies, then you can leave a comment for us, and we will respond shortly.