A conveyor belt may seem like a simple piece of machinery, but in reality, the importance of a good and fully functional conveyor belt is way more than any other piece of equipment or machinery. And that's not the case with just one or two industries, in fact, conveyor belts are being used in various sectors and industries like automotive, mining, agriculture, construction, food and beverage, and pharma, among many others. Therefore we can all agree that the conveyor belt has made the transportation of goods and things much easier for businesses, as well as manufacturing facilities. They are even being used in power plants across India to supply coal for electricity generation.
And thankfully, there are dozens of conveyor belt manufacturers in India. Thus, if a business or manufacturing facility needs a conveyor belt, they don't need to look for the best one in the global market. In this article, we will be taking a look at the top 10 best conveyor belt manufacturers in India for 2023, so if you are someone interested in valuable insights about this particular industry, we'd advise you to stick to this post till the end. And now, let's get down to the list of the key players in the converter belt manufacturing industry of India.
List of Top Conveyor Belt Manufacturers In India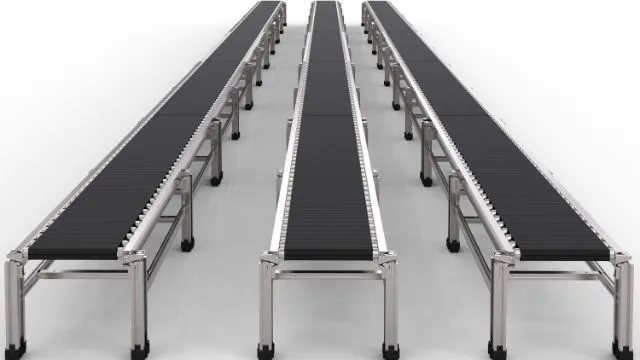 1. Oriental Rubber Industries
If you are in search of trustworthy conveyor belt manufacturers in India, Oriental Rubber Industries Pvt Ltd is an excellent choice. The company, established in 1949 and headquartered in Pune, Maharashtra, is a pioneer in manufacturing fabric-reinforced conveyors in the country. They also produce a range of steel cord-based conveyors tailored to meet the requirements of various industries. Oriental Rubber Industries Pvt Ltd is renowned for its ability to manufacture conveyor belts suitable for extreme climatic conditions, ranging from freezing temperatures to scorching hot weather. The company has a strong focus on research and development and maintains world-class infrastructure to ensure that the conveyor belts produced are of high quality. In addition, they provide customized solutions to their clients that are approved and qualified suppliers for a wide range of industrial products.
2. Continental Belting Private Limited
Continental Belting Pvt Ltd is a distinguished conveyor belt manufacturer that has been operating in the industry since 1964 and is headquartered in Mumbai. One of the key factors that make them stand out is their comprehensive range of conveyor belts. They offer belts in multiple widths, including widths of up to 3200mm. Additionally, they have an extensive selection of belt types, such as steel cord belts, standard pipe belts, kevlar belts, and sidewall belts, among others. Continental Belting Pvt Ltd maintains a massive inventory of Ready Stock Conveyor Belts, which enables them to promptly provide customers with the products they require. The company has a wide distribution network and offers cost-effective prices, along with timely consignment shipments. Their clients are diverse, ranging from North and South America to East Asia, showcasing their global recognition.
3. Somi Conveyor Belting Limited
Somi Conveyor Belting Ltd, founded in 2000 and headquartered in Jodhpur, is a leading conveyor belt manufacturer in India. The company specializes in producing wide conveyor belts up to 2 meters and is dedicated to continuously improving its products through innovative solutions. Somi Conveyor Belting Ltd is known for providing high-quality, customized rubber conveyors that are tailored specifically to meet specific requirements. The company operates two fully automated, computerized manufacturing facilities in the heart of Jodhpur, Rajasthan, which are run on a system based entirely on PLC. One of the cutting-edge products offered by Somi Conveyor Belting Ltd is the Somiflex conveyor belt, which boasts an impressive installed capacity of more than 9 lakh meters annually and can reach up to 2000 mm in width.
4. Fenner Conveyor Belting Private Limited
Fenner Conveyor Belting, situated in Madurai, Tamil Nadu, is a highly esteemed conveyor belt manufacturer in India that has been operating for over 70 years. As a part of the prestigious Fenner PLC, the company has gained worldwide recognition for its exceptional products. The flagship product of Fenner Conveyor Belting Pvt Ltd, Feneplast, is an incredibly durable and flexible conveyor belt that boasts exceptional resistance to wear and tear, making it an ideal choice for various industries. Its remarkable ability to endure exposure to harsh chemicals like acid and oil makes it a highly preferred option in the market.
5. Shriram Beltings
When it comes to manufacturing and supplying industrial-grade rubber conveyors and magnetic separators, Shriram Beltings is a name to trust. Founded in 2013 and headquartered in Betul, Madhya Pradesh, this company has established itself as one of the top-tier conveyor belt manufacturers in the country. Shriram Beltings is well-known for its comprehensive range of conveyor belts, which includes general-purpose M-24 and N-17 grade conveyor belts, chevron belts, heat-resistant conveyor belts, standard rubber conveyors, infinity conveyor belts, rough top conveyors, among many other types. With the largest inventory of ready-stock belts, they can cater to all your conveyor belt needs with widths up to 3200mm.
6. Phoenix Mecano India Private Limited
Phoenix Mecano India Private Limited is a leading provider of components and services for challenging industrial environments. Established in 1994, the company was initially set up to create a local market for the Phoenix Mecano Group's products and to source components from India for their production hubs in Europe. Today, Phoenix Mecano India has become a trusted name in the Indian industry, with its products extensively used in various sectors such as Automotive, Oil & Gas, Machinery manufacturing, Power Distribution, and Renewable Energy. The company's focus on delivering competitive solutions has helped it stay ahead of the competition. Phoenix Mecano India achieves this by developing effective localized solutions in close cooperation with customers and with the support of the rich experience of the parent companies.
7. Pentagon Rubber Limited
Pentagon Rubber Private Limited, based in New Delhi, is a well-known manufacturer of high-quality conveyor belts. They have been in the industry since 2004 and have established themselves as a reliable provider of conveyor belts to customers in more than 35 countries across the globe. Their product range includes rubber transmission belts, rubber sheets, and various types of conveyor belts, including pipe conveyor belts, sidewall conveyor belts, and chevron conveyors. Pentagon Rubber Private Limited is committed to providing quality assurance and has stringent testing procedures in place to ensure that its products are defect-free. Their expert team meticulously examines each conveyor belt to ensure it meets the required standards. Their dedication to quality is evident in their satisfied customers in industries such as mining, agriculture, and power generation.
8. Dynamic Rubbers Private Limited
Dynamic Rubbers Pvt Ltd has been providing innovative solutions to the industry that handles bulk materials for decades since its establishment in 1987. They are located in Ahmedabad, Gujarat, and have multiple manufacturing facilities across India, including Gujarat, Kolkata, and Himachal. Dynamic Rubbers Pvt Ltd has a long-standing history, with their first plant established in Jaipur in 1988 and two more plants set up in Ahmedabad in 1991 and 1998 for molding and jointing of conveyor belts and accessories. Among their many offerings, Dynamic Rubbers Pvt Ltd is renowned for its high-quality sidewall belts that come in widths ranging from 1.5 meters to 4 meters. They offer a wide range of conveyor belt solutions, including conveyor systems, rollers, pulleys, rubber conveyor systems, sidewall belting, chevron belting, fabric belts, rubber sheeting, and tubes. Choose Dynamic Rubbers Pvt Ltd for reliable and innovative conveyor belt solutions.
9. Ace Conveyor Solutions
Ace Conveyor Solutions is a well-known manufacturer of industrial-grade conveyor systems as well as a prominent provider of conveyor assembly services located in Noida, Uttar Pradesh. The company has been serving the market since 2011 and has built a strong reputation for delivering top-notch, dependable products that are user-friendly. Ace Conveyor Solutions provides many types of conveyor systems and industrial-grade as well as reliable belts, all of which are made from premium-quality materials. Their products are recognized for their durable construction, lightweight design, and long-lasting performance.
10. Sempertrans India Private Limited
Last on our list today is Sempertrans India Private Limited, another well-established conveyor belt manufacturing company that has been in the industry since 2000. It is one of the largest conveyor belt manufacturers in India and is known for its exceptional technology and infrastructure. At Sempertrans India Private Limited, their ambition is to be a trusted partner for their customers, helping to enhance their business operations with innovative and reliable solutions. Sempertrans India Private Limited creates long-term value for all stakeholders by delivering excellence and effectiveness in everything they do. The company strives to ensure that its customers achieve maximum operating life with the lowest cost of ownership possible.
Conclusion
Fully functional as well as reliable conveyor belts are the prime need of many industries in India. And these are the top 10 best conveyor belt manufacturers in the country that deliver exactly what many businesses need in their respective sectors or industries.