As time passes, the Indian medical industry is bringing developments in treatments and procedures for diseases. Besides inventing new technology, researchers and doctors are taking the initiative to treat chronic conditions effectively. One such great invention is the disposable Syringe. If one is undergoing treatment, this device helps to measure and inject intramuscular or intravenous doses.
One Syringe can be used only once for one person. These plastic syringes are used in the medical and veterinary fields. Unlike glass syringes, syringes made of plastic can be sterilized for extended periods of time and are a safer option for storing medicines.
However, due to the constant rise in human disorders and diseases, India has become one of the largest manufacturers of syringes. As per a report, in the 2020's fiscal year, the Indian disposable syringes market was estimated at USD 888.40 million. It is expected to reach USD 1,828.20 Million in the future Source.
Depending on the factors like application, kind, material, end-user, and location, the Indian Disposable Syringes industry can be segmented. This segment is based on respiratory, therapeutic, diagnostic, dental, cardiovascular, general surgery, and others.
In this article, we are going to discuss the leading manufacturers of India engaged in producing and supplying Syringe throughout the country:
List of Top Syringe Manufacturers in India
1. SPM Medicare Private Limited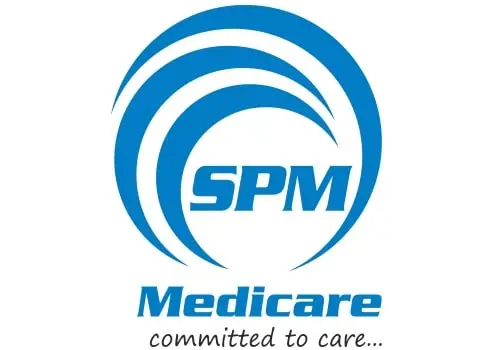 SPM Medicare is on the no.1 position on this list. Having a motivated and talented workforce makes them one of the leading syringe manufacturers in India in 2023. They have expertise in making premium-class medical equipment. EN ISO 13485: 2012 certified SPM has met quality standards to impart world-class care and service.
It has a well-established facility in the capital city of India, New Delhi, for the production of the Disposable Apparel range and Disposable Medical Equipments.
Established in 2015, SPM has evolved into one of the fastest-growing organizations in the medical sector. They ensure that each product is manufactured in clean room zones and laboratories to meet national and international requirements.
2. Hindustan Syringes
Having its appearance in the United Kingdom and the United States, Hindustan Syringes has gradually earned a market reputation. With its global footprint, the organization has become the largest medical device manufacturer. Having as many as 3500 employees and 5000 dealers is proof of this.
In addition, it is one of the top 5 manufacturers of disposable syringes in the world, as well as the largest producer of auto-disable syringes in the world. They specialize in intravenous equipment, including needles, syringes, and cannulae. After achieving massive business success, Hindustan's revenue is around 100 million dollars/yearly.
Since 1957, Hindustan Company has promised to supply premium quality medical equipments at reasonable process. In 1959, they began supplying glass syringes in association with a Japanese Corporation.
3. MxRady Lab Solutions Private Limited
MxRady Lab Solutions Pvt Ltd was founded in 1978 in New Delhi, India. Since its inception, it is known to be the market leader, a great exporter, manufacturer, importer, and dealer of medical and scientific tools and instruments. The organization's workforce is specialized and expert in meeting the requirement of clients.
They offer premium quality goods to customers nationwide using quality and streamlined methods. In addition to being an authorized syringe producer, they are also known for QC standards, Quality Products, and Bulk goods.
Its advanced infrastructural facility, qualitative range of products, timely deliveries, competitive price structure, customer-centric approach, and experienced team of experts set it apart.
4. Super International Medical Surgical Supplier
Super International is a leading exporter, producer, and health and medical care goods supplier. Products like hand sanitizer, face masks, Cord Clamps, Syringes, IV Cannulas, and others are offered by Super International Company in the Indian market.
They also provide surgical disposables and health care tools, such as surgical blades, gloves, masks, bandages, head caps, etc. With an aim to serve society by selling the best medical products, they have become a leading distributor and exporter in the global market.
Even their prices are reasonable. Not only in India, but Super International also has a presence in Nepal, South East Asia, Gulf, Africa, Nepal, Sri Lanka, Bhutan, Belarus, Georgia, Uzbekistan, etc.
5. Gotbull Industries
A significant exporter and manufacturer of Steam Bath Chambers, Pot with Chain and valve, Shirodhara Stands, Massage Tables, Industrial Conveyors, and Hammer Mill. Gotbull Industries came into existence in the year 2015. They have earned a reputation due to the premium quality goods they supply.
To meet the customer demand, they are aiming towards growth with a dedicated task engine. Since its inception in Vadodara, Gujarat, India, they are successfully running operations and having an extensive infrastructure, which plays a vital role in the growth of the enterprise.
6. BD India Private Limited
BD India Private Limited, on this list, is a sought-after company of disposable syringes. It is having its presence generally in Bawal, Haryana, and the only purpose is to manufacture dozen of disposable needles of premium quality.
After being authorized by the Haryana State Industrial Corporation, BD India came into the limelight. An exclusive range of safety devices and shielding is produced by the company in a huge amounts. Their goods include disposable syringes, single-use syringes, face masks, etc. BD has a dedicated and experienced team and raw materials for reliable and smooth operations.
7. Nihal Health Care
This brand is a reputed and trustworthy Indian brand of Sterile Disposable Needles, Sterile Hypodermic Syringe, and Insulin Syringe. Being a famous manufacturer and supplier of medical equipment, they constantly engaged in fulfilling the demands of customers across the country. Mr. Kapoor Singh, the owner of Nihal Health Care, has taken this venture to the next level in a very short span of years.
The biggest strength of NHC is that its products are manufactured under the supervision of experts having knowledge and expertise in this domain. Each item offered by NHC meets the standards for sterility and safe use.
8. Lifelong Meditech private limited
Having separate interests in producing medical equipment and auto components, Lifelong also supplies medical equipment and auto components. An auto component manufacturing venture, LMPL specializes in Aluminum Pressure Die Casting, Multiple Commodity Assembly, Injection Molded Components, etc.
It was divested into marketing and manufacturing disposables and medical equipment in 2005. Subsequently, they also ventured into producing Sterile Hypodermic Single Use Needles, Sterile Hypodermic Single Use Syringes, and Infusion Sets. With the association of Safeway and Lifelong brands, LMPL has become the second-largest manufacturer of syringes in the country.
9. Medilivescare Manufacturing Private Limited
The company is a leading brand of cost-effective accessories for medical professionals, laboratories, and hospitals across the globe. The enterprise established its strength from a trained and skilled workforce to achieve the prime goal of customer satisfaction in each enterprise transaction.
With the assurance of quality products, they have become the market leader. It manufactures and exports surgical sets and medical kits within and outside the country. MMPL has certified quality control, manufacturing, and R&D facilities.
10. Chris Merchant Private Limited
Established in 2016, Chris Merchant Private Limited is a recognized Pharmaceutical and Surgical Exporter, Distributor, and Wholesaler. This industry-leading player represents various top enterprises. It is an all-in-one solution for general and surgical medical needs. To ensure the care of quality in goods, Chris brand formed high quality checking lab, wherein every good is examined on various factors identified by the industry.
Nowadays, the organization provides the utmost quality and customer services in terms of price, quality, and time frame. All of these qualities make Chris Merchant a competitive leader in the medical industry. They are the recognized supplier for leading brands like Midas, Dr. Morepen, Dr. Odin, Cipla, Softhand, Glenmark, B-Braun, etc.
Conclusion
The business of syringes has gained momentum in the last few years. India is one such country that has become the market leader in this domain. Apart from manufacturing and selling within the country, they also import medical equipment in large quantities with the help of the above-mentioned Indian brands.
Syringe Manufacturing Frequently Asked Questions
1. Which is the top two syringe brand?
BD, commonly called Becton Dickinson, is a prominent supplier and producer of syringes and needles for medical purposes.
Hindustan and Medical Devices is an Indian-based medical organization, also called the largest producer of medical needles and syringes across the world.
2. How much profit does a manufacturer make in the production of syringes?
The average commercial margin on needles/syringes is between 250%- 650% if the MRP is compared to the cost to the supplier. But when these are sold in the market, the profit can be between 1000%- 1200%, based on the certain brand.
3. Can I expect long-lasting growth in the syringe business?
Beginning a disposable plastic syringe venture could be the perfect way to make some extra income. Due to the vast growth in the medical industry, you can expect to have a long-term profit from this business. Moreover, it is a profitable and environmentally friendly venture.
4. Which brand/company manufactures auto-disable syringes in India?
HMT Limited has been manufacturing disabled syringes since 2001. With this, it has become the country's 1st ever AD needles manufacturer. This product was started in association with a UK-based company called Star Syringes.