Power tools are the core of many jobs. They make things very easy, especially if you compare the effort with manual tools. Most contractors, servicemen and enthusiasts prefer the use of power tools. Recently, we have noticed a shift in the purchase pattern of power tools. Earlier, people wanted to buy power tools from foreign manufacturers, but this has changed drastically. Now, Indians are keen on purchasing power tools manufactured in India. The power tools manufactured are affordable, and they are certainly reliable.
Many such brands in India have gained global recognition for their work. Moreover, getting repair and maintenance support for power tools manufactured in India is easy. So, are you also trying to find the best power tool for yourself with the Made in India tag? We are here to help you. On this page, we have compiled a list of India's top 10 power tool manufacturers. You can go ahead and check out the list below. This will help you shortlist the power tool brand you can choose.
List of Top Power Tools Manufacturers in India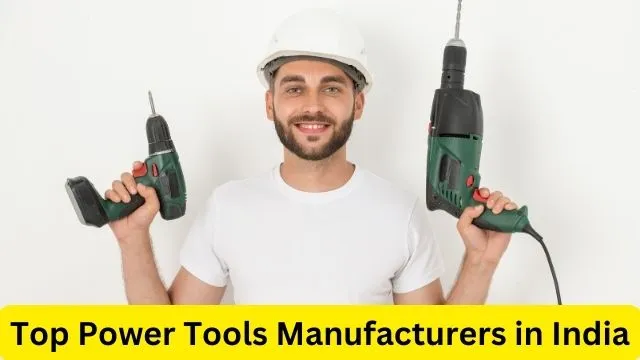 In this section, we have compiled the list of top 10 power tools manufacturers in India. You can scroll through the list and check out the available options below.
1. Bosch
Bosch was established in 1886 in Germany and the brand started its India operations in 1922. The operations were started in India after a sales office was established in Calcutta, and the coming years, the brand also established a manufacturing unit in the country. The first manufacturing unit of Bosch was set up in Bangalore in 1953, and it expanded to multiple units after that. Today, Bosch has three manufacturing units in the country. It is one of the largest manufacturers of power tools globally, and it has certainly gained the expertise required to excel in the market. The offerings from the brand are slightly expensive when you compare it with another Indian manufacturer.
2. Swastik Enterprise
The next power tools manufacturer on the list is Swastik Enterprise. The brand has an established name in the domain, and they have been serving the customers for the last 20 years. Power tools from Swastik Enterprise are a popular choice among industrial manufacturers and are considered the best. Swastik Enterprise considers many factors while choosing suppliers, and they take care of quality control in a very detailed manner. The customer support at Swastik Enterprise is considered one of the best. You can explore their official website to learn more about the brand's offerings.
3. Electrex Power Tools
At number 3, we have Electrex Power Tools. The brand is one of the youngest manufacturers on the list, as it was established in 1982. Today, Electrex Power Tools is considered a reliable brand offering affordable solutions when it comes to power tools. Electrex Power Tools also became the first brand to distribute marble cutters in India, and they were certainly made more affordable. This was an instant hit in India, and the brand also collaborates with Hitachi to manufacture electrical tools for commercial use. The offerings from Electrex Power Tools include drills, cutters, planers, blowers, rotary hammers and impact drills. The brand's manufacturing unit is in Bangalore, but they supply the products across India.
4. Ralli Wolf Power Tools
Ralli Wolf power tools are considered one of the best manufacturers of power tools in India. The brand was incepted in 1972, and since then, it has made remarkable progress in the design and quality of power tools. Today, Ralli Wolf Power Tools is considered to be one most esteemed manufacturers, and they also offer a wide range of tools to their customers. The USP of the offerings from this brand is that these tools are affordable and lightweight. It is easy to use and maintain the tools provided by Ralli Wolf Power Tools. You get the best performance from the tool without any compromise on durability. If you are looking for a heavy-duty brand, power tools are for you. Offerings from Ralli Wolf include Drills, Grinders, Hammers, Sanders, Chop Saw, Blowers, Pressure Washers, Heat Guns, magnetic Core Drills and a lot more.
5. Josch Power Tools
Another popular Indian power tools manufacturer is Josh Power Tools. The brand came into existence in 2002, and since then, it has heavily invested in its manufacturing facilities. The offerings from Josh Power Tools include drills, wall chasers, grinders, marble cutters and much more. This is a preferred brand for independent contractors and even for commercial users. When you are buying from Josch, you can be assured about the quality of the offerings, and you can also be assured of the customer service that you will receive. At Josh, you get the highest standard of quality, which is made possible with the help of extensive research & development in this area.
6. Hitachi Power Tools
Hitachi is a Japanese brand with a manufacturing unit in India as well. The offerings from Hitachi are in multiple domains. They are available in the IT sector as well. Regarding power tools, Hitachi has a great market presence in the premium segment. The brand has an established name. However, one drawback of the brand is that the price of the offerings is slightly higher than its counterparts. The offerings from Hitachi Power Tools include sanders, polishers, compound saw, circular saw, jig saw, cutters, routers, planers, blowers, heat guns, drill press, pressure washers, hand mixers and compressors.
7. Aegon Power Tools
Aaegon Power Tools is the next on our list, and this is yet another Indian manufacturer offering affordable solutions to customers in India. The core business of Aaegon Power Tools includes manufacturing power tools, and their offerings are known for offering higher durability, safety and productivity. Aaegon Power Tools is the popular choice for the woodworking, construction and metalworking domain units. The most popular tools from Aaegon Power Tools are drills, grinders and sawing machines. The performance of the Aaegon Power Tools is flawless, and they also have an excellent reputation in the market. Whether you are a commercial user or a DIY enthusiast, you can trust the quality of the power tools from Aaegon Power Tools.
8. SLS Fabri Tech
SLS Fabri Tech came into existence in 1996, and since then, it has been a popular name in the industry. The brand has a manufacturing unit in Chennai, serving as the whole country's supply house. Some of the offerings from SLS Fabri Tech include Metal Blowers, Metal Ducts, Dampers and even silencers. The brand is known for stringent quality checks. If you have a manufacturing unit, you can even schedule a visit from an SLS Fabri Tech technician, who will help you design the layout along with the customized tools. SLS Fabri Tech is a name that you can trust, and we assure you that you will not face any problems with the brand.
9. Ensons Gages & Tools
Esnsons Gages & Tools is a popular Indian manufacturer of power tools. They are known for their offerings in industrial tools and high gauge quality tools. Apart from this, the brand can also customize the tools for you as per your needs. Esnsons Gages & Tools also specializes in fixtures in commercial units. The quality of the components used by Esnsons Gages & Tools is very premium, and hence there is no question about their reliability & durability. Apart from this, Esnsons Gages & Tools is known for providing round-the-clock customer support to clients. The warranty policy on the power tools from the brand is at par with the international brands available in the market. If you have a requirement for power tools, then Esnsons Gages & Tools is the brand that you can trust.
10. V.M. Tools Co
The last option on our list is V M Tools Co, and this brand was founded in the year 1970. The brand specializes in producing core drills, Reamers and circular saws. The brand also manufactures saw blades, and they adhere to strict quality controls. The offerings from V M Tools last for a long time without any issues. When you use their equipment, you will realize that you get a smooth finish along with extended service life and a high level of precision with the help of their offerings. V M Tools Co is a preferred choice in electronic, automotive, engineering and heavy-duty industries.
Final Verdict
This was all the information you needed about the power tools manufacturers in India. If you research them, you will find out that these are not just small manufacturing units but these are big brand names in India. These companies have created a place for themselves in the Indian and foreign markets. Most of these manufacturers also export their power tools, and they are competing with international brands. We are sure that the information shared here would have made it slightly easy for you to find the best power tool manufactured in India.