In recent years, you may have seen everyone talking about switching to renewable or clean energy sources, right? Well, that's because it is by far the most important thing in today's world since we are pushing Mother Earth to its limit year by year by polluting the environment for our energy needs. It's time we act and do something about it. For that same reason, governments all around the globe are encouraging people to use solar panels and switch to solar energy for their day-to-day energy needs. And when it comes to India, Loom Solar is one such company that seems to be all in for this change.
Loom Solar Private Limited is one of the top solar panel manufacturers and lithium battery in India. Currently, they offer the best solar panels in the Indian market like "bifacial solar panels" which is 25% more efficient compared to traditional solar panels also these solar panel have a strong capability to work in rainy and bad weather conditions and not only that, but those solar panels also come with a warranty period of 25 years too.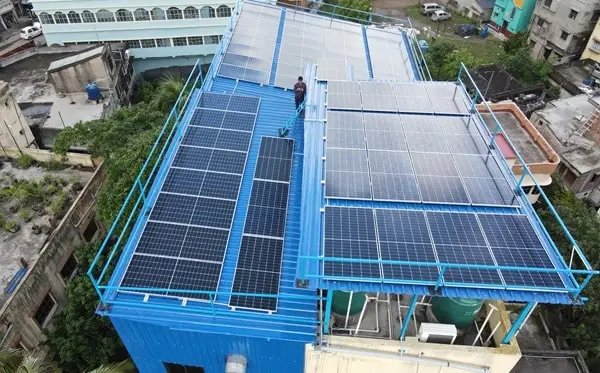 Well, there sure are some other things that'll make you say, so yeah, just keep on reading because it is going to be a fun detour. Here we go.
Services and Facilities
When we talk about Loom Solar, it's not just about selling you some stuff. It's more like giving you a whole experience. Let us walk you through it:
Product Range: So, you're in the market for some solar things, right? Maybe solar panels, those big batteries (lithium ones!), or even solar inverters? Don't worry though, Loom Solar has all that ready for you.
Innovative Solutions: Have you heard about Loom Solar's Atlanta series? It's this awesome all-in-one energy storage thing they've got going. It's perfect for homes and even businesses. What's cool about it? It's built on this super-strong battery type called lithium iron phosphate (or LFP for short). Trust us, it's changing how we think about storing energy.
Site Survey: Maybe you're scratching your head, thinking, "Can I really get solar at my place?" Well, Loom Solar can help. They'll send over some smart folks aka their engineers to check out your place and see if solar will work for you. They make sure everything fits just right.
Loan Facility: Are you thinking about the price tag? No worries. Loom Solar has teamed up with 15 big banks. What does that mean for you? You can get a solar loan and pay in small chunks every month. Neat, right?
Customer Service: We all hate waiting, don't we? With Loom Solar, if you've got a question or need help, they're super quick. You can have a video chat with them or, if you're in India, they'll even come to your place in about 3 to 7 days.
Local Dealers: No matter where you are in India, there's probably a Loom Solar dealer nearby. It's like having a helpful neighbor who knows all about solar.
Why choose Loom Solar?
Well, with so many solar companies already present in the Indian market, Loom Solar shines bright for a bunch of cool reasons. First off, they love coming up with new and awesome solar products, whether that's solar panels or ones that connect to your home's power. On top of that, they're so sure about how good their solar panels are that they give you a performance warranty of 25 years. That's a long time, right? But yup, they don't think high quality should mean high prices. Starting at just ₹ 2,400, their solar panels are easy on the pocket, making sure more folks can get on board with clean energy. And trust us, they're using some of the best stuff out there, like Mono-PERC solar cells, to give you the most bang for your buck.
Conclusion

There you have it. Now you have a pretty good understanding of why Loom Solar is getting a lot of attention from the people in India and why they are comes among top solar panel manufacturers in India for those who are thinking of switching to solar energy.