Before the pandemic, online banking had already gained popularity due to the convenience of its convenient web services & mobile apps. However, today's business owners and general public rely heavily on modern technology to handle their banking transactions without leaving the comfort of their homes.
Consider the benefits and drawbacks when utilizing an online banking and find out how these cutting-edge banking tools are altering the way entrepreneurs and common public manage their funds. But before that, let's learn what is online banking all about?
Online Banking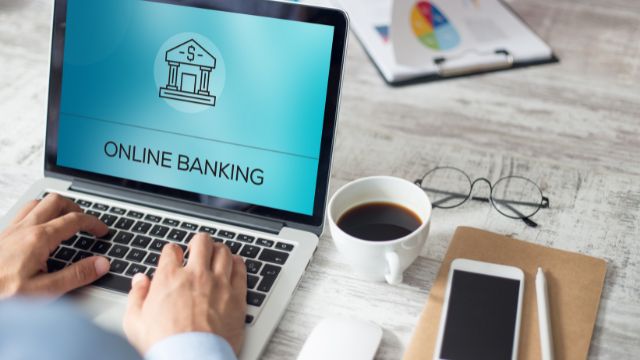 With the help of online banking, individuals and organizations can conduct monetary transactions online. These features are conveniently accessible via the customer's online banking or mobile banking app.
After utilizing these features, the customer is freed from the constant necessity of physically visiting the bank. This allows them the convenience of banking from the comfort of their own home.
Online banking has been hailed as a safe alternative to more traditional means. The client's data is protected by an individual username and password.
Advantages of Online Banking
1. Easy financial transaction
Customers favor online banking over traditional methods partly due to its time-saving convenience. Customers don't have to wait in line to take use of any banking services offered by the institution.
2. 24 x 7 availability
Online banking is accessible at any time, day or night, 365 days a year. The user has access to some features at all times, such as viewing account balances and information on transferring funds.
3. Secure and quick
With online banking, the user can instantly move money from one account to another. The user can send the funds using RTGS, NEFT, or any other suitable method.
This includes things like loan & tax payments, utility bills, EMIs, and more. Accounts and their associated transactions are further protected by individual login credentials.
For say, your offspring is away at college and periodically requires financial assistance with things like food and books. With best assistance of online banking, transferring money to them is as easy as clicking a button.
4. Tracking of transactions
Customers are given confirmation slips after their transactions have been processed successfully. Customers frequently misplace these slips. Consequently, you can better monitor your financial activity when you bank online. The "Transaction History" feature of the website or application will show you a complete record of your financial dealings with the service.
5. Allows non-financial transactions
Customers who use online banking have access to every service the banks offer, not only money transfers. These include requests for fresh checkbooks and account statements.
6. No or low fees
Since they don't need to keep up with a brick-and-mortar presence, online banks are able to offer competitive rates. They may be able to reduce their prices to reflect this. The majority of online banks now offer free basic banking services.
7. Quick customer service
Online banking institutions provide customer service just like brick-and-mortar banks and credit unions. Simply dial the bank's toll-free number if you need assistance.
8. Higher interest rates on accounts
Again, because of their cheap operating costs, internet banks typically provide the greatest annual percentage yields (APY) on high-interest banking products like CDs and savings accounts.
9. Booking deposits
Fixed & recurring deposit accounts are another useful feature of online banking. You have the option of making a cumulative or noncumulative deposit of any amount for any period of time.
10. Pay bills and recharge
Automatic withdrawals ensure that you never miss a payment on bills like electricity, phone, gas, etc., and they may be paid from the convenience of your own home. Through your online banking portal, you may also easily top off your cell and DTH accounts.
11. Add-on services
You can take advantage of many supplementary options, such as the purchase and sale of mutual funds, the acquisition of insurance policies, and the application for various loan kinds. You may automate payments for bills and subscriptions with your internet banking.
Disadvantages of Online Banking
1. Slow response time
Problems with customer service are common in the online banking industry. The response time may take long and the representatives aren't always available. This can be a major problem if you're in need of assistance with a time-sensitive matter.
2. Security risk
There are precautions in place, but online banking is still vulnerable to hacking. Account information, passwords, plus financial data are all at risk of being stolen by hackers. Identity theft and other forms of fraud may result from such data loss.
3. Restricted advisory services
Traditional banks offer a wider variety of advising services than what is available through online banking. Financial planning, loan products, and investment guidance are only some of the services offered by numerous banks.
4. Internet needed
An uninterrupted internet connection is required for online banking. Transactions fail or are duplicated when an adequate internet connection is unavailable.
5. No human interaction
Many clients would rather have a conversation with a bank teller than use online banking. It can make it hard to receive in-depth information about a service or answers to complex questions.
You could probably handle the majority of your day-to-day banking demands on your own. However, in the event of a crisis, it may be more challenging to get your difficulties fixed if you do not have an individual connection with a banker.
As most online banks do offer customer care, getting through to a real person usually involves navigating a phone and waiting on hold as the agent learns about your needs and account history. A local banker, on the other hand, is driven to help their clients and grow their ties with them.
6. Low Server
When we rely on computers or internet access, we place ourselves in the hands of the reliability and speed of the underlying infrastructure. If your internet connection is slow or goes down entirely, you may find it difficult to access your online accounts.
You won't be able to access your banking information online or via mobile device if the bank's systems are down or unavailable for some reason (like maintenance).
7. Deposits limitations
Limits on the amount of money that can be deposited by mobile device each day or month could make it impossible for some people, notably enterprises, to make big deposits electronically. When in-branch deposit limit is reached, you'll have to make a another trip.
Additionally, computer scanning software may have trouble deciphering some sorts of checks. For instance, the internet deposit system may reject business checks if the back of the cheque has a black line for creating a carbon copy in an account register. This would necessitate an in-person deposit.
8. Chances of overspending
Some people may be tempted to spend more than they have because they can check their account balances whenever they like. It's important to double-check your checkbook or other records of uncleared debit made to be sure the account balance represent the actual funds available. Failure to monitor your transactions closely may result in overdrafts and associated costs.
9. Convenient but slow
Even while using a mobile app for deposit may be quick, you still have to wait until your funds become available. Time spent traveling to and waiting for a queue at a branch is saved thanks to the availability of online banking; however, deposits are subject to review and may take a maximum of three business days to become available for withdrawal, based on the amount settled.
Conclusion
While online banking isn't without its drawbacks, it's undeniably more convenient and useful than traditional banking methods. You can get your account balance while making secure money transfers, for example.
In addition to the convenience of 24/7 access, online banking provides a number of time-saving and money-saving extras that are unavailable through more conventional channels.
However, there are risks associated with internet banking, such as fraud and data breaches, which make it less safe than traditional banking methods. Online banking, despite certain security concerns, is a convenient and risk-free way to handle your money.