Car wash business is an extremely lucrative field and can yield great returns if set up and marketed in the right manner. The idea of it being a good business initiative comes from the basic case of multiple car owners which defines the readymade target audience.
Most car owners often find doing the car wash a tedious chore and hence opt to do it at the car washing center or the servicing centers. The car washing centers are known to deliver professional work and allow the car owner to keep their car neat for years increasing the shelf life of the car.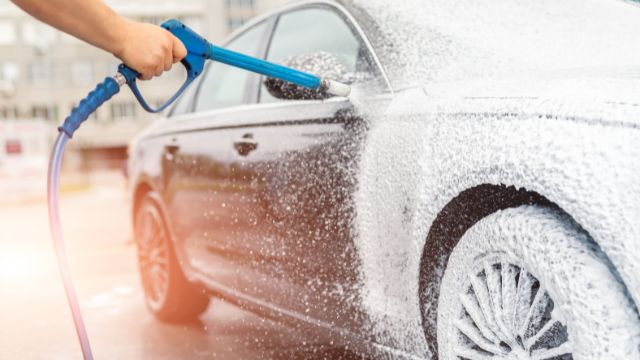 But how good is it to practically set up the car business from scratch and what are the advantages and disadvantages of it? These are some of the questions that pop up in the heads of many people. So we thought of clearing those queries today via our article depicting the pros and cons of the car washing business and whether that's rightly suited for you or not.
⇒ Advantages of Car Wash Business
Let's start with the good of the car business and how it can become a great business income source for you.
1. Car washes are always relevant
As we aforementioned above, there are many car owners in the state and the numbers are always going to increase further. There are over 200+ million vehicles alone in the US and that speaks of the opportunity lying there. Not everyone wants to do the car wash at home or set up equipment for it at their home. It's tedious and the equipment cost doesn't create a value proposition. This is why car wash centers are such a great idea. The demand is irresistible and will continue. If you place your car wash in a proper location targeting multiple blocks or streets, it can go much larger in terms of generating revenue.
2. Car wash business is profitable
Businesses are always set up with the idea to generate revenue and turn in profits. No business can sustain itself without profits and we see many other business models fall back due to a lack of profit margin. But car wash is one such area where the share of profit to the revenue is much larger. There isn't much setup needed and you can start it with small capital. You need a good location to go with alongside the required equipment and materials. There are various self-service car wash too where you won't need to spend a lot in labor wages to set up. We've seen business owners make an average of $40000 in profits from just small-scale car wash centers. The margins and revenues can always go higher based on the location and customer foothold.
3. You can become your boss
There's no greater feeling than working on your venture and being able to call yourself a business owner. You get to start it with just a small capital and with just yourself or a small team size if you want to run it in partnership. Your decisions and judgment will directly affect your business performance and the hard hours shift that you put into will result in income for yourself rather than for someone else if you're doing any blue-collar or white-collar job. That's one of the greatest feelings ever to call upon your business venture.
4. Can be started with minimal capital
If you put a car wash business in comparison with other business ventures you'll see that setting up a car wash business is comparatively cheaper and easier than most of the other types. You can register your company with ease and find a suitable location to start with. The inventory for the same and equipment are basic and don't cost much. Furthermore, there has been various innovation in the car wash industry in the last decade like steam car wash, and pressure car wash that has consistently reduced the cost of operation allowing owners to generate a larger profit share.
5. Easy to market and cheaper marketing cost
Car wash business is more of an individual business and often tends to be easier to market if you put it right. You don't need millions of advertising budgets to market yourself. With the internet booming around and social media in its full glory, you can simply tap into the marketplace marketing via various social channels. Getting your social handles, marketing customer testimonials, and more along with a web and digital presence helps a lot. That alongside your traditional way of word-of-mouth marketing can give you leads at a very low marketing cost.
⇒ Disadvantages of Car Wash Business
There are a few caveats and things that you should keep in mind when opting for a car wash business as it may hinder your business prospects. A good business analysis is never complete without taking a look at both sides of the coin. Let's check out the cons of it:
1. Car wash business is often seasonal
This is one peculiar thing about the car wash business that they often time tend to become a seasonal thing in many states across the US. The car wash business in many areas doesn't last year long as there are various winter months when cars are covered in snow and don't require regular car wash. Also, it is seen that the rainy season brings fewer customers than the regular seasons as people don't opt to go for a car wash in the middle of the rain.
2. Management and handling
There are times when managing the business all on your own can be hard and may require assistance. This is one aspect where things can go in either direction. There have been many car wash business owners who have had a hard time delegating or managing various aspects of business making it tough work.
3. Highly competitive
Car wash business is highly competitive and you'll often find competing with multiple car wash centers in your locality. And since customers are more of a word-of-mouth marketing, many car owners prefer going to the same car wash center. If you're new in the area, it can be hard at times to get the customers to your center initially.
4. Car wash business is much more than just a car wash
Car wash businesses aren't just limited to washing cars and being done with it. Multiple aspects of car wash business need to be handled as part of it and these at times can become hectic. The owner needs to segregate savings to furnish equipment and materials for ancillary activities which is hard at times. And the added responsibility of managing the machine downtime is another tough aspect of this field.
Final Words
Car wash business on the whole is a great initiative and can be set up and run smoothly if you plan it properly. But before that, you should always be aware of all the good and the bad of the field to make the right judgment.