When induction cooktops were first introduced to the general population, this technology took the market by storm. Everyone was talking about buying one as soon as they found out such advanced technology existed. Induction cooktops are without a doubt the safest, most energy-efficient, and easiest-to-maintain alternative to traditional stoves. And you'd be surprised to know that an Induction cooktop consumes 70% less energy than normal burner stoves. Not just that, but since there is no ignition or flames, it automatically becomes the safest stove option on the market. Along with that, because of the induction technology, 90% of the energy is transferred to the pan or vessel put on the stove. As a result, energy consumption decreases, and since very low heat is transferred to the environment, the temperature of the kitchen space does not rise significantly while using induction cooktops.
On the surface, all induction cooktops have a similar function, but different brands/companies use slightly different technology to make their product much more superior and useful than others. So the question rises: which induction cooktop company makes the best cooktops in India?
List of Top Induction Cooktop Brands In India
Well, that's the reason we have come up with this list of the top 10 best induction cooktop brands or companies in India to help you out choose the best brand/company as per your requirement and budget. Let's talk about what each of these companies has to offer to end consumers.
1. Philips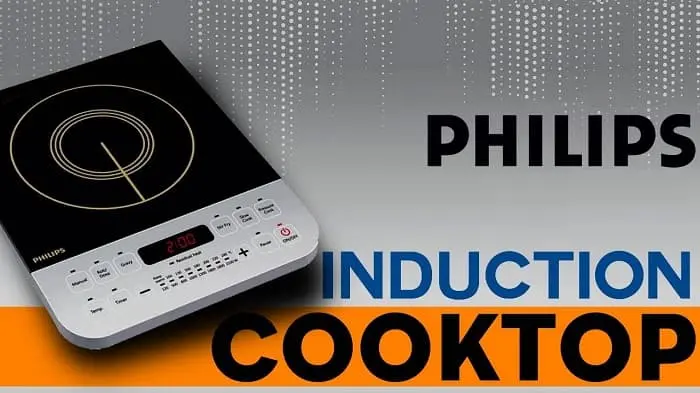 The home appliance niche is dominated by one company which is Philips. It is a Netherlands-based company, which is one of the oldest in this domain, not just in India but all across the world. People prefer Philips over other brands because this brand name simply means "trust" in India because of the exceptional customer services they offer. Talking specifically about the induction cooktops offered by Phillips, we'd describe them as the best in the market with top-notch quality, advanced technology implementation, reasonable price point, and most safety features. That is what a customer looks for when buying an induction cooktop.
2. Prestige
It was the year 1986 when Prestige started its journey in the Indian market, and ever since, it has gained popularity all across the nation. You may recognize Prestige from the good old TV commercials, which were quite famous on television just a decade ago. With time, Prestige evolved and the technological adaptation has been quite good. Thus, some of the most technologically advanced induction cooktops are offered by Prestige in the market. These cooktops have features like anti-magnetic technology, safety modes, automatic voltage regulator, and robust build quality. And if you are on a budget, then Prestige induction cooktops are just for you.
3. Usha
Just a decade ago, Usha was known as a leading sewing machine brand in India, but with time, and technological implementation, Usha has now become one of the leading manufacturers of electronics in India. Whether you are looking to buy a fan, room cooler, room heater, water pump, or any cooking appliance, Usha has got you covered. Usha provides the best quality products to the end consumer at a very affordable price point, and that's the reason people don't think twice when choosing Usha over other brands. Talking specifically about the Usha cooktops, they've got everything you can expect from a top-notch induction cooktop.
4. Pigeon
You may have seen or experienced yourself that some brands are quite popular in India, but they are not that popular in local markets. The same case is with Pigeon company. When it comes to cookware and other kitchen tools, it is really hard for any other brand to keep up with the competition with Pigeon in the local markets. And the reason for that is pretty simple, Pigeon offers robust build quality at exceptionally reasonable prices. However, like most cookware and kitchen appliance companies, Pigeon also started manufacturing feature-rich versions of induction cooktops with impeccable safety.
5. Bajaj
Bajaj Electricals was one of the leading cookware and kitchen appliance brands in India, but now its popularity has started to fade away a little. The prime reason is that the competition in this niche or domain has increased significantly in just a few years. Still, we have listed Bajaj Electricals on the fifth spot of our list because we believe this company offers one of the best induction cooktops with phenomenal technology. Not just that, build quality-wise, and affordability-wise, Bajaj is quite unbeatable in the Indian market.
6. Crompton
In terms of reliability in the electrical appliance niche, there is no other company or brand like Crompton. Crompton is an Indian-origin brand that started its journey way back in 1937. In just the last decade, Crompton has achieved the highest peaks of the entire (longer than 90 years) journey. Whether you want lighting solutions, pumps, home appliances, fans, kitchen appliances, or anything like that, Crompton would be a reliable brand to look at. The pricing thing by this company has kept pretty average, but you get the best possible build quality and advanced features in most of their products.
7. V-Guard
V-Guard is a rising star in this domain, and it's been gaining not just popularity, but a significant market share as well. However the foundation for V-Guard was laid way back in 1977, but it has started getting attention in the electrical and home appliance niche fairly recently. Despite being a decent name in the industry, V-Guard easily provides shoulder-to-shoulder competition to huge companies like Philips, Usha, Prestige, etc. As of now, whether you want to buy induction cooktops, any other kitchen appliances, home appliances, inverter setups, fans, pumps, house wires, or anything like that, V-Guard would be a one-stop solution for you.
8. Havells
Havells is one such brand that Indian consumers can easily and blindly trust, and it is for sure that they will get the best quality product in the market. You may recognize Havells from those house-wiring TV commercials. Havells is not just a manufacturer of the safest house wires in the country, but there are also other products in the list like home appliances, kitchen appliances, fans, coolers, lights, switches, water purifiers, pumps, solar solutions, etc. The induction cooktops offered by Havells are not just the most advanced ones, but the safest ones in the nation as well.
9. Preethi
It is quite possible that many of you have never heard of a brand named Preethi in the kitchen appliances niche. Right? Well, you'd be surprised to know that Preethi has been working in this domain for over four decades now. However it was quite recently when digitalization started, and Preethi gained popularity all over India. Gas stoves and induction cooktops offered by Preethi are one of the best-selling from this company. Talking specifically about the induction cooktops, so they aren't cheaper but you get everything you can expect from a reliable and feature-rich one.
10. IBELL
IBELL may seem like a newly launched company, but it has been functional since 1986. For home and kitchen appliance needs, IBELL can be a one-stop solution for you. We have to say that IBELL has one of the largest catalogs of electrical and electronic devices/appliances on our list. It offers speakers, TVs, air conditioners, fans, mixer grinders, stoves, induction cooktops, sandwich makers, purifiers, chimneys, washing machines, and pretty much every home or kitchen appliance you could imagine.
Final Thoughts
Alright, now you know which companies or brands you should consider when buying induction cooktops from the online or offline markets. These companies have various versions of induction cooktops, you'd have to dig a little deeper to compare the best ones in your budget to finalize the one that suits perfectly to your needs.
Induction Cooktop FAQs
Q. Are induction cooktops from top brands more expensive?
Ans: Induction cooktops from well-known brands often come with a premium price compared to lesser-known or generic brands. However, the higher price is often justified by better build quality, advanced features, and reputable customer support. That said, it's still possible to find reasonably priced options from trusted brands that offer excellent performance.
Q. Can I use any type of cookware on an induction cooktop?
Ans: No, not all cookware is suitable for induction cooking. Induction cooktops require compatible cookware with a magnetic base, such as stainless steel or cast iron. Copper or aluminum cookware typically won't work unless they have a layer of magnetic material on the bottom. Most induction cooktops come with guidelines specifying the types of cookware that can be used.
Q. Are induction cooktops more energy-efficient than other types?
Ans: Yes, induction cooktops are generally more energy-efficient compared to gas or electric cooktops. They heat the cookware directly, resulting in less wasted heat. Induction cooking can be up to 90% efficient, whereas gas and electric cooking can have energy efficiency rates as low as 40-50%.
Q. Can I install an induction cooktop myself?
Ans: The installation of an induction cooktop typically requires professional assistance, especially if it involves electrical connections. It's essential to consult the manufacturer's instructions and local electrical codes to ensure proper installation and safety. Hiring a qualified electrician or following the manufacturer's recommended installation process is strongly recommended.
Q. Do induction cooktops require special maintenance?
Ans: Induction cooktops are relatively low-maintenance compared to gas or electric cooktops. They are generally easy to clean since the surface doesn't heat up as much, and spills are less likely to burn onto the cooktop. Regular wiping with a damp cloth or non-abrasive cleaner is usually sufficient. However, it's important to follow the manufacturer's maintenance guidelines for optimal performance and longevity.