If we look at the legal aspects of home ownership, you don't need home insurance. However, there are certain cases where you would need home insurance for specific tasks like getting a mortgage. Since home insurance is expensive, we get a lot of questions from people asking us when they need home insurance. On this page, you will find all the answers to the question, and this will also help you decide if you should buy home insurance or if it is something you can skip.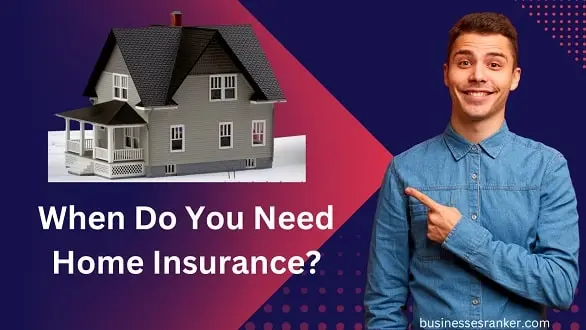 When You Have a Mortgage or Loan?
If you need a financer to provide you with a home loan, they would also like to protect their financial interest. To protect the underlying asset, you would need home insurance coverage. In such cases, home insurance will help the investor protect the home. In case of any natural or manmade disaster, home insurance will take care of the financial loss that may occur. Sometimes, the bank may require you to purchase more than just the home insurance. For example, they may also ask you to purchase earthquake insurance if you live in an active seismic zone. The mortgage company also has a right to buy home insurance on your behalf and charge you for the same.
When You Need Comprehensive Protection?
We are sure you would not be ready for a financial loss arising from natural or unnatural causes. In such a case, home insurance becomes a great tool to protect your interest. Even if you don't have a mortgage, you would still want to protect your home. Home insurance protects your house and the stuff inside the house. In addition, the policies usually offer you expense coverage to find alternative lodging while your home is being repaired. Apart from these three, home insurance will also take care of the legal bills arising from the property damage.
When You Need Additional Coverage?
There are times when you would want additional coverage. These usually include more than just the coverage defined in the pointer above. In such cases, you can always get add-on coverage to your home insurance. This is very similar to purchasing car insurance. Under the add-on coverage, you can get Dwelling Coverage and Other Structure Coverage, covering any structure around the house. You can also select Personal Liability Coverage, which will cover accidental damage to anyone's property because of your home. Another popular add-on cover available is Guest Medical Protection which will cover any accidental injury to the guests in the house at the time of the accident.
Final Verdict
We have shared the three most basic reasons why you need home insurance. We are sure you understand the risks associated with home ownership, and you would want to mitigate these risks. Home insurance is a must to have as it protects your asset and saves you from any liability arising out of the home ownership. Even if you don't have a mortgage, we recommend buying home insurance for your home. Do let us know in the comment section if you have any other questions about the home insurance.
Home Insurance FAQs
Q. What does home insurance typically cover?
Ans: Home insurance typically covers the structure of your home, personal belongings, liability for injuries or property damage to others, and additional living expenses if your home becomes uninhabitable due to a covered event. However, coverage can vary depending on the policy and insurance provider, so it's important to review the specifics of your policy.
Q. What perils are usually covered by home insurance?
Ans: Standard home insurance policies typically cover perils such as fire, lightning, windstorms, hail, theft, vandalism, and certain types of water damage (e.g., burst pipes). However, it's important to note that natural disasters like earthquakes and floods are typically not covered under standard policies and require separate insurance.
Q. How is the cost of home insurance determined?
Ans: The cost of home insurance is influenced by several factors, including the location of your home, its age and condition, the coverage limits you choose, the deductible amount, your claims history, and sometimes even your credit score. Insurance providers use these factors to assess the level of risk associated with insuring your home and determine the premium you'll pay.
Q. Can I lower my home insurance premiums?
Yes, there are several ways to potentially lower your home insurance premiums. These include increasing your deductible, installing security systems or smoke detectors, bundling your home and auto insurance with the same provider, maintaining a good credit score, and periodically shopping around for competitive rates.
Q. How do I file a home insurance claim?
Ans: In the event of damage or loss, you should contact your insurance provider as soon as possible to initiate the claims process. They will guide you through the necessary steps, which typically involve documenting the damage, providing evidence (such as photos or receipts), and filling out claim forms. It's important to familiarize yourself with your policy's specific claim procedures to ensure a smooth process.
Q. Can I change my home insurance provider?
Ans: Yes, you can change your home insurance provider. If you decide to switch, it's important to review the terms and conditions of your current policy and compare it with quotes from other insurers. Consider factors such as coverage limits, deductibles, premiums, and any additional features or discounts offered.