Air compressors are the unsung heroes of the industrial world as they serve multiple purposes, from inflating tires to powering pneumatic tools and running air conditioning systems. India's rapidly growing economy has witnessed a surge in demand for high-quality air compressors in recent years, as compressors have become an integral part of many businesses in the country. With the expansion and evolution of industries such as automotive, manufacturing, construction, and pharmaceuticals, the need for air compressors in India has grown parallelly.
To keep up with local and global competitors and meet the growing demand, the air compressor manufacturing industry in India has been focused on innovation, reliability, and energy efficiency. As a result, Indian compressor manufacturers have produced products that can compete with the best in the world. In this article, we'll take a journey through the thriving world of India's air compressor industry and take a closer look at the top 10 best compressor manufacturers in India. Let's dive into the world of air compressors and explore the key players in this game who are redefining industry standards.
List of Top Compressor Manufacturers In India
1. Pryes Compressors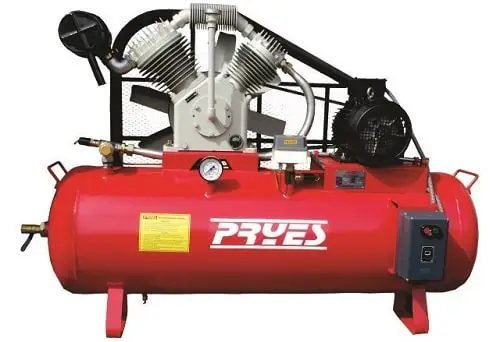 Established in 1987 by Mr. Rashmibhai Shah, Paras Compressors is a well-known air compressor manufacturer in India. They have gained popularity by exporting a diverse range of compressors, including reciprocating, water, and air-cooled compressors that can be lubricated or non-lubricated. The robust spare parts utilized in their compressors provide durability, making them reliable and long-lasting. Paras Compressors is also the preferred brand for those seeking portable and small air compressors. With a powerful control system, their compressors ensure energy efficiency for various industries. They have earned the trust of customers in about 50 states, establishing themselves as a dependable and trustworthy air compressor manufacturer in India.
2. Indo Air
Indo Air is a conglomerate that was established by Mr. C.M. Panchal in 1977. Originally, the company produced compressor parts for other manufacturers, but in 1998, Indo Air began making compressors and vacuum pumps under its own brand. Since then, Indo Air has grown significantly and is now known for its high-quality products. Today, Indo Air is one of the leading compressor manufacturers in India, offering a diverse range of products such as standard air compressors, lubricated compressors, high-pressure compressors, water-cooled compressors, and dry vacuum pumps. All of Indo Air's products meet national and international standards for quality and performance. The company's commitment to excellence is evident in its numerous certifications and guarantees from satisfied customers. Whether you're looking for a reliable compressor for your industrial operations or a vacuum pump for your laboratory, Indo Air has the right product for you.
3. BAC Compressors
Introducing our next featured company, BAC Compressors, another renowned air compressor manufacturer and supplier based in Coimbatore, India. Established in 1979, the company owes its success to the dedication and vision of its founder, Mr. A. Radhakrishnan, who instilled a culture of flexibility and commitment within the team. BAC Compressors takes pride in offering a wide range of air compressors that cater to diverse needs. Their product line includes portable models, industrial-grade compressors, screw compressors, Borewell compressors, air compressors for pet bottles, and many others. BAC Compressors' products are known for their exceptional quality and are highly regarded throughout India, thanks to the company's outstanding customer service. Over the years, BAC Compressors has emerged as one of the leading air compressor manufacturers and suppliers in India, a feat attributed to the hard work of their team and the founder's unwavering commitment to excellence.
4. MK Engineering
M.K. Engineering is a relatively new entrant in the compressor manufacturing industry, having been established in 1994. However, it has already earned a good reputation both nationally and internationally by introducing high-quality products to the market. The team at M.K. Engineering is dedicated to manufacturing air compressors with extreme care, using only the best components to ensure their longevity. M.K. Engineering's primary goal is to provide its customers with the best equipment possible, and with over 20 years of experience in manufacturing air compressors and related products, it offers a wide range of industrial compressors for clients to choose from based on their specific requirements. M.K. Engineering manufactures air compressors, spare parts of compressors, air filters, and other accessories or equipment, ensuring that its clients have access to all the necessary tools to meet their needs.
5. Paras Compressors
Introducing Paras Compressors, another leading manufacturer of air compressors in India. Since 1987, they have been producing top-of-the-line compressors that cater to both residential and commercial sectors, with a special focus on small businesses and households. The company offers a diverse range of compressors that are available in various types, including single-stage compressors, multistage compressors, air-cooled and water-cooled compressors, and oil-free compressors. Paras air compressors are designed to be compact, user-friendly, and long-lasting, making them ideal for a wide range of applications. If you're in the market for an air compressor, whether for your home or business, Paras Compressors is a brand you can rely on for quality and durability. Whether you need a compressor for inflating tires, powering air tools, or running pneumatic machinery, Paras Compressors has got you covered.
6. FS-Curtis
If you're in the market for high-quality air compressors, you've probably heard of FS-Curtis. This company has been producing industrial equipment for over a century, and it's become known for its exceptional design and engineering skills. But what really sets FS-Curtis apart is its dedication to providing top-notch customer service. The company's first air compressor hit the market way back in 1897, and it's been raising the bar for the industry ever since. Recently, FS-Curtis launched two new models, the single-stage compressor in 2015 and the two-stage compressor in 2017. Both of these machines are known for their incredible efficiency and impressive performance, making them a go-to choice for anyone who needs reliable and powerful equipment. But what really makes FS-Curtis stand out is its team of experienced technicians and extensive network of distributors. They're committed to providing the best possible support to customers, and they take pride in meeting the unique needs of each and every client.
7. ELGI Equipment
This company was actually founded by a gentleman named Mr. L.G. Varadarajulu, and they've got quite an impressive array of products! They offer both lubricated and oil-free compressors, reciprocating air compressors, centrifugal compressors, and a wide range of accessories like filters and dryers. The best part? You don't have to go anywhere else to find what you need! These folks have got it all under one roof. When it comes to compressed air, this company is no joke. They have a whopping 400 different types of devices, meaning you can expect nothing but the latest and greatest technology for your needs. Plus, they'll tailor a solution to your specific requirements. With options like rotary or reciprocating air compressors, and both oiled and unoiled options, you'll be able to get exactly what you need. Whether you need a single compressor or an entire system, these guys have got you covered.
8. Mark Compressors
At number eight on our list is a company based in Texas that has been in the business of manufacturing top-notch power tools for more than 20 years. Meet Mark Compressors, headquartered in Houston, Texas. They offer a vast range of products, including sanders, saws, and drills, all crafted to cater to the evolving needs of their customers and clients. What distinguishes Mark Compressors from the competition is its steadfast commitment to innovation and bringing new products to the table. They consistently deliver dependable products that keep up with the latest technological advancements. Their unwavering focus on quality and durability has made them a highly recognized brand in the Indian market.
9. Deep Pneumatics
Deep Pneumatics is a reputed manufacturer of air compressors based in Ahmedabad, India. Established in 2009, the company has gained a reputation for providing high-quality and reliable air compressors after conducting extensive research and development in the industry. With over 25 years of experience in the field, Deep Pneumatics operates a modern factory located in Gujarat. The company was founded by a team of skilled engineers and technocrats who were committed to developing innovative, efficient, and dependable air compressors to meet the needs of their customers. As an ISO-certified manufacturer and exporter, Deep Pneumatics offers a range of air compressors, including air treatment systems, air piping systems, pneumatic tools, and other accessories. The company has earned a highly respected name in the industry due to its dedication to quality, innovation, and customer satisfaction.
10. ZEN Air
Last on our list is ZEN Air, which has been in the industry of industrial-grade air compressors since the year 1975. Until 1995, ZEN Air just used produced compressor spare parts, but in 1995 the company began manufacturing industrial-grade air compressors. By the year 2005, ZEN Air was already a popular name in the industry capturing a significant market share. And this company was able to achieve that only because of the reliability and quality of its final product.
Conclusion
Now you know which are the key players in the compressor manufacturing market of India. Correct? So if you are someone who's looking forward to buying an air compressor, or maybe you are just an investor seeking some valuable insights into the air compressor industry of India. We hope that our today's post has served you in some way.