Picture this, you're driving down a scenic road, the wind in your hair, and the sun on your face. But something feels different. Your car is humming along smoothly, but there's very little smoke or pollution in sight. That's because you're running on biodiesel, a renewable and eco-friendly fuel source that's taking India by storm! As the world becomes increasingly conscious of the impact of traditional fossil fuels on the environment, biodiesel has emerged as a promising alternative in India. Made from vegetable oil, animal fat, or waste cooking oil, biodiesel is a cleaner and more sustainable option for powering vehicles and machinery.
But you've got to know about the top players who actually manufacture biodiesel in the country. And today's article is dedicated to exactly that. Here we'll take a deep dive into the top biodiesel manufacturing companies of India. We'll look at production capacity, quality, customer satisfaction, and environmental sustainability to give you a comprehensive overview of the biodiesel manufacturing landscape in India.
List of Top Biodiesel Manufacturers In India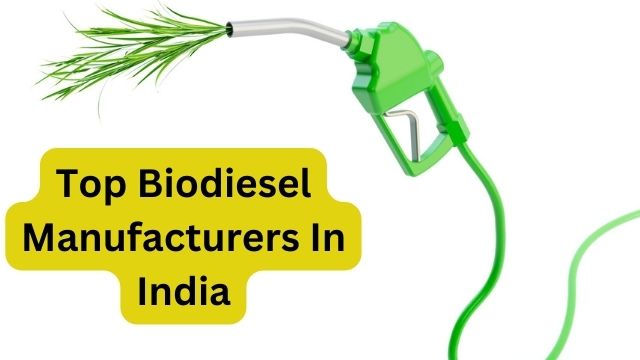 So buckle up and get ready for a ride through the exciting world of biodiesel manufacturing in India!
1. Biodiesel Technocrats
First up is the Biodiesel Technocrats, an Indian biodiesel manufacturing company with its headquarters in Kolkata. The company has been around since 2002 and is known for its innovative techniques in biodiesel production. Their team of highly experienced individuals uses state-of-the-art technology to design and build custom biodiesel processing facilities. Biodiesel Technocrats has completely transformed the biodiesel manufacturing process through its research and development initiatives conducted at the Research Laboratory. Their specialized biodiesel processing facilities are manufactured in their sites located in Delhi, Kolkata, and Nagpur. The company is renowned for its cutting-edge adsorbent technology that enables them to produce top-quality biodiesel that meets industry standards. They offer a complete range of biodiesel processing equipment that is environmentally friendly and sustainable.
2. G-Energetic Biofuels Pvt Ltd
G-Energetic Biofuels Pvt Ltd is a new company that began its journey in 2020. Despite being a fairly recently established player, it has quickly become known for producing high-quality biodiesel in the country. The company's team of skilled professionals is working tirelessly to make biodiesel the future of sustainable energy and reduce pollution. This company has received ISO 9001 certification for Biodiesel, Bioethanol, Glycerine, and other essential industrial chemicals, showing their commitment to producing top-notch quality products. G-Energetic Biofuels Pvt Ltd has a strong presence in many states across the country. For aspiring entrepreneurs, the company offers dealership opportunities with hassle-free services and high-quality biodiesel. This makes it easy for people to enter the biodiesel industry with a trusted partner.
3. Emami Agrotech Ltd
Emami Agrotech Ltd is a biodiesel manufacturing company that has been operating in India since 2002. They are a part of the well-known Emami Group of Companies and are involved in a range of commercial activities such as producing spices, vanaspati, and edible oil. Emami Agrotech is a pioneer in biodiesel production in India and was one of the first companies to embark on this journey. To ensure that they produce high-quality biodiesel, Emami Agrotech engages in contract farming and cultivates high-profit crops. They believe in sustainability and are committed to using the best raw materials for their manufacturing process. Emami Agrotech exports a significant amount of biodiesel to countries in Europe and Southeast Asia. Through its innovative approach to biodiesel production, the company is leading India's efforts toward a more sustainable future.
4. Khanda Biofuels Pvt Ltd
Khanda Biofuels Private Limited is a biodiesel manufacturing company based in Telangana, India, that has been leading the way in sustainable energy production since 2014. They were the first to establish a biodiesel processing plant in the region, demonstrating their passion for renewable energy. Khanda Biofuels specializes in every aspect of biodiesel production, from fabrication to assembly processes, making them a go-to resource for all biodiesel processing needs. They also provide technical consulting services to help clients set up and operate biodiesel processing units efficiently. Their main objective is to optimize biodiesel plant operations, ultimately promoting environmental sustainability and efficiency.
5. Universal Biofuels Pvt Ltd
Next up is Universal Biofuels Private Limited, a biodiesel company that has been striving to create a sustainable future since its inception in 2006. They operate a modern renewable fuel and natural oil manufacturing facility in Kakinada, India, where they produce top-quality biodiesel products that have been approved for sale both domestically and internationally. Headquartered in Hyderabad, Universal Biofuels is staffed by a team of experienced and dedicated professionals who are passionate about their work. They are committed to environmental sustainability and are proud to be able to produce and distribute their products on a global scale. With a focus on innovation and excellence, Universal Biofuels is a leader in the biodiesel industry and is well-positioned to continue making a positive impact on the world.
6. Abellon Clean Energy
Abellon Clean Energy is a top-notch biofuel company based in India, and it has been in business since 2008. Their goal is to contribute to creating a better nation by providing sustainable options for electricity and transportation. Abellon takes pride in offering a wide range of environmentally friendly equipment that can cater to diverse customer needs. One of their most notable products is their solid biomass pellets. These pellets are an eco-friendly replacement for traditional fossil fuels like Diesel and LPG, and they are produced using cutting-edge technology. Abellon's pellets can be used in both industrial and residential applications, making them a versatile solution for those who want to reduce their carbon footprint. Choosing Abellon means choosing a company that prioritizes environmental responsibility without compromising on quality or reliability.
7. Altret Greenfuels Ltd
Altret Greenfuels Ltd is another biodiesel manufacturing company that aims to become a top player in India's energy industry. It was founded in 2008, the same year as another successful biodiesel manufacturer we've featured in the previous spot on this list. AGF uses eco-friendly resources and sustainable biological agents to protect the environment while providing advanced technology, tools, and strategies that offer the best value to its clients. By combining cutting-edge technology and sustainable practices, Altret Greenfuels Ltd is set to make a significant impact on the energy industry's future. The company's commitment to eco-friendly practices and renewable energy is an excellent example of how businesses can operate sustainably while contributing to economic growth.
8. SBT Technologies Ltd
Southern Online Bio Technologies, commonly known as SBT, is a renowned Indian company that specializes in producing high-quality biodiesel. Since 2003, SBT has been a prominent player in the biodiesel industry and is among the leading biodiesel producers in India. Their biodiesel is superior to traditional diesel and is produced using advanced biotechnology and a variety of feedstocks. SBT takes pride in being an environmentally friendly business, operating in a greenfield environment. What sets SBT apart from others is its unique approach to production, which yields biofuels with unique properties.
9. Hindustan Biodiesel
Hindustan Biodiesel is an Indian non-government company that has been providing eco-friendly solutions since 2009. They specialize in producing biodiesel, which is a renewable alternative to conventional diesel. This fuel is made by converting oils such as straight vegetable oil and waste cooking oil through a process called transesterification. To ensure the best quality biodiesel, the company sources its oil from palm, soybean, and rapeseed, which are the largest sources of suitable oil. In the UK, rapeseed is the most promising source for biodiesel production.
10. Washwell Biodiesel
Washwell Biodiesel is an Indian company that has been producing clean fuel since 2015. Their facility is based in Bhilwara, Rajasthan, and they operate in multiple states across the country, including Rajasthan, Delhi, Uttar Pradesh, Bihar, Madhya Pradesh, Gujarat, Punjab, Haryana, Chhattisgarh, and Maharashtra. Their biodiesel is different from the regular crude biodiesel available in the market. It is purified and distilled to create an environmentally friendly and problem-free fuel that doesn't cause filter choking in automobiles. Their distilled biodiesel is the perfect solution for anyone looking for a smooth, high-performance fuel that's free from harmful pollutants.
Conclusion
All in all, as an Indian citizen, you should be proud of these top biodiesel manufacturing companies for putting their efforts into lowering the carbon footprint that we leave every day by just riding a motorcycle, or driving a car. Until we totally switch to the electric options, biodiesel and biofuel are the way to go. Companies like we have mentioned in today's post, deserve more appreciation for what they are doing in the country, and at least we can all agree on that.
Related Topics: