Electricity has become a major part of humankind. Imagining life without electricity in this modern world is pretty much impossible as major tasks and lifestyles are based on appliances and utilities running on electricity. But have you ever thought of how the electricity lines work and how they are provided to your homes and offices? Simply put, some electrical systems and lines are coordinated via power transformers that help us get unhinged electricity to our homes and more.
Transformers help in conveying safe and reliable transmission of electricity by alternating its current and voltage to supply to various circuits. This helps in providing the right voltage current to our homes upon which we run our utilities, lights, and other appliances. These transformers are quite large and heavy duty and we guess you must have seen these transformers around your area.
There are various top manufacturers in the world and India who are involved in the manufacturing of these power transformers for our society and we here take a look at the top of these transformer manufacturing companies in India today. Let's check them out.
List of Top Transformer Manufacturers in India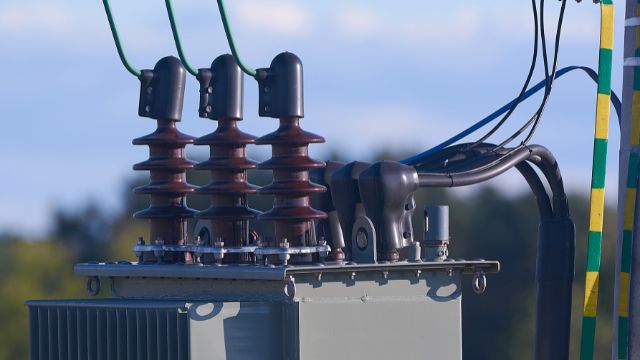 1. ABB India Limited
The first pick in our list is ABB India Limited, one of the most renowned and old companies involved in transformer manufacturing in India to date. It was established in 1949 and has become a major brand in this niche serving clientele across India and abroad. The company has gone on to operate in multiple verticals and is a major name to reckon with. ABB India Limited has a base spread across more than 100 countries worldwide and employs over 1 lakh people via direct and indirect jobs. The company is famed for its top-range sustainable transformer manufacturing that can stand the test of time and offer top-of-the-line operation at all times. They embed modern-day technology and use advanced mechanisms to manufacture transformers ranging from low-tier usage to heavy-duty plant usage.
2. Siemens Limited
Siemens is one of the top companies in India and the world and has been working in the power generation and transmission field for more than a century. Having been established in 1867, Siemens has become a trusted name in the industry and is ever-reliable for its top-line transformers. Various power companies and utility providers use transformers manufactured by Siemens for efficient power distribution across the grid. The transformed provided by Siemens are of top efficiency and can be relied on for providing the appropriate current transmission and supply for households, industrial usage, and more. You'd be surprised to see how many large projects and contracts in terms of power transmission that Siemens is handling in India, that speak of their ability.
3. Bharat Heavy Electricals Limited (BHEL)
Bharat Heavy Electricals Limited (BHEL) is a top brand and a government PSU working especially in the electrical and heavy-duty electrical field. It is one of the benchmark brands and has been involved in this field ever since its inception in 1964. They are well equipped major name in power transmission and is supported by a highly skilled workforce with great engineering unit and top-of-the-line manufacturing plants to formulate and produce these transformers. BHEL over the years has become one of the top choices for power utility companies operating in India for sourcing transformers and other heavy-duty electrical line supporting equipment & machinery. They have been a reliable name in India and will continue serving the nation with their efficient transformers and other products.
4. Kirloskar Electric Company Ltd.
At fourth we have the Kirloskar Electric Company Ltd, another large brand offering their product line and services in this power transmission field. Kirloskar is a much-famed company in India, as it is a pioneer in home electrical appliances and other products. But not many people know that they are also one of the biggest brands in the power transmission field with top-of-the-line manufacturing plants and a product line catering to transmission and supply of power. It was established in 1946 and has been catering to the needs of transformers for society, industry, and residential areas. They also have great after-sales support making them a great pick for power utility companies looking to associate with a transformer manufacturer.
5. Macroplast Transformers
Macroplast is another name that always comes up in the discussion of power transmission and transformer manufacturing in India. The company was established in 1983 and is an ISO-certified brand for its efficient transformer manufacturing. They have world world-class manufacturing unit equipped with great infrastructure and a skilled technician team helping in manufacturing transformers for the needs of society, residential, and industrial usage. They are known to provide reliable and efficient transformers that help in the efficient supply of electricity and current to households without any fluctuations. This makes them one of the best in the field and a brand that one should note when counting the top transformer manufacturers in India.
6. Crompton Greaves Limited
At sixth we have Crompton Greaves Limited, a name that most of the households across India are familiar with. They are one of the top brands in home appliances and the product sales speak for themselves. But apart from home appliances, they are also a big name in the heavy grid power transmission field, something that not many are aware of. They are known for manufacturing, supplying, and working in the power transmission field with different product lines of which transformers are one of them. Crompton Greaves has a state-of-the-art manufacturing plant well supported by an expert engineering team and innovation to build efficient transformers that can streamline electricity distribution with ease.
7. Gujarat Transformers Private Limited
A brand that's synonymous with being a top manufacturer and supplier of transformers across India for more than 50 years, Gujarat Transformers Private Limited is a name that should be taken note of. They are one of the largest brands working in this sector and have built up an efficient manufacturing and supply chain of power transformers and other utility-associated machinery for decades. The company has a completely modernized plant with efficient machinery, a top engineering mind, and innovative means to design the most captivating and easy-access transformers with efficient performance. They also work in other types of transformers apart from the power transformers and also caters to the need of industries that need specific product line and transformers as per their demand.
8. Transformers & Rectifiers India Ltd.
Next we have the Ahmedabad-based Transformers & Rectifiers India Ltd., a pioneer in the field of power transmission and supply machinery manufacturing. They are one of the top names in the industry and have been serving the clientele in India and abroad since 1994. The company has an ISO certification showcasing its top-notch performance and product line. It is known for manufacturing efficient power transformers for utility companies and power grid companies in India. They are backed by premier manufacturing plants and an intelligent team featuring engineering and more. They also have an efficient research and innovation team working to make transformers efficient for performance.
9. EVR Power
EVR Power is a Chennai-based premium transformer and power utility manufacturing company working in this field. They are known for their transformers, cooling panels, and other industrial product lines. The company was established in 1998 and has been involved in this field for a long making them a preferred name for any utility company or power grid company for transformers and other power supply line products. The company manufactures these transformers at its plant and supplies Pan-India with a streamlined distribution network. It also has an efficient support system where the technicians and support team provide the nous and guidance even after the installation process.
10. Kotsons Private Ltd.
Closing our list is Kotsons Private Ltd., a Delhi-based power transmission and supply line product manufacturing company. It was established in 1979 and has manufacturing and supply sales units across Uttar Pradesh, Uttarakhand, and Rajasthan. They are ISO ISO-certified brand and are known for their innovation and excellence in the product line alongside top-of-the-line engineering. The products under their category are mainly power transformers and distribution transformers and their clientele includes state power grid concerns, utility companies, and more.
Final Words
Transformers are a niche product and manufacturing them in itself is a monumental task. The need for top engineering, manufacturing plants, and innovation is certainly there to see. This is why the transformer manufacturers need to be the best in the industry to provide efficient products. We here enlisted the top 10 best transformer manufacturers in India basis their product line and efficiency.