India, a nation renowned for its vivid culture and rich traditions, has emerged as a powerhouse in the global pigment production landscape. With its flourishing economy and burgeoning textile and paint industries, the demand for premium pigments has skyrocketed, propelling the expansion of some of the most inventive and dependable pigment manufacturers across the globe. As we embark on 2023, it's crucial to acknowledge these trailblazers who are leaving an indelible mark not only within India but on the world stage as well.
In this article, we will delve into the fascinating realm of pigment production in India and spotlight the top 10 pigment manufacturers who have set themselves apart through cutting-edge technology, rigorous quality control, and an unwavering commitment to environmental sustainability. We will structure our analysis into distinct segments, addressing each company's product offerings, manufacturing process, and market footprint. So, without further ado, let us uncover the top 10 pigment manufacturers in India  that are shaking up the industry. Onward we go!
List of Top Pigment Manufacturers In India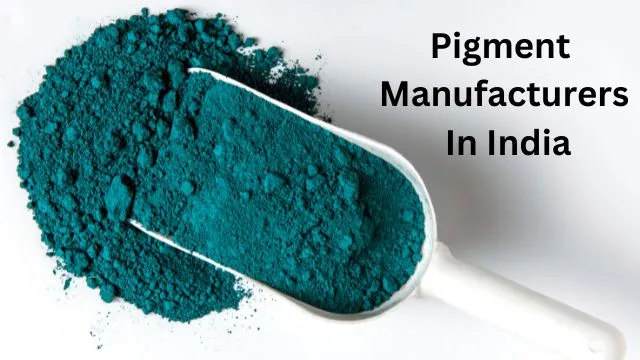 1. Vipul Organics
Since its inception back in 1968, Vipul Group of Companies has been a pioneer in the pigment and dye manufacturing business in India. With the establishment of Vipul Dye Chem Limited in 1972, the company took a major leap forward, and in 1995, it went public. Fast forward to 2016, the company underwent a rebranding to become Vipul Organics Limited, showcasing its unwavering dedication to innovation. Mr. Vipul P. Shah, a pivotal figure in the company's thriving journey, played a significant role in making Vipul Organics Limited one of the largest manufacturers of pigments and pigment dispersions in the nation. The company's primary objective is to deliver cutting-edge, cost-effective solutions without compromising on quality. To ensure the highest standards, Vipul Organics Limited adheres to stringent quality norms, and statutory requirements, and follows the best practices in the industry. Moreover, they have a number of subsidiary plants, catering to the diverse needs of various industries.
2. Sudarshan Chemical Inds
For more than seven decades, Sudarshan has been making waves in the realm of colors and chemicals. As a leading global player in the pigments and agrochemicals industry, they've carved out a prominent position for themselves, particularly in the bustling Indian market. With a staggering 35% market share, Sudarshan proudly stands as the largest pigment supplier in one of the world's most rapidly expanding economies. Since their humble beginnings in 1952, Sudarshan has been crafting an extensive assortment of products, including pigments, effect pigments, and dyes. They attribute their enduring success to the people behind the brand – a dedicated leadership team brimming with experience, passion, and a commitment to customer satisfaction. At Sudarshan, the work culture is built on a solid foundation of trust and respect, ensuring a harmonious environment that fosters growth and innovation.
3. Camex Ltd
Camex Limited, an esteemed Indian enterprise, has made a name for itself in the manufacturing and exportation of chemical and textile products. As a subsidiary of a more extensive conglomerate with interests in chemicals, polymers, dyes, and trading, Camex has extended its reach to over 50 nations worldwide. It's their unwavering dedication to ethical practices, sustainability, and customer satisfaction. These core values serve as the driving force behind the company's achievements. To ensure top-notch quality standards and bolster its reputable standing, Camex has obtained multiple accreditations, such as the ISO 9001:2015 and ISO 14001:2015 certifications. These prestigious endorsements are a testament to the company's relentless pursuit of excellence across all facets of its operations.
4. Asahi Songwon Colors Ltd
Next is Asahi Songwon Colors Limited which has taken the pigment manufacturing world by storm, crafting a wide array of pigments for numerous sectors across India. Established in 1990 by the talented entrepreneur Mrs. Paru M. Jaykrishna, her expertise in pigment production and chemical know-how laid the foundation for the company's success. Under the visionary guidance of Mr. Gokul Jaykrishna, the Joint Managing Director, Asahi Songwon Colors Ltd has climbed the ladder of excellence in the pigment sector, bagging numerous export accolades over the past ten years. With an unwavering ambition to rule the global pigment market, Asahi Songwon Colors Ltd is committed to broadening its product offerings and supplying top-notch, environmentally friendly products to multinational giants. As they continue to paint the world with their vibrant hues, the future looks bright for this Indian pigment powerhouse.
5. AksharChem India Ltd
For over three decades, AksharChem India Ltd has been a steadfast force in the realm of dye, pigment, and chemical manufacturing, showcasing their unwavering dedication and adaptability throughout the years. The visionary Mrs. Paru M. Jaykrishna established the company back in 1989, and since then, Mehsana has been the proud home of its headquarters. As a leading manufacturer and exporter of vinyl sulphone in India, AksharChem places a strong emphasis on environmental sustainability. Their commitment to a zero-liquid discharge policy has propelled them to impressive sales growth. AksharChem's ongoing mission revolves around elevating product quality, broadening its offerings, and venturing into new markets to better cater to its clientele.
6. Colourtex Industries
Embarking on its journey back in 1967, Colourtex swiftly rose to prominence in the pigment manufacturing industry. With the establishment of their dyestuff production in 1976 in Surat, Gujarat, they cemented their status as a top-tier pigment producer in the Indian subcontinent. And there's no secret to their success: it's all about their exceptional capabilities and dedication to excellence. Colourtex boasts an impressive infrastructure that features surface water reservoirs, landfill sites, backward integration, and coal-based turbines. This solid foundation allows them to not only produce high-quality products but also maintain a sustainable and eco-friendly approach to manufacturing. But it doesn't stop there. Colourtex also takes pride in its extensive marketing and distribution network, complete with technical services available across all textile and leather centers throughout the nation.
7. Gharda Chemicals Limited
Imagine a chemical company that has been making waves for over five decades, producing top-notch chemicals like dyestuffs, polymers, veterinary drugs, and pesticides. That's the description of Gharda Chemicals Limited! Established in 1967, this remarkable Indian enterprise boasts four state-of-the-art manufacturing units. This extraordinary company has snagged numerous national awards for its innovative prowess in the chemical arena, reflecting its relentless pursuit of excellence. Gharda Chemicals Limited's inventive production methods have given birth to distinctive products that set it apart from the competition. And did you know? Gharda Chemicals Limited is the sole Indian company to receive the green light from the EPA to market Chlorpyrifos and Dicamba in the USA. This stamp of approval is a testament to the company's strict adherence to quality and safety benchmarks.
8. JD Orgochem Ltd
In the realm of pigment manufacturing, JD Orgochem has become a trailblazer in India, constantly pushing the boundaries of innovation, quality, and customer satisfaction. Back in 1973, the company was established as Jaysynth Dyechem Private Limited, but underwent a transformation in 2003, emerging as JD Orgochem Limited. Customer needs to remain at the heart of their operations, driving them to excel in every aspect of their business. JD Orgochem's highly talented team of professionals is devoted to delivering exceptional customer service, ensuring that client's expectations are not just met, but surpassed. The company's vast distribution network spans across India, reaching even the most remote corners, making it accessible to a wide range of customers. To sweeten the deal, JD Orgochem offers value-added services, providing an extra layer of benefits to their already satisfied clientele.
9. Premier Pigments & Chemicals
The pigment industry in India has witnessed a remarkable transformation, and a significant player in this change is Premier Pigments and Chemicals. Established in 1994, this leading manufacturer offers an extensive array of products, such as pigments, paint additives, inks/dyes, etc. With an advanced infrastructure and an extensive distribution network in place, Premier Pigments and Chemicals can guarantee the timely delivery of products, satisfying customers' needs and surpassing their expectations. Guiding Premier Pigments and Chemicals to success is CEO Mr. Rajeev Bhatia, a seasoned industry expert with vast experience and business insight. Under his exceptional leadership, the company has experienced consistent growth and is set to maintain its prosperous trajectory in the years to come.
10. Ishan Dyes & Chemicals Ltd
Lastly, let's talk about another pigment manufacturer in the country that has been performing quite well both on the ground level as well as on the stock market, we are talking about Ishan Dyes and Chemicals Limited. Established in 1995, the company quickly built a solid reputation for its excellent products and ethical business practices. Ishan Dyes and Chemicals Limited exports a variety of pigments to clients in the ink/dye, paint, and plastics industries. One of their most notable products is the lysochrome pigments, which dissolve in organic solvents and are soluble in non-polar materials.
Conclusion
To sum it up, India has truly made a name for itself in the worldwide pigment production arena, featuring a remarkable lineup of manufacturers known for their outstanding quality, ingenuity, and eco-friendly practices. As we venture into 2023 and beyond, these pioneers are anticipated to keep molding the pigment sector, reinforcing India's status as a dominant power in the global marketplace.
Pigment Manufacturing FAQs
Here are some frequently asked questions about pigment manufacturing:
Q1. How are pigments manufactured?
Ans: Pigments can be manufactured through various processes depending on their type and intended application. The general manufacturing methods involve synthesis or extraction. Synthetic pigments are chemically produced using different reactions and processes, while natural pigments are obtained from natural sources like plants, minerals, or animals through extraction and purification.
Q2. What are the different types of pigment manufacturing processes?
Ans: There are several methods used in pigment manufacturing, including precipitation, calcination, grinding, dispersion, and blending. Precipitation involves the formation of solid particles from a solution, while calcination involves heating a mixture to high temperatures to create pigments. Grinding is used to reduce particle size, dispersion involves mixing pigments with a liquid medium, and blending combines different pigments to create new colors.
Q3. Are pigments safe to use?
Ans: Pigments used in commercial products undergo extensive testing to ensure their safety. However, certain pigments may contain chemicals that can be harmful if ingested, inhaled, or come into contact with the skin in high concentrations. It's important to follow safety guidelines and use appropriate protective measures when working with pigments.
Q4. What are the environmental considerations in pigment manufacturing?
Ans: Pigment manufacturing can have environmental impacts due to the use of chemicals and energy-intensive processes. Efforts are being made in the industry to develop more sustainable and eco-friendly manufacturing techniques. This includes reducing waste, recycling materials, using renewable energy sources, and exploring alternative, less toxic pigments.
Q5. How are pigment colors determined?
Ans: The color of a pigment is determined by its chemical composition and the way it absorbs and reflects light. Different pigments selectively absorb certain wavelengths of light, while reflecting others, resulting in the perception of specific colors. The size, shape, and distribution of pigment particles also influence color properties.
Q6. What are some common uses of pigments?
Ans: Pigments are used in a wide range of applications. Some common uses include paints, coatings, plastics, textiles, printing inks, cosmetics, ceramics, and construction materials. Pigments provide color, opacity, and other desired properties to these products.