India's construction industry is growing at a breakneck pace, and the demand for durable and reliable plumbing solutions has soared along with it. And when it comes to plumbing materials, gone are the days when people used to use metal pipes. PVC and CPVC pipes are the new future in this game. A noteworthy thing is that people often choose CPVC pipes over traditional PVC pipes and that's because CPVC pipes are made up of a type of thermoplastic material that has been specially treated with chlorine to improve its heat resistance and durability. When compared to PVC pipes, CPVC pipes can withstand higher temperatures and pressures, making them ideal for use in hot water systems and various industrial applications.
Since the country's growing economy has led to increased construction activities, driving the demand for top-quality plumbing and piping solutions. Additionally, the government's efforts to improve sanitation and hygiene have also contributed to the surge in demand for reliable plumbing systems. And to keep up with such high demand, there are dozens of manufacturers in the country that are manufacturing CPVC pipes at a rapid pace. And today's post is solely dedicated to the top 10 best CPVC pipe manufacturing companies in India. So let's find out which companies are the key player in this segment of the Indian market.
List of Top CPVC Pipe Manufacturing Brands In India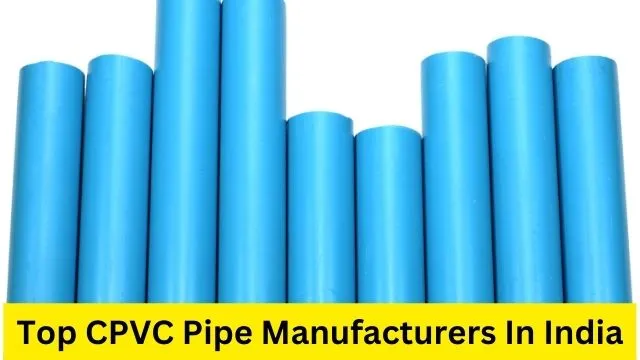 1. Finolex Pipes
Finolex Industries is a well-established CPVC, PVC, and UPVC pipes and fittings manufacturer in India, founded by Shri Pralhad P. Chhabria in 1956. They offer a diverse range of high-quality products that cater to various domestic and industrial applications, making them a go-to brand in the market. One of Finolex's biggest strengths is its ability to provide pipes and fittings in different sizes and fitting options, ensuring they meet the diverse needs of its clients and customers. They also use high-quality materials that range from standard to premium grade to guarantee the durability and longevity of their products. Furthermore, they have recently announced plans to increase their share of the plumbing, in order to achieve a 50:50 share in the Agri as well as non-Agri pipes and fittings businesses. They have focused on growing the non-Agri segment as the agriculture pipe segment now accounts for 65% of volumes, down from 80% five years ago.
2. Apollo Pipes
APL APOLLO is an innovative company that puts its customers at the heart of everything it does. They strive to provide high-quality CPVC pipes that are affordable and accessible to everyone. Their products are perfect for a wide range of applications, including sanitation, infrastructure, water supply, agriculture, and construction, as well as plumbing. With around five manufacturing plants across India, APL APOLLO has a total production capacity of 1,25000 MTPA. They are a Pan-India company with over 600 channel partners and thousands of customer touch points, making its plumbing solutions available to everyone. APL APOLLO is always looking for ways to grow and innovate in the CPVC pipe industry.
3. Supreme Industries
Supreme Industries has been a household name in India since 1942. It's the largest plastics processor in the country, handling over 400k metric tonnes of polymers annually. The company has come a long way since its humble beginnings and now has a turnover of 8 thousand crores. It's no surprise that they export their products to over 55 countries worldwide. Supreme Industries is a leader in the Indian CPVC pipe industry, with an eleven percent market share. Their plastic piping systems are made to both national and international standards, ensuring that they meet the highest quality standards. Recently, the company opened its 28th manufacturing plant in Cuttack, Odisha, which will primarily produce piping products and water tanks. Supreme Industries is committed to providing innovative and high-quality plastic products that enhance the quality of life for all Indians.
4. Astral Pipes
When it comes to finding a reliable manufacturer of pipes and fittings for water supply and sanitary and drainage systems, Astral is a brand that stands out from the rest. Founded in 1996 by a visionary engineer, Mr. Surendra Singh, and his wife, this Indian company has established itself as a leading player in the industry. Astral has a passion for innovation and a commitment to pushing boundaries in the piping industry, with a track record of pioneering new technologies like plastic injection molding (PIM). With PIM, Astral has been able to create pipes and fittings that are not only of the highest quality but also specially designed to meet local conditions while adhering to international standards.
5. Ashirvad Pipes
Founded in Bengaluru in 1998, this innovative company is a top manufacturer of CPVC pipes in the country. But Ashirvad Pipes isn't just any old and ordinary pipe manufacturing company. They're committed to providing their customers with the best products and services possible. That's why they offer a wide range of pipes, including uPVC column pipes for submersible pumps, which are known for their incredible durability and strength. But wait, there's more! Ashirvad Pipes also has a plumbing school where students can learn the ins and outs of the plumbing industry. Ashirvad Pipes has recently installed a 91 kW solar energy-generating roof at their production facility in Bengaluru, which replaced 6,630 square feet of asbestos roofs. This not only reduces their environmental impact but also provides clean energy for their operations.
6. Vectus Industries Ltd
If you're looking for a company that provides high-quality water storage solutions and piping systems in India, Vectus is the one to watch out for. They've been in the business for over 30 years and have earned a solid reputation for their expertise in polymer-based manufacturing solutions. Recently, they partnered up with Wavin, a global heavyweight in the building and infrastructure industry with over 60 years of experience. The goal of this joint venture is to establish India's leading water infrastructure and management solutions provider, with the backing of Wavin's impressive brand power and innovation capabilities. Recently, Vectus was recognized as a Superbrand in 2021 for its exceptional water storage tanks. This proves that they are a reliable company that values quality and service.
7. Jain Irrigation
Jain Irrigation Systems Ltd is a company that has made a name for itself by diversifying its business across the globe. With a turnover of over $1 billion and 33 manufacturing bases spread across four continents, the company supplies products to more than 100 countries through a network of thousands of dealers and distributors. Not only that, but Jain Irrigation is also the biggest manufacturer of plastic pipes in India, providing a total solution for various plastic piping systems. They also process tropical fruits, produce IQF products, and dehydrate onions and other veggies. In addition to these accomplishments, Jain Irrigation has diversified into other fields, such as PVC sheets, regular and solar water heaters, pumps, PV panels, and lighting solutions. The icing on the cake is that Jain Irrigation has been performing exceptionally well in the stock market recently, reflecting the company's bright future prospects.
8. Skipper Pipes
Since 1981, Skipper Ltd has been a pioneer in the manufacturing of top-notch polymer pipes and fittings under the brand name 'Skipper'. Their products cater to the needs of both the agricultural and plumbing sectors, making them a trusted name in the country. Skipper Ltd uses the latest cutting-edge technology to create their PVC pipes which are the result of extensive research and development. These pipes undergo rigorous testing to ensure they meet industry standards for endurance. Whether you need them for farming or plumbing, Skipper Ltd's PVC pipes are up for the task. They are built to withstand the harshest conditions and provide a long-lasting solution.
9. Captive Plastics
Captive Plastics, a well-known manufacturer of CPVC pipes and fittings, has been a leading player in the Indian market for over 5 decades now. Established in 1969 as a joint venture between an Indian CPVC pipe manufacturer and a top pipe manufacturer in Germany, the company has gained immense expertise in the field. With over 60 years of experience in manufacturing PVC, CPVC, and PP pipes, the German company has brought invaluable knowledge to Captive Plastics. The pipes have been used for various applications such as plumbing systems, air conditioning ducts, and water sprinkler systems in Agriculture.
10. Prince Piping Systems
Lastly, we'd like to introduce Prince Pipes, a Mumbai-based company established in 1987. This integrated piping solution and the multi-polymer manufacturer have quickly become the largest PVC pipes manufacturer in India. With seven manufacturing units and eleven warehouses across India, Prince Pipes has a combined capacity of over 250 thousand tonnes per annum, making sure they meet the growing demand for their products and cater to customers across the country. Prince Pipes takes pride in offering a wide range of products across different categories, from agriculture and plumbing to sewage solutions, and underground drainage systems.
Conclusion
That'll do it. Now you have your hands on the best and the most thorough list of the top 10 best CPVC pipe manufacturers in the country. So whether you were looking forward to buying such pipes for your next construction project, or just wanted some insights into this particular industry, we hope that our today's post has helped you in some way.
CPVC Pipe FAQS
Q: What is CPVC pipe?
A: CPVC pipe stands for Chlorinated Polyvinyl Chloride pipe. It is a type of plastic piping system used for plumbing and other applications. CPVC pipes are known for their high temperature and pressure resistance, making them suitable for both hot and cold water supply.
Q: What are the advantages of using CPVC pipes?
A: CPVC pipes offer several advantages. They are lightweight, making them easy to handle and install. CPVC pipes are also corrosion-resistant, which increases their longevity. They have good thermal insulation properties and can withstand high temperatures, making them suitable for hot water applications. Additionally, CPVC pipes are cost-effective and have a smooth interior surface that ensures good water flow.
Q: Can CPVC pipes be used for both residential and commercial applications?
A: Yes, CPVC pipes can be used in both residential and commercial applications. They are commonly used for water supply systems, both indoors and outdoors, in homes, offices, hotels, hospitals, and other buildings. CPVC pipes are also used in industrial settings for conveying process fluids.
Q: Are CPVC pipes safe for drinking water?
A: Yes, CPVC pipes are safe for drinking water. They are made from a material that is non-toxic and does not impart any taste or odor to the water. CPVC pipes are approved for potable water applications and meet the necessary standards and regulations.
Q: Can CPVC pipes be used for underground installations?
A: CPVC pipes are not recommended for underground installations unless they are properly protected. Direct exposure to sunlight and extreme temperatures can degrade the material over time. However, if CPVC pipes are adequately insulated or placed inside protective conduits, they can be used for underground applications.
Q: How long do CPVC pipes last?
A: CPVC pipes have a long service life. When properly installed and maintained, they can last for several decades. The actual lifespan may vary depending on factors such as water quality, operating conditions, and installation practices.
Q: Can CPVC pipes be connected to other types of pipes?
A: Yes, CPVC pipes can be connected to other types of pipes using appropriate fittings and connectors. Common methods for joining CPVC pipes include solvent cementing, threaded connections, and mechanical couplings. It is essential to ensure compatibility between different pipe materials and use suitable transition fittings when connecting CPVC pipes to other types of piping systems.
Q: Are there any limitations or precautions to consider when using CPVC pipes?
A: While CPVC pipes have many benefits, there are a few limitations to consider. They should not be exposed to direct sunlight for extended periods as it can degrade the material. CPVC pipes should not be used for compressed air or gas applications. It is also essential to follow the manufacturer's guidelines for installation, including proper support and expansion joint placement, to prevent potential issues.
Q: Can CPVC pipes be used for fire sprinkler systems?
A: Yes, CPVC pipes are commonly used for fire sprinkler systems in residential and commercial buildings. CPVC's fire-resistant properties, high temperature tolerance, and ease of installation make it suitable for such applications. However, it is crucial to follow the local fire codes and regulations when designing and installing CPVC-based fire sprinkler systems.
Q: Where can I purchase CPVC pipes?
A: CPVC pipes are available at plumbing supply stores, home improvement centers, and authorized distributors. You can also purchase them online through various e-commerce platforms. It is advisable to buy CPVC pipes from reputable suppliers to ensure product quality and authenticity.