Cooling towers have genuinely transformed the way we manage heat in several sectors, such as power generation, chemical processing, and HVAC systems. Their primary purpose is to dissipate the waste heat generated during industrial processes into the atmosphere, all while cooling the water used in these processes. The cooling mechanism involves heat exchange, where water flows through a heat exchanger and cools down as air passes over it. This process reduces water temperature, which is then recycled back into the industrial plants, making cooling towers a resourceful and environmentally friendly solution. As a result, cooling towers have found widespread use in various industries, including manufacturing, energy, and healthcare.
Owing to swift industrialization, population growth, and climate change, the need for cooling tower systems has surged significantly in recent years. To meet this escalating demand, manufacturers have developed cutting-edge cooling towers that employ UV and chemical treatments to boost their efficiency and sustainability. India has become a major player in the cooling tower manufacturing industry, with numerous top-tier manufacturers catering to the growing need for cooling towers in the country. In this article, we'll acquaint you with the top 10 cooling tower manufacturers in India, showcasing their products and their contributions to the industry. So, without any further ado, let's dive right into the details.
List of Top Cooling Tower Manufacturer In India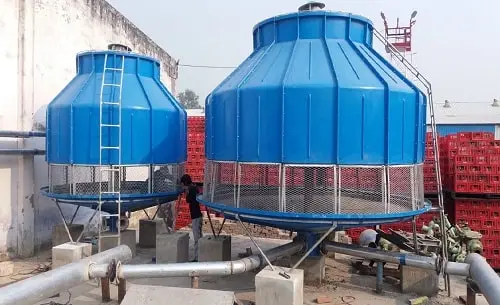 1. Artech Cooling Tower Private Limited
Since 1987, Artech Cooling Tower Pvt Ltd has been delivering customized, energy-saving cooling solutions to a wide range of industries across India. Boasting extensive technical know-how and expertise, this Ankleshwar-based company specializes in the development of compact, high-performance cooling towers designed for industrial applications and facilities. As a leading manufacturer and exporter, Artech's cooling towers are renowned for their reliability, functionality, and consistent performance. Outfitted with state-of-the-art features such as energy-conserving technology and leak-resistant FFP basins, Artech's cooling towers minimize energy waste while maximizing efficiency. These versatile cooling solutions find applications in a variety of sectors, encompassing power generation, pharmaceuticals, petrochemicals, and food & beverage processing, to name just a few.
2. Thermax Limited
Hailing from Pune, India, Thermax Group has truly transformed the cooling tower manufacturing industry in the country. Offering a diverse array of products in water and waste management, specialty chemicals, heating, and cooling, they have made quite a mark. Not only do they excel in designing and commissioning large boilers for steam and power generation, power plants, and surplus waste heat recovery systems, but they also prioritize sustainability to help industries enhance resource productivity while maintaining a greener environment. Renowned for supplying an array of cooling systems and solutions tailored to various industrial sectors, their cooling towers stand out as eco-friendly and highly efficient. Thanks to cutting-edge technology, these towers demand minimal maintenance and promise long-lasting performance, making them a go-to choice for industries worldwide.
3. Industrial Cooling Tower Mfg. Co.
Introducing Industrial Cooling Tower Mfg Co, a renowned name in the Indian cooling tower and mechanical equipment manufacturing landscape. They place a strong emphasis on quality, utilizing first-class materials that conform to industry norms, making installation and maintenance a breeze. Their robust designs are crafted to endure the rigors of intense industrial use, guaranteeing durability and long service life. Boasting state-of-the-art facilities and a skilled quality assurance team, the company ensures top-notch customer satisfaction. People throughout the nation can acquire their offerings at cost-effective prices without skimping on quality. Guided by Gaurav Sharma's leadership, Industrial Cooling Tower Mfg Co's ethical practices and client-centric philosophy have cemented their well-earned status in the sector.
4. Bell Cooling Tower
Established in 1992, Bell Cooling Towers has emerged as a prominent name within the Indian cooling tower landscape, consistently pushing the envelope with innovative cooling technologies. The company's skilled team of seasoned professionals is dedicated to delivering top-notch solutions to a diverse range of clientele spanning various sectors. With an impressive industry footprint, Bell Cooling Towers has successfully executed projects of global renown in esteemed locations. As a CTI Certified Manufacturer, the company boasts the largest number of certified models among Indian competitors. With eyes set firmly on 2023 and beyond, Bell Cooling Towers is poised to maintain its position at the vanguard of India's cooling tower industry.
5. PERFECT Cooling Towers Limited
Step into the future of cooling with Perfect Cooling Towers Limited, where they deliver top-notch cooling towers tailored for diverse markets. The company's innovative products focus on thermal performance, energy efficiency, and eco-friendliness to offer the ultimate cooling experience. Customer satisfaction reigns supreme for this company, ensuring its clients receive exceptional pre- and post-installation support, along with unrivaled quality products. Their cooling towers boast unique designs and advanced technology, providing unbeatable value for non-corrosive cooling solutions. As a trailblazer in the industry, Perfect Cooling Towers tackles cooling tower projects of any magnitude and design, constantly refining its methods to stay ahead of the curve and address the ever-changing demands of the market.
6. ABR Cooling Tower Private Limited
Over the past couple of decades, ABR Cooling Towers has made quite a name for itself in the Indian cooling tower industry. With a seasoned team of professionals boasting over 35 years of experience, they've been in business for an impressive 22 years. Their dedication to delivering top-notch products and services has enabled them to create medium to large-capacity cooling towers for a wide range of industries. Situated in the bustling city of New Delhi, their state-of-the-art facility is fitted with cutting-edge machinery and equipment. This allows ABR Cooling Towers to craft cooling towers using standardized manufacturing methods, all while adhering to tight deadlines. The company places a strong emphasis on quality control, ensuring that its customers receive nothing short of the highest quality products.
7. Drycool Systems India Limited
Established in 1989, Drycool Systems has been a trailblazer in the Indian chiller equipment industry, gaining a solid reputation for its cutting-edge and tailor-made chillers and cold rooms. The company's diverse product and service offerings aim to elevate the efficiency and profitability of its clients, setting them apart from competitors in the market. With an expert management team at the helm, Drycool Systems offers a full suite of solutions, including consultation, installation, maintenance, and repair services, to ensure a comprehensive approach to their clients' chiller equipment needs. Embracing innovation and customization, Drycool Systems continues to solidify its position as a respected leader in the chiller equipment sector.
8. Oceanic Cooling Towers Private Limited
Oceanic Cooling Towers Private Limited has been in the industry since 1992 and boasts extensive knowledge and experience in thermal engineering and cooling tower production. Offering an impressive lineup of cooling towers, including FRP and custom-designed options, Oceanic Cooling Towers doesn't stop there. They also provide top-notch maintenance services, ensuring that their customers are always satisfied. After all, customer contentment is what drives this company forward, as they work tirelessly to meet the unique requirements of their clients. Behind the thriving success of Oceanic Cooling Towers is Mr. Sandeep Pal Mandal, the company's CEO. With his abundant experience and expertise, he leads the charge in delivering nothing short of excellence in both products and services.
9. Suvidha Cooling Towers Private Limited
Suvidha Cooling Towers Pvt Ltd has been at the forefront of the HVAC industry, crafting top-notch air cooling, water cooling units, and air conditioning systems for over three decades. Since its inception in 1988, the company has expanded remarkably, solidifying its place as one of the country's most prominent HVAC product manufacturers. With a steadfast commitment to quality and customer satisfaction, Suvidha has amassed an impressive roster of over 40 thousand clients throughout its extensive operational history. Offering an expansive product lineup, Suvidha's offerings run the gamut from Cooling Towers and Chillers to Ductable Coolers and Air Handling Units. Additional products include Evaporative Cooling Pads, Industrial Exhaust Fans, and Industrial-Grade Air Coolers, among others.
10. Jyoti Cooling Towers Private Limited
At last, let's talk about Jyoti Cooling Towers Private Limited, a distinguished Indian enterprise that excels in crafting and exporting top-notch cooling tower products. Established in 2003, the company has consistently supplied dependable cooling solutions to a variety of industries. At present, CEO Mr. Jay Prakash Yadav spearheads the company, bringing exceptional leadership to the table. Jyoti Cooling Towers Private Limited boasts an extensive product line, encompassing Cooling Towers, FRP Cooling Towers, Aluminum Sprinklers, and Wooden Cooling Towers. One key factor contributing to the high regard for their products is the unparalleled durability and superior finish. The company's unwavering dedication to quality shines through in every product they produce.
Conclusion
All in all, as India progresses in its industrial development and confronts issues related to population growth and climate change, these manufacturers stand at the forefront of meeting the escalating demand for effective and eco-conscious cooling tower systems. The Indian cooling tower production sector has witnessed significant expansion in the past few years, with premier manufacturers like those discussed in this article, providing cutting-edge and environmentally responsible solutions tailored to the distinct requirements of different industries.