Financing is an easy way to get funds for meeting short-term and long-term goals. When we consider tenure, we will consider two types of loans. The first is the long-term financing solutions, where the loan tenure is longer. Examples of long-term financing are car, home, personal, and other similar types of loans. The second type is short-term financing solutions, where the repayment duration is less than one year. An example of short-term financing can be credit cards. These loans are provided for a short-term duration to meet the immediate financial need of the applicant.
 In India, if you have a good credit score (CIBIL), you may even have pre-approved offers on your account. If you don't have a pre-approved offer, the loan will likely be approved within 24 hours. There are also many personal loan applications that can provide you with short-term financing almost immediately. The standard process usually involves the verification of identity and income. As soon as it is done, the loan is disbursed directly into the bank account. Many individuals and businesses use short-term financing solutions for their needs, and since the process is digitalized, it is all very quick.
Example of Short-Term Financing
Business usually needs working capital for its day to day operations. Sometimes, a business may not have the required funds to purchase goods. The business can opt for a short-term financing solution to deal with the short-term cash crisis. The business can deal with the short-term financial crunch by taking a short-term loan. The loan can serve the business as working capital. If the expected payback duration is 45 days, then the business can take this loan for 60 days. In short-term loans, there are two modes of payment. The first is that the business can pay an equated monthly instalment to the lender. The second option is that the business can pay the interest monthly, and when it wishes to close the loan, the business can repay the full principal amount along with the accrued interest.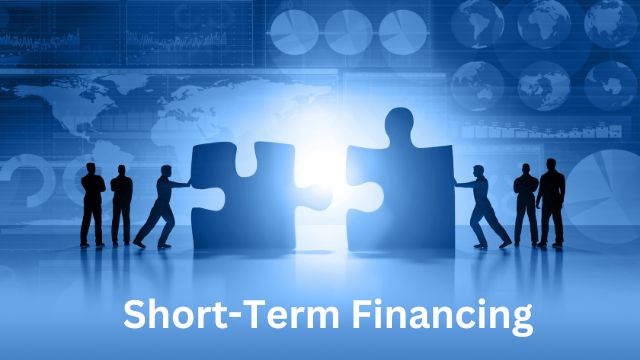 Advantages of Short-Term Financing
Collateral-Free Loan – Short-term financing is usually collateral-free loans. You don't have to pledge your securities or anything else to get short-term loans. This makes it risk-free and makes the process quicker for you. Moreover, since the short-term loan is collateral free, it has enabled many fin-tech companies to enter this space and offer short-term financing to the masses. Your collateral can be used for taking larger loans or funding bigger projects, and short-term financing can be used for short-term needs.
Handling Emergencies – Sometimes, you may need a lot of money in an emergency. This can be a natural calamity, urgent equipment repair, accident or anything else. If you need money for the short term to deal with the crises, then short-term financing solutions are perfect for that. You will be able to handle emergencies easily in such cases. On a personal front, you may encounter a situation where someone needs critical treatment. If the insurance covers a part of it or the person is uninsured, then short-term financing can prove to be life-saving.
Improving Credit Score – You need a credit history to have a credit score. If you don't have a credit history, you will have a poor or no credit score. If that is the case, then short-term financing can be helpful for you. You can take loans and ensure that you are paying them on time. You can close the loan easily and pay the EMI as well. The chances of you delaying the EMI in short-term financing are very low. Hence it will impact your credit score positively. The same strategy can also be used if you defaulted anytime in the past and if you have a low credit score.
Instant Sanction – The time required to approve short-term financing is very low. Usually, it takes just a couple of minutes to approve and disburse the loan in your account if everything is in place. However, manual intervention may be required if there is any issue with the documentation or ID proof. In such cases, you will get the approval decision in approximately 24 hours. Many people also have pre-approved offers available to them, which makes the process fairly quick.
Maintains Cash Flow – A consistent cash flow along with the surplus cash is often required for regular operations. However, if you find yourself in a situation where you don't have enough funds or if you need additional funds, then you can opt for small cash loans. They can help you deal with the shortage, and at the same time, they can help you eliminate the risk of default or operation closure. Almost every business takes short-term financing solutions for their work.
Meeting Seasonal Demand – Another popular use case for short-term financing is if you have a seasonal business. For example, if you sell air-conditioners, you may notice a surge in demand, especially in peak summer seasons. To meet the demand and cut the waiting time, you would want to keep a higher inventory level. Now, to balance this seasonal demand and procure the stock, you would need additional finances, and this is where short-term financing can help you immensely. With the help of short-term financing, you can make higher profits even if you factor in the interest expense.
Disadvantages of Short-Term Financing
Circular Debt – If you use short-term financing to pay other loans, you are in trouble. This can soon become a circular debt problem, and you will be at risk of default. Moreover, your interest expense will be very high, and at one point, it will be beyond the level of sustainability. So, you should never use short-term financing to pay for other loans.
Early Repayment Options – A fixed term will usually be offered to you for short-term financing. Here, you won't have options to close the loan early. If in case you wish to close the loan early or if you wish to make a part payment, then you may end up paying up to 4% part-payment or pre-closure charges. The figure is just indicative and may vary according to the financial institution. So you must check the repayment plan and pre-payment options before taking short-term financing.
Higher Interest Rate – It has generally been noticed that short-term financing has a higher interest. This translated to higher-cost funds. If you are obtaining these loans for business purposes, it could lower your business's profitability. The interest rate will even be higher if you have a lower credit score. You need to check if that loan is ok for you to proceed.
Steep Penalties – If you miss the payment, you have steep penalties. These penalties are very steep, pushing the cost of funds even higher. These penalties can even be charged if you are late in making payment by just two days. So, to avoid these penalties, you must make all the payments on time. In addition, please obtain a NOC letter after you have closed the loan.
Impact on Credit Score – If you miss any payment of short-term financing or if you default on the loan, it will impact your credit score massively. In addition, if you settle the loan partially, the credit score will dip. This can leave you ineligible for any loan in future.
Final Verdict
Many financial institutes are offering short-term financing solutions to individuals and business entities. You can also seek an overdraft facility if you think that will solve the purpose for you. If our opinion short-term loan is an excellent way of meeting short-term requirements; however, it should be used carefully. If you are careless with short-term loans, they can soon become a significant problem. We hope this information will help you choose between short-term financing and other options. If you still have questions, please write to us in the comment section.