India has a rich history, clearly visible in its historical monuments. One such grand monument that attracts attention is the Taj Mahal. Its purpose is to describe the use of artisans, skilled workers, and craftsman. The primary material of the monument is Marble, considered the most beautiful rock among others.
This natural stone is widely used in walls, worktops, floors, slabs, and tiles. Due to its shiny and smooth surface, it has a shiny luster. Undoubtedly, Marble is a top choice for homes today because of their naturally occurring properties and durability. For this reason, India is constantly engaged in manufacturing and supplying Marble as per international standards. So let us see which are the top 10 companies playing an important role in manufacturing different types of Marble in India.
List of Top Marble Companies in India
1. Indian Marble Company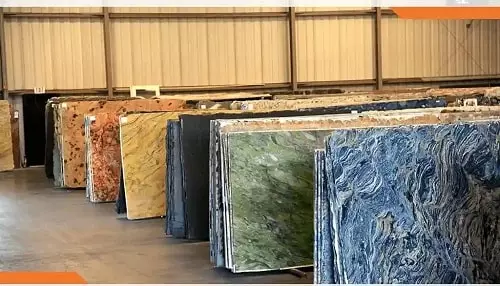 Establishment Year: 1974
Since its inception, the purpose of Indian Marble has been to meet the demands of Importers, Exporters, Architects, Designers, Home Owners, and Builders offering high-quality products. Their products are designed to combine efficiency and the latest technology, but they never miss out on the old traditions.
The spirit of the organization is dealing with natural stones on a global scale. As one of the oldest manufacturers in India's marble tiles business, Indian Marble has a reputation in the market. This marble organization is also proficient in slate, quartzite, limestone, and granite stones.
Key features of Indian Marble Company:
Marble varieties are available both online and offline.
Having expertise in dealing with natural stones across the world.
2. A-Class Marble India Private Limited
Establishment Year: 2005
A newly established marble company, A-Class Marble India Private Limited is a non-public organization. Apart from being a leading marble manufacturer in the Indian market, they are also an important importer. With expertise in various types of stones, the company manufactures around 450 types of marble tiles, granite, marbles, and other surfaces from worldwide brands and quarries.
Due to high-end imports of Marble from Greece, Spain, Italy, Iran, France, China, Turkey, and Vietnam, the A-Class has strengthened its relationship. Today, the company is engaged in processing and trading marble stones and tiles, making them a market player globally.
Key features of A-Class Marble India Private Limited:
Their products are used in multiple sectors like Kitchen Countertops, Interior Decoration, Floorings, and Exterior Decoration.
Products and services are offered at an affordable range.
3. Aditya Stonex
Establishment Year: 2014
Another market leader in marble stone is Aditya Stonex. Apart from Marble, they are leading suppliers and producers of sandstone and granite. Since its establishment, the company has been of the ten best marble companies in India in 2023. The company has gained a market reputation within a very short period due to its products. All of their goods are known for good strength, being flexible & lightweight, as well as having improved abrasion resistance & heat resistance.
As it specializes in making an extensive range of granite and Marble, Aditya Stonex has become a prestigious name in the Indian market. Their goods line comprises a comprehensive collection of Indian Marble, Granite Stone, and Imported Marble. In addition to maintaining a top-notch level of quality of product, they also aim to meet the manufacturing deadline.
Key features of Aditya Stonex:
Exports a wide variety of stones, including marble, sandstone, granite, etc.
An ISO-certified company whose products are famous for their durability, design, and resistance to weathering quality.
4. Mumal Marbles Private Limited
Establishment Year: 1988
One of the renowned private companies, Mumal Marbles, is headquartered in Udaipur, Rajasthan. Unlike other marble companies, it procures blocks from Turkey and Italy, which are being manufactured to supply them to the entire Indian market. Besides India, the company exports its products to more than 40 countries.
The organization has a magnificent large-scale facility for manufacturing, processing, and supplying natural stone. Another best part about the company is that it owns mines like Beige Marble, Mercury Black, Forest Green, Ice Berg, and PB White Marbles.
Key features of Mumal Marbles Private Limited:
Importing a wide variety of Marble from Italy.
Offers a comprehensive range of marbles.
5. Maruti Granites & Marble Private Limited
Establishment Year: 1988
A private firm located in the industrial area of Udaipur, Maruit Granites & Marble Private Limited is a private organization. The firm has a processing capacity of 2 lakh square feet/monthly for tiles and marble slabs. Undeniably, the organization shares a market reputation in the Indian stone industry. Owing to their dedicated and honest business policies, their products are imported to other countries such as China, Spain, Italy, and Turkey.
Apart from having a presence in Rajasthan, the company has also obtained a vast landscape in Madhya Pradesh. They have all set to begin the mining operation there.
Key features of Maruti Granites & Marble Private Limited:
Provides imported and Indian Marble throughout the country.
Follows the dedicated, honest business policy.
6. Millenium Marbles Private Limited
Establishment Year: 1999
Millennium Marbles Private Limited is among the leading Marbles companies in India 2023. In addition to marble slabs, they are leading suppliers and manufacturers of tiles. They are famous for offering high-end goods at affordable costs. Their slabs and marble tiles are offered in different sizes, shapes, and finishes.
This private enterprise is located in Silvassa, Haryana. Over the years, the organization has built a reputation in the market as a leading Marble Manufacturer and Exporter in India. The major products offered by the company are Granite, Travertine, Marble, Onyx, etc. With over 300 choices of Marble, customers have more than enough options to meet their industrial needs.
Key features of Millenium Marbles Private Limited:
Slabs are marbles available in different patterns, finishes, and sizes.
Runs own Android and IOS apps to give a customer a special first-hand view of stone stocks.
7. Elegant Marbles & Grani Industries Limited
Establishment Year: 1984
One of the prominent exporters and producers of marble goods, elegant marble & granite is a special part of the Grani Group. The company has earned a reputation and has availability in MP, UP, and Rajasthan. The Grani group's workforce makes various marble benches, slabs, tiles, marble statues, and many other products. Their elegant marbles make this company one of the best marble companies in India in 2023.
Key features of EMGIL:
Goods are best for both commercial and domestic projects.
Up to 35 years of experience.
8. R K Marble Private Limited
Establishment year: 1989
This is a private company under the R K Group of Rajasthan. The only company with 3 decades of record in the marble industry, R K marble is a well-known marble mining corporation with ventures in Vietnam and Rajasthan.  Since its inception, the company has promised to serve superior services and quality products. As the cornerstone of the venture, they have built trust among the clients by working with the country's leading building residences.
Key features of RK Marble Pvt Ltd:
Goods and services at a competitive price.
Creates a legacy of quality long lasting impressions.
9. Classic Marble Company
Establishment Year: 1999
You shouldn't miss out on Classic Marble Company regarding the vast range of marble products. Their well-known products are Green Marble, pink Marble, etc. Rajasthan-based classic Marble is a leading part of the Marble Association of India.
The organization is promised to provide its customers with premium quality products made of Marble. In addition, the brand has professional enforcement that meets the requirement of different customers by providing new designs and patterns.
Key features of Classic Marble Company:
Due to the high quality and competitive price they are offered, their products are purchased by thousands of estate developers, interior designers, and architects.
10. Kushalbagh Marbles Private Limited
Establishment year: 1985
One of the largest and most famous marble producers, Kushalbagh Marbles, was founded by a Businessman named Kushal Bhanushali. It is a leading producer of a comprehensive range of Indian granite, quartz stones, and Marble stones. Not only architects but Indian designers also trust the organization. The organization can produce quality materials at affordable prices using value engineering experience and quality material selection.
Key features of KMPL:
Well-known for timely delivery, quality products, and multiple marble options.
Conclusion:
Surprisingly, India is the largest exporter of Marble in the world. Being an evergreen material, Marble has a naturalness, sophistication, and quality all its own. This may be the reason why more and more people use Marble in restaurants, residences, temples, mosques, hotels, apartments, and even homes.